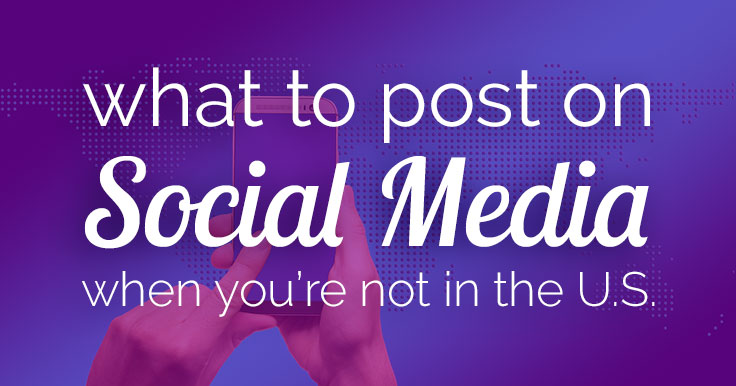 Do you wonder what to post on social media if you're not US-based?
I've been getting this question a lot lately from social media users worldwide, particularly as regards my Social Media Content Planner.
But I've also gotten this question over the years in regards to what time to post on social media.
Whether you're in Europe, South Africa, Australia, or Juneau Alaska, I've got answers for your social media in general, and specific to my Planner.
The Simple Solution to What and When to Post
The answer to this is simpler than you might imagine: Post the content that's appropriate to the majority of your audience, at the time that's appropriate for them!
If you have, or aspire to have, a global English-speaking audience, your target market is largely in the U.S., and specifically in the Eastern and Central time zones. I once heard a stat that 75% of English speakers reside in those time zones.
Now, India, Pakistan, The Philippines, and Nigeria may be challenging those stats by sheer numbers – but consider whether that's your target market. Nonetheless, each of those 4 countries is home to more English speakers than the United Kingdom and (by far) Australia.
For specifics, see this chart of English speakers by country.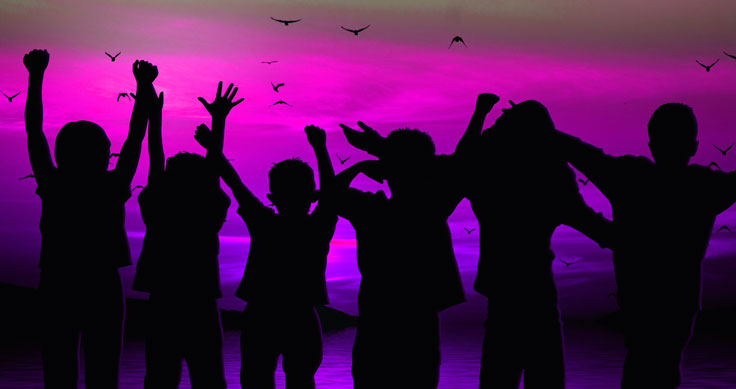 What If I Have a Local Business?
By all means, post content that's relevant to your region, at a time that works for your market. So if you see reports that "the best time to post on LinkedIn is between 7 and 9am," use your local time. (And do test those "best time" recommendations, as they don't work for every business).
But if you have a global audience, consider using U.S. Eastern time, even if your local time is the opposite!
What If I Don't Know Where My Audience Resides?
A couple possibilities: one would be to ask them! You could try taking a poll.
If you have a Facebook Page, you can do a quick check under Insights… People… Your Fans. Similar stats are available in Instagram, and many third-party tools.
These methods will tell you where your current fans are, BUT you should always be aiming for your ideal customer.
NOTE: It doesn't matter whether 95% of your potential clients live in New York City if you don't want to work with them. YOU get to choose your ideal customer. Post for them!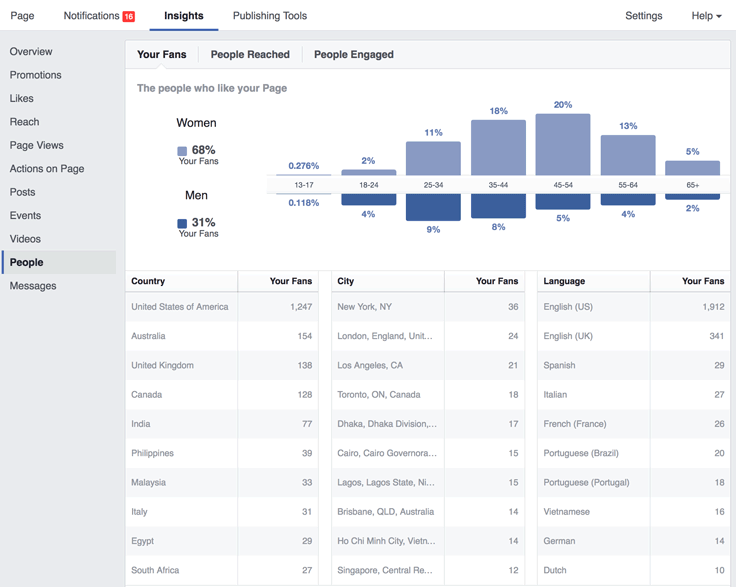 Should I Post Wintry Stuff When It's Summer Here?
It's completely up to you! What do you think will resonate with your target audience? If they would like it, and it's something you can connect with them over, then post it! (Even if that connection is, "I'm going for a swim, how's the weather by you?").
I'm often in that boat myself – there's never a White Christmas where I live in Southern California! It's often beach weather in December. But snowy scenes work for my fans, and it's considered some sort of tradition in the U.S. Only you know your audience, and your feelings about it. If the content makes you feel uneasy, skip it. You've got to be true to yourself!
What's in That Social Media Planner, Anyway?
For starters, know that when I say "Winter 2017," I'm referring to the months of January through March. It's not all about cold weather and snow.
There are some seasonal content suggestions in it, and the majority of the daily holidays are probably U.S. concoctions. That doesn't mean they wouldn't work for your audience. For example, "National Thank You Note Day" will still trend on social media, and will still be a great day to thank your fans. But "Pearl Harbor Day" is not going to work for you. (No worries, I don't use that one either! There are plenty others to chose from).
If you're looking for something that taps into your local customs and traditions, and you're not in the U.S. or Canada, this Planner won't help.
Take a peek inside the Planner!
Each month includes:
A page to brainstorm your business goals.
Monthly themes, quotes, and calendars to plot the big picture.
Daily pages with business / promotional plus fun / engaging social post ideas every day.
Daily checklist to mark where and what you want to post that day.
A page to review what worked that month, and what you can improve.
Plus 13 page instruction guide with more ideas on how to use the Planner!
Can You Make a Social Media Planner for Australia / Africa / My Country?
I agree that those would be awesome. I'm doubtful that I'll create them.
One big reason? I don't know your holidays, customs, and traditions!
Plus, I don't have much of an audience overseas. If you do, however, and would be interested in collaborating on a project like this, let me know! I'll consider it for 2018.
The ready-to-post social media graphics though – check out the new collections that have nothing to do with snow and seasons!
Should I Buy The Social Media Content Planner?
I hope this has helped you answer that question for yourself! If you have any questions I haven't addressed, I'd love to answer them for you! Please leave them in a comment, as the answer may help others too. Or if you'd prefer, you can contact me here.
• • • Check Out the Social Media Content Planner! • • •
Whether you purchase the Planner or not, I hope these tips helped you with what to post on social media!