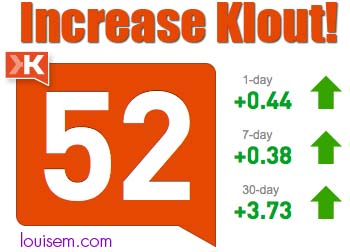 Want to know how to increase your Klout score? I was able to increase Klout by 3 points in 5 days with this one secret I'm going to share with you.
Klout measures how influential you are across social networks. If you have an active Twitter account, you have a Klout score. On a scale of 1 to 100, the average Klout score is actually 20. Anything higher means you're at least moderately influential in your network. 
Why Increase Klout?
So why increase Klout? Businesses know that your Klout score is a measure of your ability to get action from your followers. So, some businesses are offering "perks" or bonuses for high scorers – knowing that a favorable review from you will increase their standing with your network. Bonuses range from discounts that rise with your score, to free upgrades, early airline boarding, access to private clubs, and more.
There are also reports of high scorers being hired for job openings over low scorers. Apparently some employers also recognize the power of influence in a social network!
How I Increased My Klout
When I first checked, I was surprised to find my score in the mid-40s. After a couple months, I seemed stuck at 47 or 48. But I really wanted to reach 50! I had a suspicion that my Klout had stalled because I was largely ignoring my Facebook personal profile in favor of my business pages. Gina Carr of Social Buzz Club confirmed that interaction on your Facebook personal profile is the #1 factor in increasing Klout. Even though I'd gotten active on Twitter, getting @mentions and retweets (also important to your Klout), my score was stuck until I tapped into the love of my most loyal followers – my Facebook friends!
The Easiest Way to Increase Klout
So what's the best way to get shares, comments, and likes on your Facebook profile? Post photos that your friends will love! I have a large contingent of Disney fans among my friends. And I had an opportunity to visit the new "Cars Land" at Disney California Adventure! So I posted those photos in small batches over a few days, so as not to overwhelm my friends. There seemed to be a 2-day delay, but sure enough – my score rose by almost 2 full points in 2 days!
As I continued to reply to my friends and enjoy reconnecting, my score continued to rise (though it's erratic, as you can see on the chart).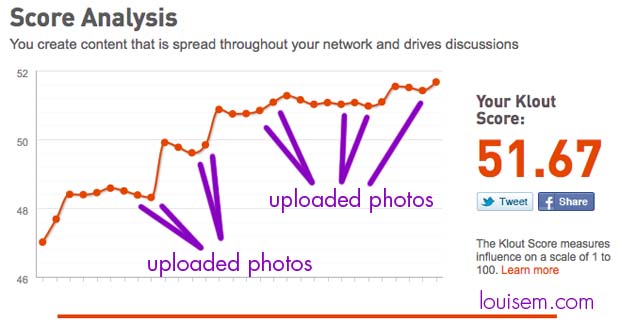 What I Learned from My Experiment to Increase Klout
Connecting with your Facebook friends is a lot of fun – so don't neglect it! Post interesting tidbits from your life, ask for advice, and upload photos 2 or 3 times a week. Be sure to respond to your friends' comments! You can't be all-business all the time – and here's a fun social activity that's good for your Klout too.
What's Your Klout?
So, what about you? Do you know your Klout score? Are you happy with it? Will you try my experiment to see what happens? I'd love to hear about it in the comments!
And if you enjoyed my article on how to increase Klout – do share it with your network!
Share and Enjoy