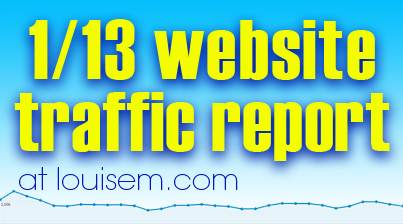 Here's my website traffic report for January. If you wish, you can compare to my 2012 website traffic report.
My traffic had held steady through December 2012 and the Christmas holiday, so I was expecting it to rise as people got back to work in January. What I didn't expect was a spike in traffic starting New Year's Eve! My highest traffic to date was Wednesday, January 2nd, with 2,903 visits. Wow!
But why?
Website Traffic Report: January 2013
I wish I knew exactly, but I can tell you – it was my Facebook emoticons list that suddenly went wild. In the 5 days from Dec. 31 – Jan. 4, that post brought in over 5,000 pageviews. And, like all of my site, 80% of the traffic was from Google searches.
Yeah, I don't quite get it!
That post remained the #2 post through the month, with my always-#1 post being Best Facebook Photo Sizes. The two posts together brought in 48% of my total pageviews: 33,692 of 69,910 total.
Total pageviews in December were 49,954, so January saw a 140% increase.

 What of the 16 Blog Challenge Posts?
The blog challenge I took during the month of January served to focus me quickly.
Stick with your focus, stick with your focus, stick with your focus!
I enjoyed my end-of-year wrap-ups and resolutions posts, and my series on blogging tips, but Google didn't. On January 10, I got back to my roots, and published a news item on Facebook Cover Photo rules. That became the top January-published post, with 1,052 views (rank: #12). Next from January's writings were 2 posts on Facebook links, at #17 and #26.
All together, the 16 posts brought in under 4,000 pageviews and less than 6% of my site's traffic. Disappointing – but it got me focused! I started sharpening my site's focus even beyond the blog posts, by removing my design portfolio and rewriting the Home, About, and Contact pages. It'll be interesting to see how much that hurts in the short run, as the portfolio pages got a good amount of traffic. But I know in the long run, this focus is GREAT for my business!
Do You Enjoy My Website Insights?
Writing the monthly website traffic report seems a great way to see what's working on my site. If readers aren't interested, though, I'll have to evaluate if it's worth the time. If you've read this far, please let me know what you think of my website traffic report!
Share and Enjoy