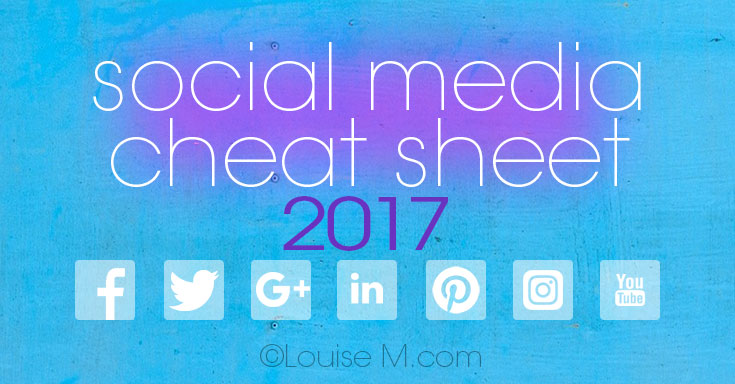 Searching for the ultimate social media cheat sheet?
I've been looking forever, and can't find one that's completely correct. So I made my own!
Simple – but accurate! Outdated infographics  are still widely posted and shared, despite their misinformation. Here are the updated social media sizes, as of January 10, 2017.
2017 Updates
Pinterest board covers now SQUARE.
LinkedIn personal profiles redesigned.
2016 Updates
Pinterest profile picture enlarged.
LinkedIn company pages redesigned.
Facebook Cover Photo size updated to 828 pixels wide from 851.
Pinterest pin height shown in mobile feed will be cut off if taller than 2.8 times height.
I've included ALL essential sizes for Facebook, Twitter, Google+, LinkedIn, Pinterest, Instagram, AND YouTube on the chart.
Please leave a comment if any need to be corrected. I'll update as quickly as possible!
Social Media Photo Sizes Quick Reference & Links
Here's a brief rundown of some critical social media photo sizes.
My TOP recommended size for image posts: 1200 pixels square is ideal for Facebook and Instagram posts. It also works well for Twitter images on desktop, and for Google+ and LinkedIn posts.
But WHAT should you post on social media? Get ideas here!
• • • CLICK to Get your FREE Social Media Content Guide! • • •
Facebook Photo Sizes
2017: I updated the minimum wall post size due to the Fall redesign. Hopefully you are going with larger photos than minimum already! Displays have such great resolution, and low quality images don't cut it any more. Go BIG!
Facebook Page Cover photo: Reduced in width from 851 pixels to 828 (in 2016). With so many Facebook users on mobile only, I strongly suggest you use a size that works perfectly on both desktop and mobile. See this post for details and to download a template: Facebook Cover Photo Desktop/Mobile Template.
Twitter Photo Sizes
Twitter said images would no longer be cropped to a horizontal in the stream, but seen in full, up to a square. This doesn't seem to happen across all devices, though. Either go with twice as wide as tall (optimal), or stick with square for portability across social media networks.
Google+ Photo Sizes
Google+ Cover photo size: 1080 by 608
Google+ Profile photo size: 250 x 250
How about a side of FREE social media post ideas?
• • • CLICK to Get your FREE Social Media Content Guide! • • •
LinkedIn Photo Sizes
Update December 2016: LinkedIn has totally redesigned your personal profile!
Max file size 8MB and file type must be PNG, JPEG, or GIF.
LinkedIn profile "background": Per LI, size is between 1000 x 425 pixels and 4,000 x 4,000 pixels. I updated the recommended optimal size to 4,000 x 1,700 per quality concerns brought up by LinkedIn.
Linked in profile picture: Per LI, size is between 400 x 400 pixels and 20,000 x 20,000 px.
LinkedIn blog post link proportions now perfectly match Facebook link shares! So I plugged in FB recommended sizes.
LinkedIn photo share: 1200 x 1200 square looks best on desktop, but gets cropped to horizontal in the mobile feed. The link share size works best there.
LinkedIn Company cover photo size: 1536 x 768*.
LinkedIn logo size: 300 x 300 square. No more horizontal.
Read more on the September 2016 LinkedIn company page redesign here.
*NOTE: There's some question as to how that company cover photo works. The height is greatly cropped. I suspect that the cover image proportions work for mobile. Just as with Facebook and Twitter, the height gets cropped on desktop – although much more severely. Unfortunately, you'll have to create something and test it on different devices if it has critical elements that need to show. Or else think of it as more of a "background" image that doesn't have faces, type, or other elements that would look bad when cropped on different devices.
Pinterest Photo Sizes
December 2016: Pinterest board covers are now SQUARE. I recommend 736 x 736. If you use the Showcase feature, you'll want to make sure you make them at least 340 x 340. If you don't, you can get away with 180.
As of Summer 2016, the Pinterest profile picture appears larger, at 180 x 180. Upload even bigger for best results.
The ideal pin height is 1.5 to 2.8 times (reduced from 3.5 times) the width, which measures out at 736 pixels wide x 1104 to 2,061 pixels tall. Taller pins will be cropped in the stream on mobile.
Some sources say 735 is one pixel less than the true pin width, so I updated the chart to 736.
Pinterest Profile Photo size: 180 x 180 or larger
Maximum pin width when clicked: 736
Board cover: suggested minimum 340 x 340
Instagram Photo Sizes
Instagram posts are no longer limited to square! For details, read: Instagram Photo Format Breaks Out of the Box!
Now that you've got the sizes – what images should you post?
• • • CLICK to Get your FREE Social Media Content Guide! • • •
YouTube Photo Sizes
YouTube Channel Art size: 2560 x 1440 | Right click to download template
Be sure to check the template as cropping varies widely from TV to mobile to desktop
Video thumbnail: 1280 x 720
Channel icon: 800 x 800
Tumblr Photo Sizes
It's hard to find image sizes for this platform, and one reason may be that it's pretty freeform.
I don't use Tumblr and decided not to add it to the cheat sheet, since I won't know if things change. But it's been requested so I'm adding what I found, below.
Since Tumblr is so customizable and each theme is so different, you'll have to check your particular theme for guidelines. All sizes vary by theme.
Tumblr header size: Check your theme. I couldn't find any info.
Tumblr profile photo size: minimum 128 x 128 jpg, gif, png, or bmp file.
Tumblr image post: Dash image size maximum 1,280 x 1,920, shows in feed at 500 x 750.
Images can't exceed 10 MB.
Animated GIFS must be under 1 MB and max at 500 pixels.
Social Media Cheat Sheet 2017: Must-Have Image Sizes
You can embed the cheat sheet on your own blog with the code below the graphic.
Free Members: download a printable version by logging in (Or get a free membership here!)
Help battle the misinformation being passed around. Size does matter!
Pin and share this complete updated social media cheat sheet with your friends and followers.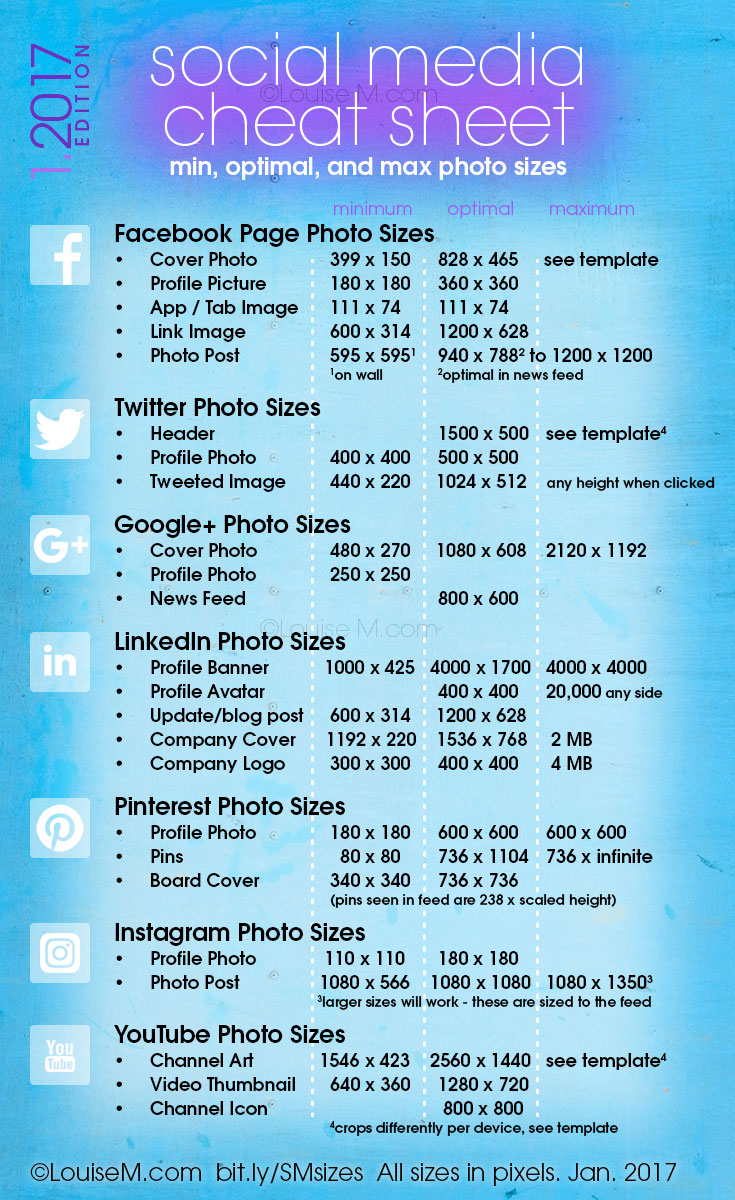 Share this Image On Your Site