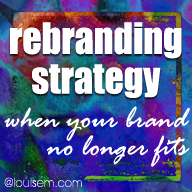 Looking for a rebranding strategy?
Or perhaps you've noticed things changing around here!
Yep, I'm rebranding, and I thought you'd like a peek behind the scenes to see what I'm doing – and why!
Why Rebrand a Company?
It's time to rebrand a company when your current branding no longer fits what you're doing.
My rebranding backstory: LouiseM.com launched in April 2011 as an updated graphic design portfolio website. I knew two things had become musts since my original 1994 website: blogging and social media. Social media was (and still is) increasingly relying on quick communication through visuals. As a graphic designer, I knew I could capitalize on that, but I saw others were struggling.
Facebook's shift to the Timeline format was my opportunity to educate others. As I started blogging about how to set up a great Facebook Fan Page one year ago, my site traffic took off. Quickly, readers' interest in learning how to make social media graphics surpassed their interest in hiring design services!
Before long, my brand was irrelevant to my new focus on training others to make their own graphics!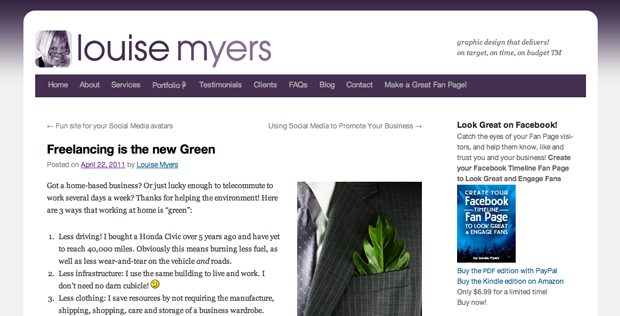 My Rebranding Strategy
A month ago, I hired an awesome business coach to help me focus my thoughts, and my brand. You can follow the same rebranding steps I took:
Clarify your target market.
Write a new brand statement, or Unique Service Proposition.
Change your website name, tagline, logo, author bio to reflect your new focus.
Consider changing your site's look. I brightened my colors, since I'd kept them subdued before so as not to compete with my portfolio samples (see above). No worries now!
Realign your blog categories, if necessary. With the huge majority of my posts being about Social Media, I broke them down into the first 4 categories you see in the new header menu.
Move, delete, or hide irrelevant pages. After much deliberation, I decided to move my portfolio under the "About" tab. Readers can still view it if they want to see my designs, but I'm not taking on new work.
Rebrand your email template to align with your website design & verbiage.
Adjust your social media profiles to match.
Let everyone know about it!
Which brings us to today!
Of the list above, I'm still working on my Facebook Fan Page. Facebook doesn't make it easy! I'll have to petition to change my page name. I will probably go ahead and change the URL anyway, as "FreelanceGraphicDesignerLA" makes no sense with my new, rebranded company.
UPDATE Feb. 26: After much deliberation, I did change my URL and my Fan Page is now at https://www.facebook.com/LouiseM.HowToGraphics. Check it out, it looks spiffy too! Will let you know what happens with my Page Name Change Request!

I'm sure I'll come across little odds and ends that I've missed. But the list above covers your necessary rebranding steps.
And here are a couple extra tips as you (and I!) go forward:
Make sure all content you publish is aligned with your new brand. (More relevant, valuable content for you, dear reader!)
Ask for and share testimonials that are relevant to your new focus.
So, speaking of that last one, have you used my tutorials (either from the blog or my ebook) successfully? If I've made it easy for you to set up a Fan Page, or create social media graphics, I'd love your recommendation! I'd be pleased to feature it on my site, with a link to one of your social media profiles where you display your creativity. You may post in the comments, on my Fan Page, or email me. Thanks for considering it!
And feel free to ask in the comments if you have any questions about my rebranding strategy!
Share and Enjoy