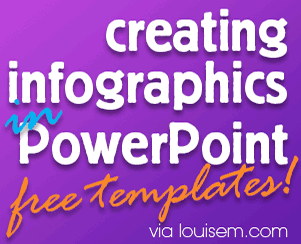 Thought about creating infographics – but it seems overwhelming?
Did you know you can make infographics with PowerPoint?
To make it even easier, you can use FREE infographic templates from Hubspot!
You'll be creating infographics faster than you imagined with these PowerPoint templates.
 Creating Infographics Easily with PowerPoint Templates
Infographics can drive more traffic than other content, helping expand the visibility of your brand. They can also spread across the Internet fast, allowing more people to see the benefits your company provides – or at least acquaint new prospects with your brand. People love to see and share infographics!
If you're a PowerPoint user, you'll love these three customizable infographic templates from Hubspot, to help you start making infographics:
Step-by-Step Infographic
Informational Infographic
Data-Packed Infographic
Most infographics you need will fall into one of these categories. The template includes notes that walk you through how to create your infographic. Two important tips are:
Right clicking on any image, textbox, or shape will open up various options for you to change the appearance of the respective object—whether that be shading, colors, fills, outline, or styles. Be open to playing around seeing what you discover.
When inserting images for your graphic, you might find that the images have white backgrounds while your infographic does not. Either give the image a border to make it fit, or use the transparent tool in your toolbar. Simply click "Transparent color," and then click the background of your image.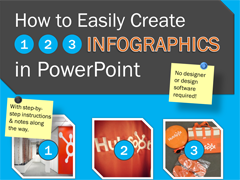 If you want even more details, there's a fabulous post on the Hubspot blog.
If you know your way around PowerPoint, get the free infographic templates here:
How to Easily Create Infographics with PowerPoint Templates from HubSpot.com.
Share with someone who would find this useful! And get started creating infographics in PowerPoint!
Share and Enjoy