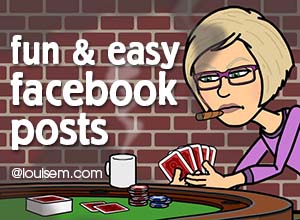 Why not have some Facebook fun, and increase your Klout score at the same time?
This tip is for your personal profile. You can add either your personal or business page to Klout. Due to Facebook's algorithms, the vast majority of users will get a better Klout score by connecting their personal profile instead of their business page.
But we all like to use Facebook for fun, right? And this little app can add to your Facebook fun, get you lots of interaction, and improve your Klout score all at the same time! Plus, it's fast and easy.

This fun app is called Bitstrips. You create your own comic avatar that you can customize, right down to the shape and color of your eyebrows and lips! Then you can dress your mini-me from a wide assortment of clothing pieces, and customize the colors. I admit, I had a bit too much fun with this! Reminded me of being a kid and playing with dolls. But people have told me the result looks strikingly like me, and couldn't believe it wasn't custom designed. And it's all free!
Then it's so easy to make a quick Facebook post! Bitstrips creates 3 or 4 cartoons of you each day, and suggests captions. Use them as-is, or customize. It only takes about a minute! I usually share one each day. And my Facebook friends have loved them.
Note that once you sign up for Bitstrips, your friends who also have it will see suggested cartoons starring the two of you (as will you). This is actually even more fun, as you can post a cartoon with your friend in it, tag them, and get even more engagement from their friends too. Just wanted you to be aware that you might get "roasted" in a friend's comic from time to time!
Now, these will only post directly to your personal profile, and there are prohibitions on using Bitstrips for commercial use. You can read their terms here.
Why not share this post with your Facebook friends? The more who play with Bitstrips, the merrier. Post more, increase your Klout score, and have some Facebook fun!
Share and Enjoy