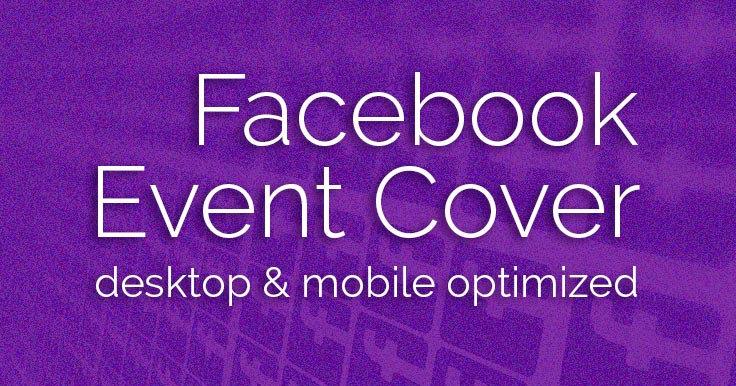 The Facebook event image size differs from both the Fan Page and the personal profile!
Photos on the event page wall will be seen at 470 pixels wide, up to 470 pixels tall, depending on the shape photo you upload.
Feel free to make them bigger (but not smaller, for best results). Both myself and Facebook often recommend a 1200 pixel width.
And the event cover photo? It keeps changing!
Updated May 2017: The correct Facebook event cover photo size is 1920 x 1080 pixels. This is a 16:9 ratio.
Photos uploaded at less than 1920 pixels wide will be enlarged to fit. This isn't ideal as you lose resolution, making your photo look fuzzy or jaggy. Start with a large enough image, preferably in a horizontal format. As mentioned above, 16:9 ratio will work best.
To upload, Click Add Event Photo at the top right of the event page.
Choose your photo and click Save Changes. Keep in mind that you can't edit the size of a photo after it's been added to an event.
Pictures uploaded in a wider proportion will have the sides cropped. Taller images will be cropped top and bottom.
The event photo appears in three different locations. They all look best when following the 1920 x 1080 recommendation.
Upcoming Events: Those you invite will see the Facebook event photo displayed as a thumbnail in their upcoming events. Choose an image that looks good at full size and as a thumbnail, so users can recognize your event.
Event Page: Your event image displays at 470 x 174 on your event page. This is the main resource for the event's specific details, comments and updates.
Newsfeed: Event images within your Newsfeed display at nearly the same dimensions shown on the actual Facebook event page.
Facebook Event Cover Photo Size: Download the Template!
The event cover photo also appears in different apps that may cut off some elements.
A reader helped me create this template by providing specifics.
Right-click and choose "Save Image As…" to download the full-size template.
Her comments:
On April 30th, 2017, I did some tests on multiple devices and apps for Facebook's event image headers crop dimensions.
Event Page header image on desktop and some apps is full 1920 x 1080 / 16:9 image.
News Feed image across multiple apps crops top and bottom off to roughly 1920 x 1000.
Groups App seems to crop into the side in at 1757 x 738.
I always appreciate my readers' comments!
Below you'll find prior recommendations that are likely outdated. However, I'm keeping them in the post in case you find the new dimensions aren't working for you! Please leave a comment if you're still having problems with the new Facebook-approved size.
From March 2017: Facebook is always changing things! A reader has done extensive testing and provides these suggestions:
Just spent today experimenting with a few things, and honestly, 1200×675 or perhaps 1640×675 is still best bet.

What I found:

1920×1080 doesn't improve anything. Still has same compression, just different aspect ratio. And the aspect ratio is hard to design with.
David's 1640×675 produces the same result as 1200×675, but with different aspect ratio.
For the most part, 1200×675 worked better across platforms.
FWIW it looks the worst on desktop in all formats, and the best on mobile.
He left more about the compression issues in the comments, so scroll down and check it out if you're interested.
If you're having trouble with fuzzy text or artifacts in your flat tones, try saving your image as PNG-24 in Photoshop.
For another take, listen to reader Stephen Billington:
I've found that, although not perfect, a size of 1200 x 628 works the best for the cross platforms. For me it's important that the mobile event picture should appear full in the page feed. The mobile event page picture itself loses a touch off the sides and it looks good on the desktop version in both the feed and the event page.
If you do a lot of FB Events like Stephen does, and use text on your Cover Image, you might play around to see what works best for your needs. True confession: I almost never look at the FB news feed, so I couldn't tell you what looks best there.
If you're on desktop and want to see what your event, page, or profile looks like on mobile, just replace the "www." in the URL before Facebook.com with an "m." Voila! Mobile layout on desktop.
This post was originally published on October 8, 2014, and updated September 30, 2016, March 16, 2017, and May 2 ,2017.
October 7, 2016: Facebook launched standalone Events app. Check your cover photo here also.
Share this post if these updated tips helped you with the correct Facebook event image size!