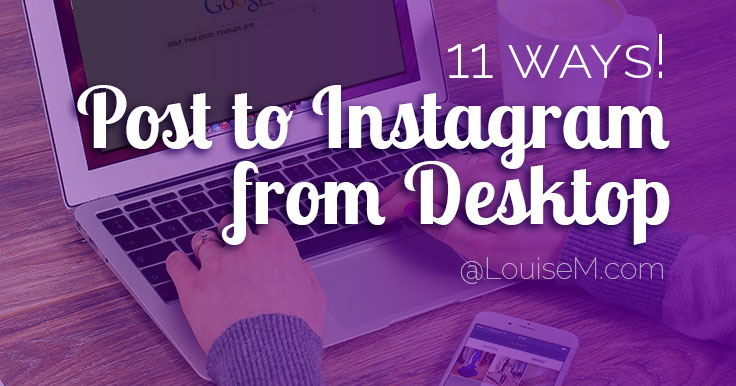 Wondering if you can post to Instagram from desktop?
NOW YOU CAN! Right in the Instagram mobile app, but on your computer.
Just released today, May 9, 2017: Instagram mobile site.
So???
So, this means you can actually run the mobile app, and upload photos like on your phone or tablet, right on your computer!
This info came to me from Martin of Goos3d.ie. I tried it and it's brilliant!
Go to Instagram.com on Chrome browser.
Open Developer Tools by pressing Control+Shift+I at the same time.
Ignore all the code. Click the little mobile icon at the top.
Above the Instagram site, click the word Responsive and choose a mobile device.
Now you can upload a photo and type your caption, right on your computer!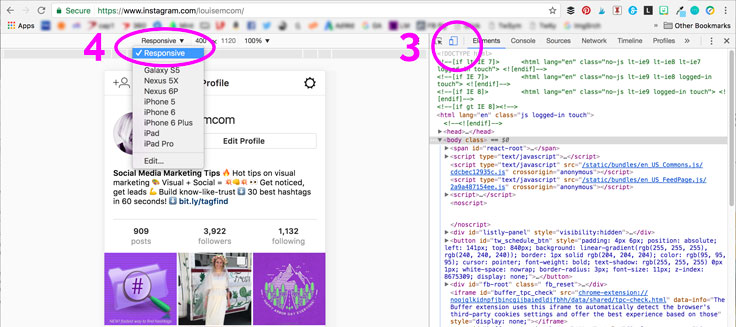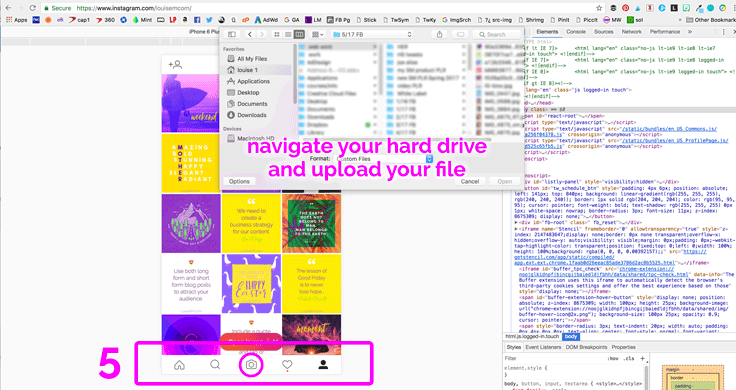 Here are the features still unavailable on the Instagram.com mobile website:
Video uploads
Filters
Stories
Direct Messaging
But no worries on breaking any Instagram Terms of Use, because you're not using any third-party tools. If you want a scheduling feature, note that Tailwind and Hootsuite are approved Instagram partners. Read more below.
10 Ways to Post to Instagram from Desktop with Scheduling
You can't schedule Instagram posts without a third-party tool. But you have many options!
Just remember that Instagram doesn't allow uploads via their API, so these are workarounds. Check them out to see which will work best for you.
The Instagram desktop methods below fall into 3 groups:
Schedulers that let you set up your posts and send you a reminder on your phone.
Schedulers that set up your posts and then post for you via mobile devices or emulators.
Emulators that allow you to post right on your desktop.
Of these, the first group is definitely sanctioned by Instagram because you do the actual posting from your own device.
The second group is not sanctioned by Instagram and could possibly get your account closed – though three of them have told me it's never happened.
The third group is probably okay with Instagam. I can't guarantee it, though.
There are 3 more options if you just need to get stuff from your computer to your mobile device for posting. You'll find those at the end of this post.
NOTE: Prices current at time of writing but are subject to change.
Why Would You Want to Use One of These Instagram Tools?
Instagram was created as a share-the-moment social media network. Its intention was sharing moments as you're experiencing them. But it's evolved and expanded as new communities have come to love Instagram. With these tools:
Brands can keep a constant and cohesive presence.
Photographers can easily post dSLR photos from their computer.
Designers can use their favorite desktop tools and share on IG.
Videographers can edit on desktop and share directly to Instagram.
The visually creative can plan a kick-ass profile page.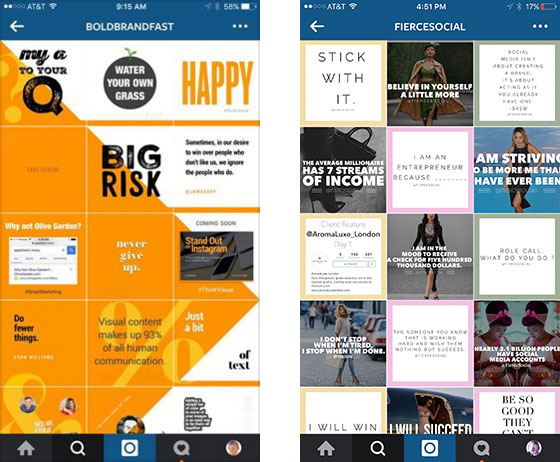 The tools that include scheduling allow you to plan a consistent look to your account, as well as to post when you're busy working – or even off-grid.
The last group of tools allows you to post even if you don't own a smart device. OR use the new hack mentioned at the beginning of this post!
One fairly new feature of Instagram: Now you can open an account via instagram.com – no need for a smart device.
Instagram Scheduling Tools That Send a Reminder to Your Phone
These tools aren't smartphone-free solutions. They send a reminder to your mobile device at the time you scheduled your post. You still need a mobile device to complete the posting.
Reasons to use these tools:
Get images (and video with some) from computer to your phone.
Plan a constant and cohesive presence.
Set a schedule and not forget when to post.
Browser-based, and most have a mobile app version too.
In addition, HootSuite, SocialDraft and ViralTag include:
Schedule your image to other social networks at the same time.
Monitor mentions of your brand.
Generate analytics and reports.
Post to multiple accounts (number varied by plan).
Work with team members (number varied by plan).
TailWind App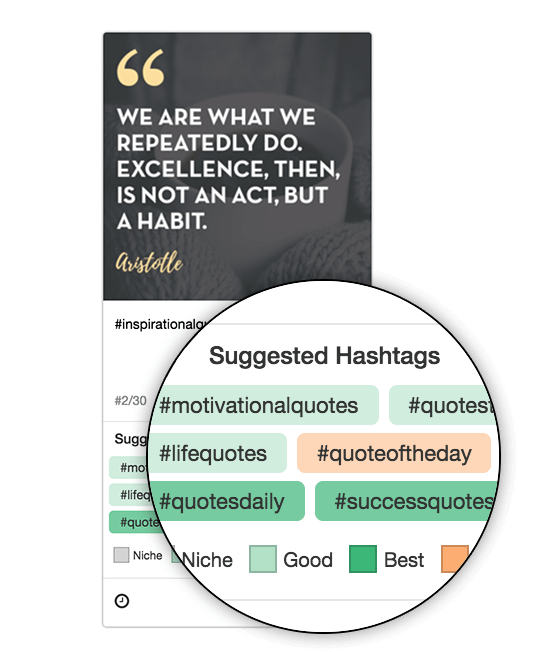 TailWind calls their service "The Most Intuitive Instagram Scheduler Available." It serves up a lot of great features, including the just-released Hashtag Finder.
Smart Schedule
Bulk upload on desktop
9 grid preview
Manage multiple Instagram accounts
Hashtag Finder
Easy regrams
Approved Instagram Partner
This one really has everything you need – including an amazing support team! I 💜 TailWind.
To sign up for a free TailWind trial, click here. Cost after trial: $9.99 per month, paid annually.
• • • Try TailWind for FREE • • •
(proud to be a TailWind affiliate!)
PromoRepublic
Need Instagram post ideas and a way to create them, in addition to a scheduler? PromoRepublic offers all 3.
Create stunning posts in seconds with 100,000+ handcrafted templates, ideas, and visuals.
To try PromoRepublic for free, click here.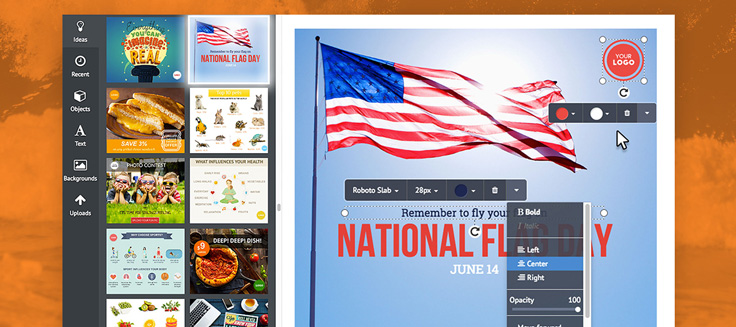 • • • Try PromoRepublic for FREE • • •
(proud to be a PromoRepublic affiliate!)
Later.com
A free desktop option for scheduling is Later.com. You can upload images and schedule your posts from desktop, and the images will be sent to your phone.
It has a 2.5 star rating on the iTunes app store due to reported bugs (latest version doesn't have a star rating yet). But I know a few people who swear by it! Free version available for one or two accounts. You can upload video in the paid version. No bulk upload available.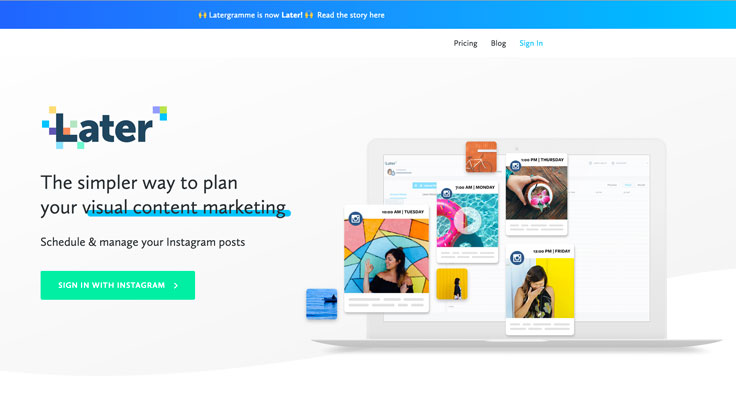 CrowdFireApp
CrowdFire's Publish (formerly called TakeOff) feature allows you to schedule Instagram photos at the best suggested time to get the most likes and engagement with your picture. Or choose to post immediately, or at a time you specify.
Publish suggests hashtags to use. You can "add all" hashtags, but most are irrelevant to your image, so don't.
There's also an app for iOS and Android to schedule via your phone. Free version available.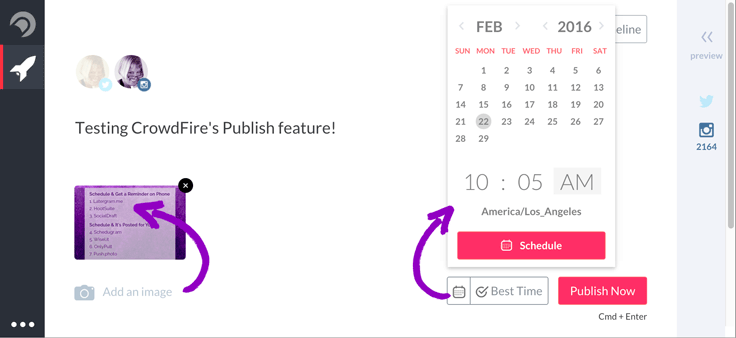 HootSuite
HootSuite is an inexpensive, full-featured social media management tool, and the one I currently use. They've added Instagram scheduling to their lineup of Facebook, Twitter and LinkedIn. HootSuite sends you a notification via the mobile app, and you complete the actual Instagram posting from your mobile device.
HootSuite includes loads of helpful account management features. Check out how you can easily follow and interact with targeted accounts, hashtags, and locations. Very useful – in addition to managing your own accounts.
As with TailWind, HootSuite is an official Instagram Partner.
To sign up for a free 30 day trial of HootSuite Pro, click here. Current cost after trial: $9.99 per month, and up.
• • • Try HootSuite for FREE • • •
(proud to be a HootSuite affiliate!)
SocialDraft
Schedule posts to Instagram via the Socialdraft dashboard and you'll receive an SMS (no additional mobile app needed). Socialdraft puts all of your content for Instagram, Facebook, Twitter and LinkedIn into one easy to read calendar. You can't upload video, but you can upload posts in bulk via CSV files (Excel spreadsheets). For that, the images must exist on the web as you'll need to link to them.
The big benefit of SocialDraft over HootSuite is that you can easily visualize your content on your various social networks on the same content calendar. It's much more attractive, too – but the price tag reflects that. Current cost after 14-day trial: $59 per month, and up. 30% discount if you pay for a year in advance.
ViralTag
Here's another full-featured tool that lets you manage all your visual content in one place – not just for Instagram, but also Pinterest, Facebook, Tumblr, Twitter and LinkedIn.
Bulk upload and editing tools included.
Organize your content from Dropbox, Google Drive, Flickr, and social media in your custom dashboard. Create original content with their Canva integration. Then measure the success of your content with Viraltag custom website traffic and social analytics.
This looks like a great tool and I hope to find time to give ViralTag a test run. Current cost after 14-day trial: $29 per month, and up.
• • • Try ViralTag for FREE • • •
(proud to be a ViralTag affiliate!)
Instagram Scheduling Tools That Post for You
OK, these are cool in that you can schedule posts and not worry about being available to post them via your smart phone later. The only problem is that these aren't approved by Instagram – so they could get your account closed. It may be unlikely (3 have told me it's never happened) but it's still possible.
These tools post to your Instagram account as you, via smart devices or emulators.
All of these are specific to Instagram scheduling only. Wisel.it allows you to post to Pinterest and Twitter at the same time if you choose – though you could set up an IFTTT recipe for any of the others.
Note that you'll need to set up your Instagram account first (which you can now do on instagram.com), and it's recommended that you verify your email and post about 6 photos via smart phone before using one of these tools.
Schedugr.am
From your desktop, you can post now or schedule your post for later with Schedugr.am. And you don't need to be available to post later, as with the group of tools above. I'm told the posting is done from a bank of actual tablets at Schedugr.am headquarters in Australia!
As far as I know, this is the only option that includes the ability to post a comment with the picture and caption. If you like to place your hashtags in the first comment, this is an excellent feature. You can upload videos, and single or bulk upload photos. Editing tools include cropping, retouching, adding effects and enhancing your images.
Schedugram seems the fullest featured and best-known – I love that it allows bulk image upload. But it's also the most expensive.
Schedugr.am has a 7-day free trial, and the monthly fee after that starts at $20 per Instagram account.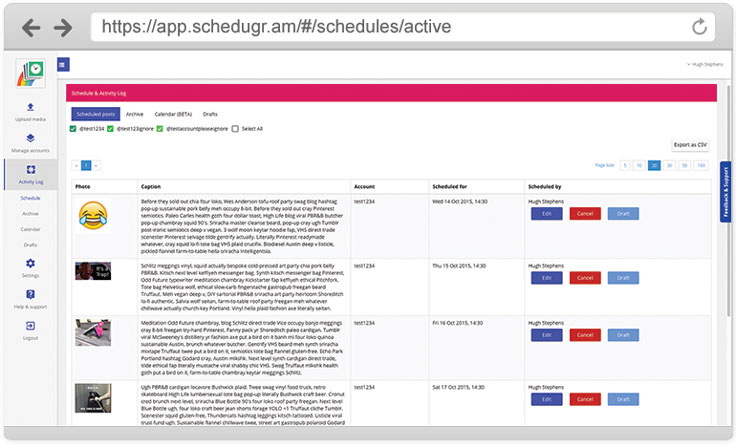 Wisel.it
Here's another option: Wisel.it. It appears to work similarly to Schedugr.am. The owners tell me they're using "smartphones and devices" to post to your accounts.
Wisel.it allows you to add multiple accounts, which is handy if you have a personal account and one or more business accounts. As mentioned above, your Instagram post can be set up to post to Twitter and Pinterest at the same time.
Wisel.it has a free 7-day trial with monthly fee afterwards, starting at only $2.99 for one account with limited posts and followers.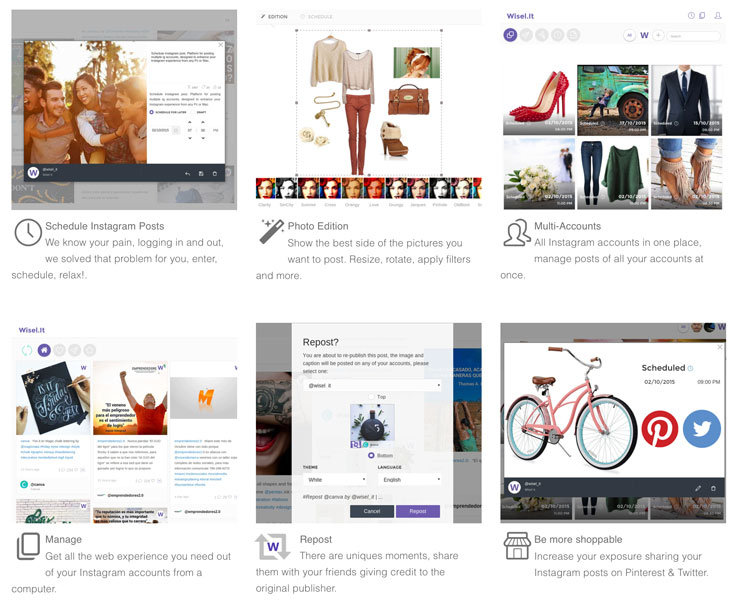 Onlypult
Formerly Instapult. I learned of this one recently, as they've been assertively letting everyone who tweets my HootSuite post know about their option.
They tell me: "We use Android emulator (emulator farm) and in-house software. We don't use any illegal software. We also don't violate Instagram/Facebook Terms of Use (a clause saying that posts must be initiated by an Instagram user)."
Onlypult includes editing tools and the ability to upload and schedule videos.
I'm a little uncertain on this one, as it was created by hackers. It's inexpensive though: currently $12/month for 3 accounts or $39/month for up to 20. If you want to check them out: Onlypult.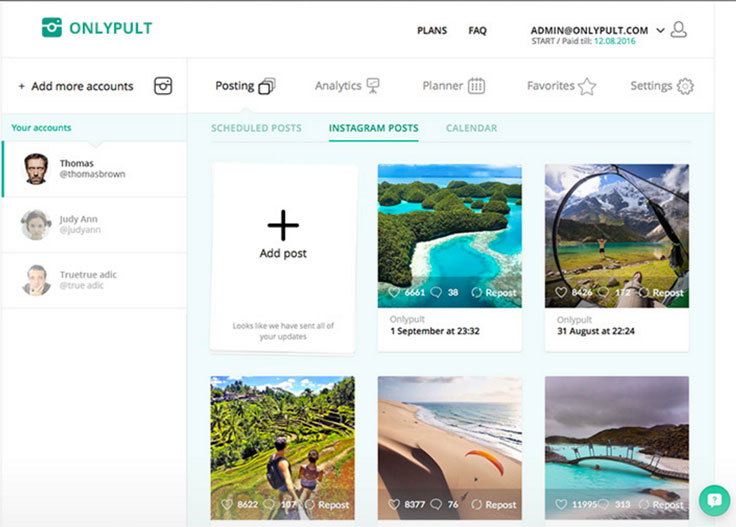 Push.Photo
This option was recommended by a reader. They tell me they're emulating Androids on their servers and Instagram would not be able to tell the difference.
Push.Photo has a free trial of a week, and then it's $9.75 a month for 2 Instagram accounts, $19.50 for 5, or $24.38 for 10.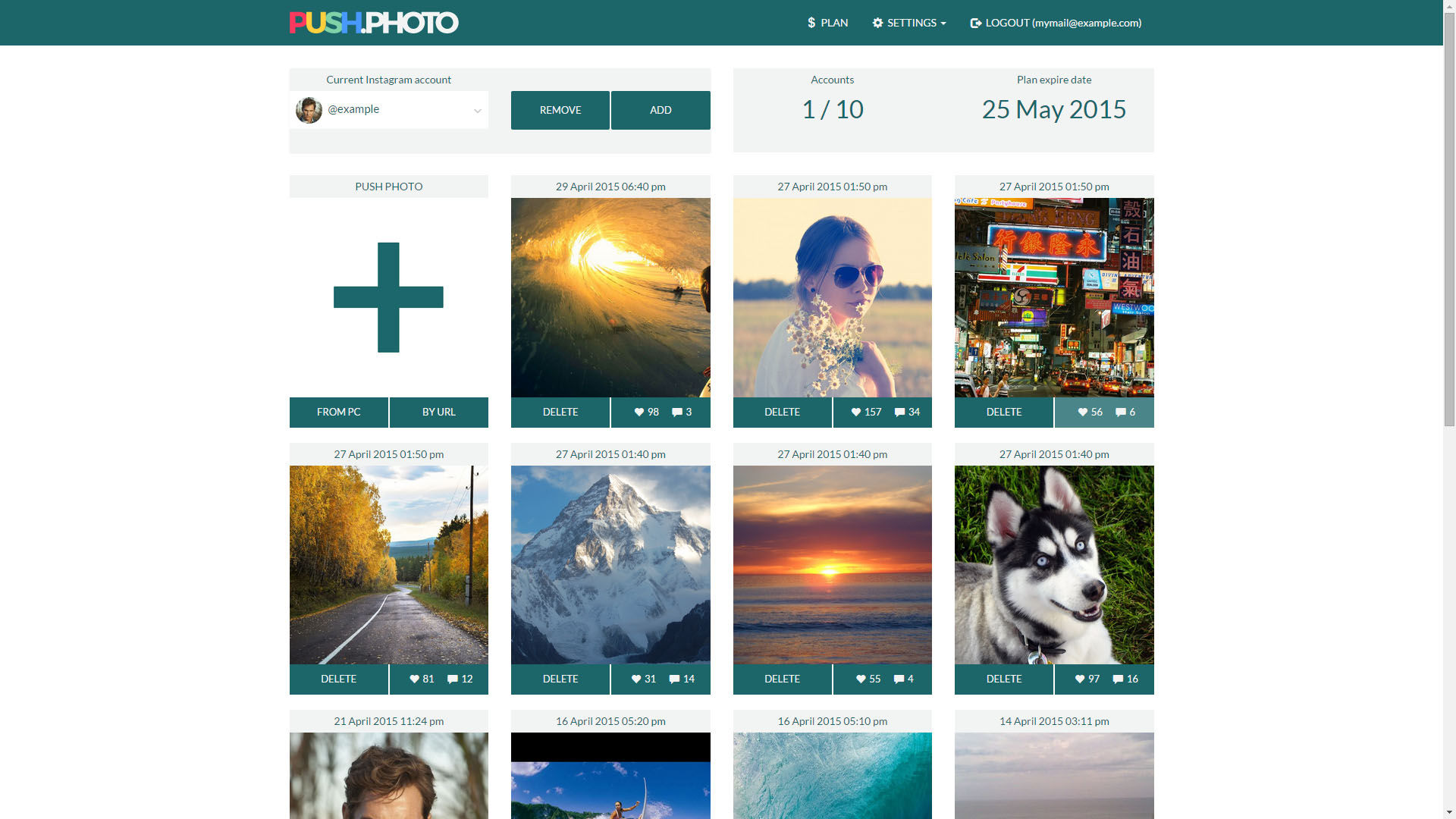 Instagram Tools That Post Directly from Desktop (No Scheduling)
These might be a lifesaver if you don't own a smart phone or tablet. That said, these can tend to be buggy. But, they're free, and may be your best option if you don't have a smart phone or a budget for one of the tools above.
UPDATE May 9, 2017: See the beginning of this article for how to post directly to Instagram.com on your computer.
BlueStacks
One way to run the mobile app on your computer is through software called BlueStacks. BlueStacks App Player lets you run your favorite mobile apps fullscreen in your browser and on PC. Since you're running the mobile app, you can open a new account via BlueStacks.
BlueStacks is an emulator. You can give it a try, but I've heard it's a bit quirky and requires some patience. However, it is free!
To upload a photo from your desktop, click the camera button, then select the polaroid icons in the lower-right of the app window. This will prompt you to select a photo from your drive. (If you use Instagram on Android, this entire process will be familiar.) Then, edit and upload the photo as usual. source
InstaPic
Another way to Instagram on your computer – including being able to register an account – is using the app InstaPic on Windows 8 or 10. If you want to give this one a try, you can find it here.
Unfortunately, this one's only available for Windows.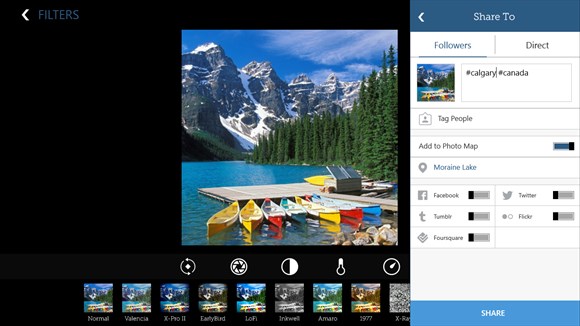 Gramblr
An option that I previously couldn't recommend is Gramblr. There were many reports of hashtags posted via Gramblr being disabled, and even accounts being blocked. It seems like they have addressed these problems with the 2.0 release.
Here are 2 differing reviews from their site, so I don't know what to tell you!
Gramblr is the only program out there that I have seen with the ability to post directly to Instagram via PC. They appear to have fixed all the bugs with broken hashtags, an earlier complaint for many users. Thus far, I have been floored by the results that Gramblr provides, especially for a free program! ~xeibriel

Okay, I don't know what the other reviewers are thinking, but Gramblr isn't working for me, point-blank. I will start it, enter my name and password and nothing, I mean literally nothing will happen when I click 'Login'. ~guest
Gramblr includes photo editing, cropping, filters, and stickers. Looks like fun – if it works for you!
Low Tech Options to Get to Instagram from Computer
If you simply need to move dSLR photos, or graphics you created on your computer, to your phone, you can avoid all the rigamarole of the tools mentioned above.
Mac Photos App
Have an iPhone, and using the Photos desktop app on your Mac? Simply right-click any photo and choose Share –> iCloud photo sharing. If you haven't already, create a shared album and you'll see it as one of your photo albums right in the Instagram app. Easy-peasy.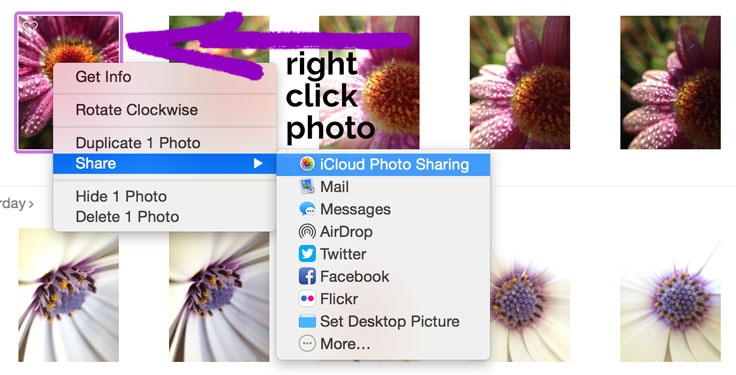 Dropbox
If you're not all Apple, or you're retouching or creating images in Photoshop, then use Dropbox. It's a free app that you'll install on both your computer and your smart device. Then simply copy the items on your desktop to a Dropbox folder (mine's named IG – clever huh?).
To copy files on a Mac, go to your Finder, open the folder containing the image(s), and option-click on the one(s) you want to copy. Drag to the Dropbox folder and you'll find them on your phone app instantly. Tap on the image and save it to your camera roll.
If you sign up for a FREE account, I'll get more storage space on mine. So go ahead, do it, you know you want to!
(Did I mention it's FREE? And very useful!)
• • • Get a FREE DropBox account • • •

Email
The lowest tech option of all is to email yourself a photo from your computer. This is cumbersome if you're using high resolution photos, as you'll be emailing yourself daily!
Which Instagram Posting App is Best for You?
Note than none of these is affiliated with Instagram. As far as I know, only TailWind and HootSuite are official Instagram Partners.
I'm wondering, as Instagram pursues businesses and advertisers, if they'll release their API to make posting from desktop easier. But for now, these are the only options I found. Leave a comment if you know of another!
Will you try one of them to post to Instagram from desktop?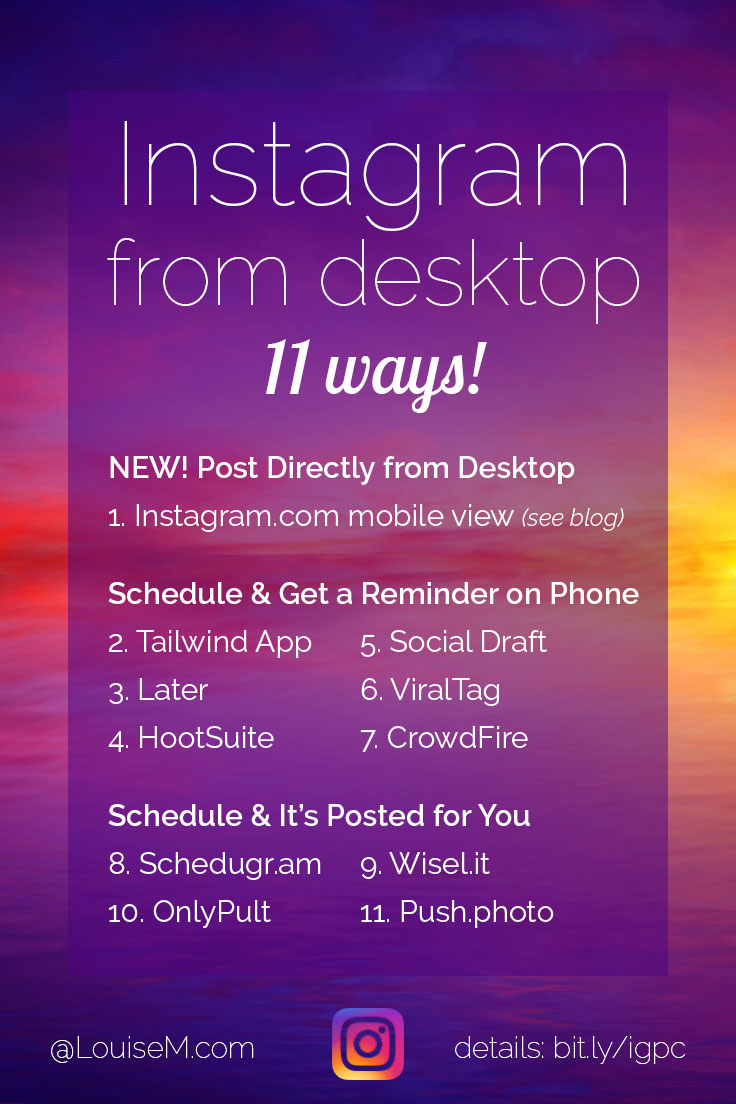 The blog post "Can You Post to Instagram from Desktop?" was originally published October 2014 and has been updated 7 times.