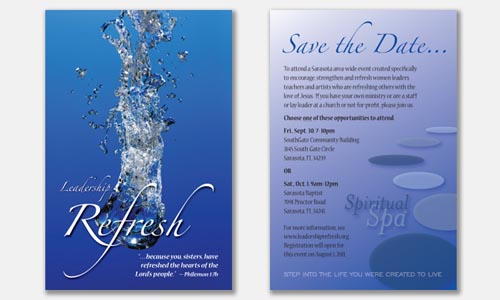 Dramatic postcard-sized handout which became the basis for a new website design. I researched and purchased the stock photo for the front, and used interesting transparencies and shadows on the reverse. Read more about this postcard design.
Concept, design & production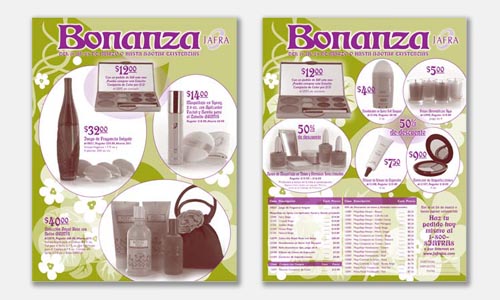 Bonanza 8 1/2 x 11″ sell sheet design promotes overstocked products to Consultants, who can purchase via order form on reverse side. Two complementary Pantone colors combine for rich duotone photos. Read more about this design.
Concept, design, production, color & theme, clipping paths
Five-panel brochure design with a unique fold that shows the vertical headlines when you open the front panel. I chose bright colors for the summer "Family Retreats."
Here's a case study on a completely different flyer.
Design & production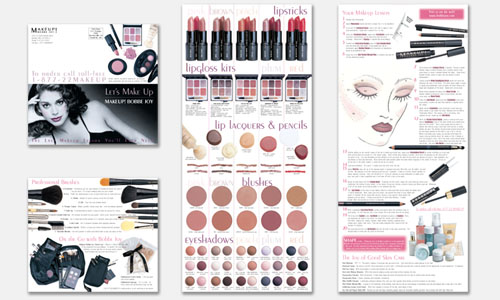 A unique and inexpensive catalog for a makeup artist. The 9-panel brochure design opens to a wall poster with a makeup lesson on one side and the product line on the other. Client was thrilled with the color accuracy of the printed piece!
Concept, design, production, photo direction, printing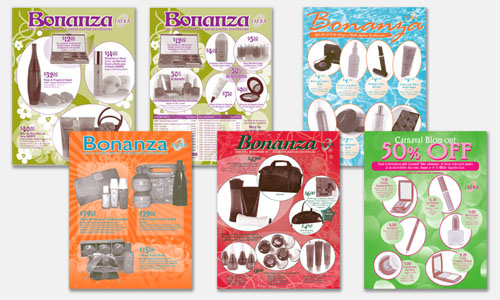 More Jafra sale flyers. I created each design in 2 complementary Pantone colors that combined for great duotone photos. Provided photos had various backgrounds, so I used clipping paths.
Concept, design, production, color & theme, clipping paths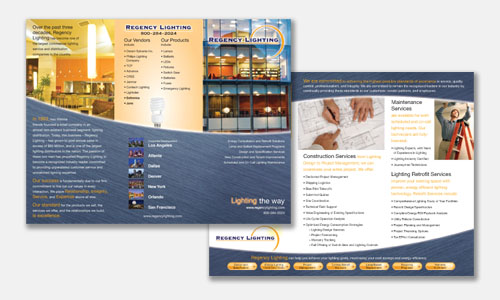 I was given a layout to follow, and researched stock photos to create the final brochure design. I improved upon the layout by adding textured backgrounds and glowing edges.
Photo selection, image manipulation, production
Contact me for a free quote on your next graphic design project! Check out more of my work here:
portfolio home | branding | brochure design | catalog design | direct response design | greeting cards
logo design | newsletters | packaging | postcard design | publication design | social media | web design
© Louise Myers Graphic Design