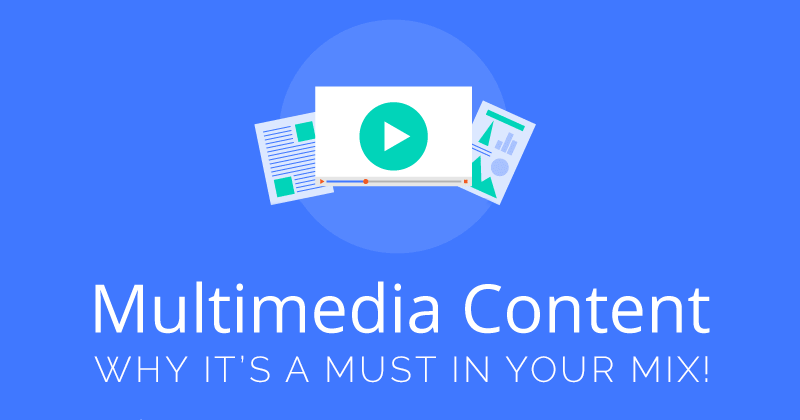 Why multimedia content?
How'd you like to breathe new life into your content marketing?
Multimedia could be your answer.
Text and static images get the job done, but adding video and infographic content offers dynamic ways to present your information and appeal to audiences who prefer a more visual approach.
Read on after the infographic.


Have you joined my FREE content marketing mini-class yet?
Each of your lessons will arrive as a printable PDF
with space for journaling how you can apply it to your business.
• • • CLICK to Get your FREE Content Marketing Lessons! • • •
What the Research Says About Multimedia Content
Research points to several compelling reasons to take a multimedia approach to communicate your message and build traffic.
Online audiences have short attention spans and unlimited options for receiving information. One glance may be all they give your material, and if you're presenting text, that means they don't read past the first paragraph.
Studies show that the brain processes visual data much faster than text, and it can quickly absorb even complex information when it's presented in a visual format like an infographic.
Multimedia also increases the time those viewers spend on your site by grabbing their attention quickly. Video and infographics are highly shareable and have a long shelf life, so your investment in this type of content can result in a long-lasting traffic surge.
I don't do much with video, but can vouch that infographics often go viral on Pinterest, and send loads of blog traffic!
Multimedia content includes a smorgasbord of options to suit the information you want to present. You can choose to create a live-action or animated video or even create a text-based video tutorial.
You can present data and statistics in an infographic, or you could offer a quiz, flowchart, timeline, or map. Study this infographic from CopyPress for inspiration about how you can incorporate a multimedia approach into your content mix.
Then tell us in a comment: Have you used multimedia content? Did you find it effective?