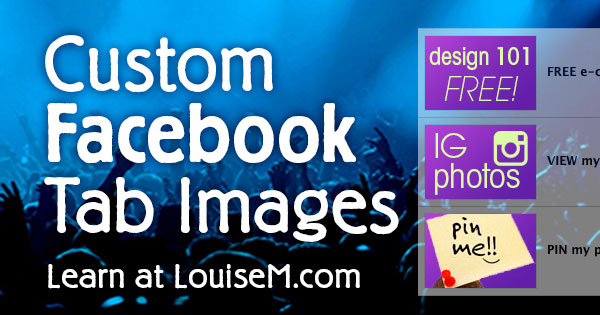 Need Custom Tab Images for your Facebook Fan Page?
The Tab Images are less obvious in the new Facebook Page design, so creating Custom Images in your brand color will help people notice them.
Facebook Fan Page Tabs are sometimes called Apps, but Facebook calls the thumbnails or icons Custom Tab Images. The word App or Tab is used interchangeably.
NOTE: You must first have Tabs / Apps installed before you can customize tab images. See this post for several ways to add free Facebook Tabs.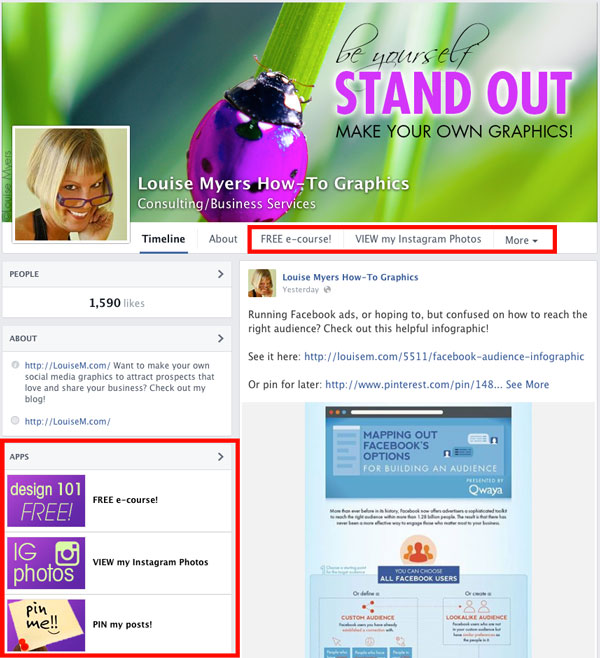 Where Are Tab/App Images in the New Facebook Page Design?
The Facebook Tab Images used to run in a row beneath most of the Cover Photo. Now your top 2 appear as text links under the Cover Photo, and the top 3 images appear in the left column (see image above). Page visitors can access the other Apps by clicking the More link at top right, or the small arrowhead at top right of the Apps section. All your Tab Images will be visible when that arrow is clicked.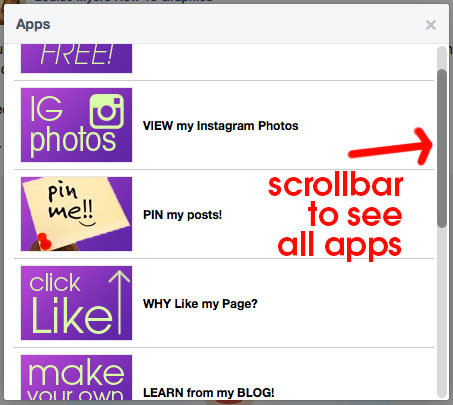 The Apps section sits beneath the People and About sections. Those can't be moved. But you can move the Apps section above the Photos and Posts to Page sections. Hovering the bar at the top of any section will show the Edit pencil, where you can Manage Sections.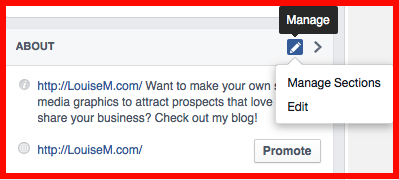 You can also reorder your Apps within the section, and I recommend you do. Put them in order of importance, since the first 2 will be linked under the Cover Photo. Then highlight your 3 best Apps with compelling Custom Images. Learn how to reorder your Tabs here.
Strategy for the App Thumbnails / Icons / Custom Tab Images:
Create compelling Custom Images to get clicks.
Rename the Apps with action words – give a call to action!
Upload your Custom Images.
Feature your 3 best Apps with the 3 thumbnails that show in the Apps section.
How to Create Custom Tab Images For Your Facebook Fan Page

If you don't set a Custom Image for your Apps, you'll probably have an ugly generic icon. The App Thumbnail size is 111 pixels wide by 74 pixels high. Create your Custom Images to this exact size. If Facebook resizes an image to fit, it can get blurry or bitmapped, and look amateurish.
The Custom Tab Images can be text-based, and even non-designers can make these themselves. Keep your brand colors in mind and add clean, simple text. I recommend going with a strong background color so they stand out from the white page. Use compelling Calls-to-Action as appropriate.
You can find Facebook Tab Image ideas to inspire your own creations here.

How to Rename your Fan Page Apps and Upload your Images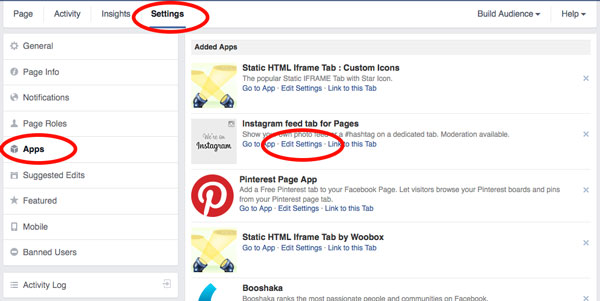 Click the word Settings above your Cover Photo.
In the left column, click the word Apps.
Find the App you wish to change and click Edit Settings. The Edit Settings box will pop up (shown below).
Here you can Remove the Tab, add a Custom Tab Image, and set a Custom Tab Name.
Start by adding your Call to Action words as the Custom Tab Name, and click Save.
Now click Change above the text box.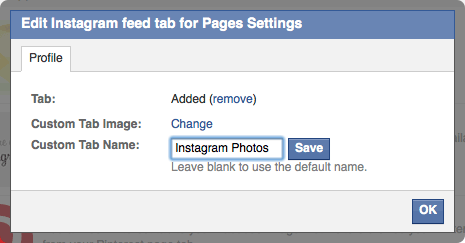 In the new window, hover the current image and click Edit.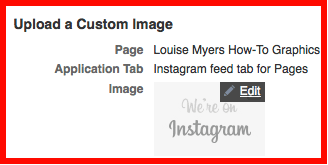 In the popup, choose your 111 x 74 pixel Custom Image.
When you've located the image on your hard drive, it will upload automatically.
Now you can close this window and reload your Page to see your new image.
How does your Facebook Fan Page with Custom Tab Images look? Leave your link in a comment!