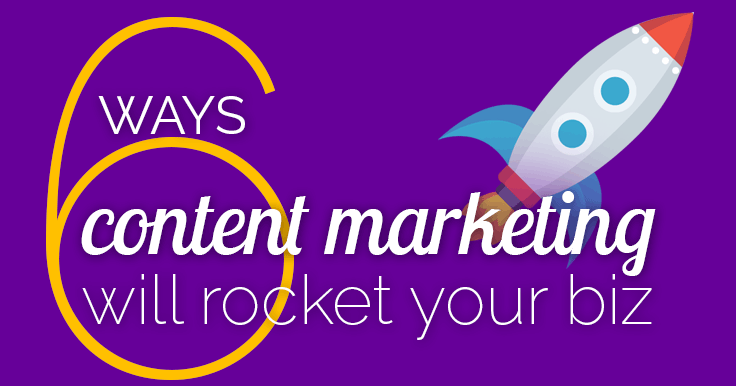 Wondering why content marketing is important now?
Are you hearing "content marketing" everywhere and wondering what the fuss is about?
Content marketing has been around for several years, so most small businesses with an online presence have at least a vague idea of what it means.
Content marketing is publishing:
e-books
videos
articles
images
and any other type of content online to market a business or product.
Problems with Content Marketing
There are a couple of problems, though.
Much of the content marketing advice you'll read online comes from digital marketing agencies. It's overwhelming for a small business that doesn't have a marketing team.
How on earth are you supposed to pump out all those videos and e-books when you have products to sell, services to fulfill, and customers to keep happy?
Then, when small businesses do try content marketing, often they create a PDF and post about it once or twice on social media. It doesn't work, they don't get the results they expected, and they – understandably – feel despondent about the whole idea of content marketing.
• • • CLICK to Get your FREE Content Marketing Lessons! • • •
Why You Need Content Marketing
But content marketing is important and well worth coming to grips with. Let's look at some of the reasons why, on a colorful infographic. Read on afterwards for the details!

You need great content for SEO
These days, search engine optimization has to start with quality content. You still need some keywords and backlinks to your site to do well in Google searches, but the days when just keywords and backlinks worked are long gone. Quality rules!
Content brings you traffic
You need content to encourage visitors to your website, for example a Facebook page post or an Instagram image. We call these micro content. Then you need content to get them to know, like, and trust you, such as blog posts and videos. If they like what you publish, they'll come back for more.
Content brings you leads
Once you've captured attention with your content, you'll need more to generate leads. You can do this by exchanging a useful checklist or guide (yes, this is content too!) for your visitors' email addresses.
Content builds trust
There are millions of websites out there. Why should anyone buy from yours? You need to make a connection with your visitors, to show you understand them, and can be trusted to deliver exactly what they need. Guess how you do that? Yes, with content.
Content grows your brand
If your content has a consistent message that's congruent with the rest of your business, then your content will tell the world about what, how, and why you do what you do. In other words, content marketing grows your brand.
Content even helps you to sell
There is an art to writing product descriptions and articles that sell. But to make your sales content work at its best, you'll need to deliver it to your prospect when they are 100% ready to buy. How do you know when that is? If you've been nurturing and tracking their progress using content marketing, you'll have all the information you need.
Conclusion
As you can see, content marketing is more than a buzz-word for posting PDFs on social media. If done well it, can bring you traffic, leads, and sales.
I love content marketing, because I love creating content! Whether blog posts, Pinterest pins, or ebooks, I love to make it.
Join me on a journey of discovery about content marketing!
There are 5 FREE lessons you can easily learn from printable PDFs sent by email. You'll get a new lesson every weekday. Sign up now!
• • • CLICK to Get your FREE Content Marketing Lessons! • • •
Let me know in a comment if you have specific questions or problems with content marketing.