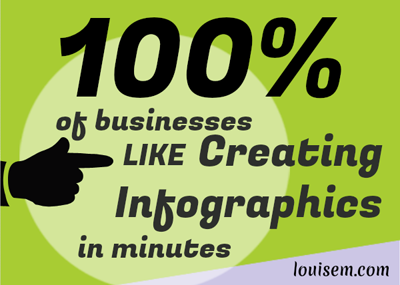 Is creating infographics in minutes a dream come true? Maybe! Depending on your needs, and your familiarity with the infographic tool at piktochart.com, you can create infographics easily – though probably not exactly how you'd like them, if you're a graphic designer. But for the small business do-it-yourselfer, this could be a cool tool.
I created the infographic Why Use Infographics? in about 90 minutes – which, I'm sorry to admit, included some cursing at the tools, particularly the layers. As a freelance graphic designer, I'm familiar with using more sophisticated tools like Adobe Illustrator. But honestly – for the amount of time saved, I'll be giving piktochart another try. And, I think it'll go a lot faster now that I understand some of its limitations.
Creating Infographics Easily with Templates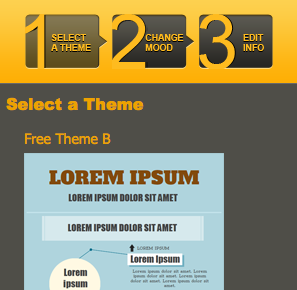 Your first step is to choose a template that closely matches the amount of information you have to present. Adding sections to the infographic will add time to your work. The more flexible you can be, the faster your job will go.
There are 5 templates (called themes) that you can use for free just for signing up. These are simple and basic, and will suit most needs. Currently, there are 50 additional themes with the paid program. Many of these are pretty specific in design and won't suit your business – but certainly lots of good ones to choose from. The themes are well-designed, right down to the font selection – which tends to be the downfall of the untrained DIY-type designer. Hint: stick with the fonts the theme designer selected. Drawback: the specific designs will start to look unoriginal as more people use this program. That's actually how I learned of it – I saw 2 nearly identical infographics in 2 days.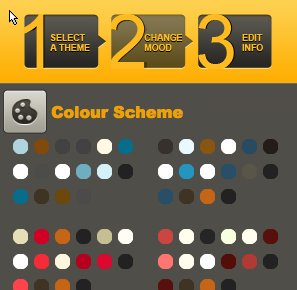 You have a choice of color schemes under the "change mood" button. The templates I looked at had 6 schemes – I found that a couple were strong, and the rest were not. At first glance, you may find it difficult to discern much difference between the color palette on the left vs. the right. Hint: the first "dot" is the background color. The color schemes load quickly, so click around and find one you're happy with, and that (hopefully) aligns with your brand colors.
You have the ability to change the color of anything. Drawback: the biggest lack here is – no theme palette to work from! The theme colors aren't identified to allow easy matching. You pick from a tiny palette of web colors, which makes it tough to visualize or match colors. But hey, it's free! Can't complain too much 🙂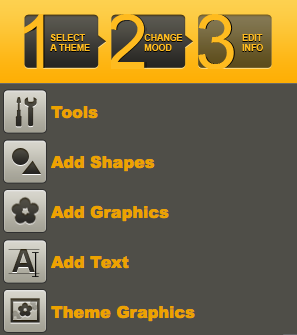 Once you've set your theme and scheme, you're free to edit info. All themes have the ability to upload an image and create charts, add shapes, graphics, text and links, and each theme has a selection of coordinating theme graphics – a nice touch. You just drag the elements you need over to your infographic, and can resize, recolor, flip, and do any number of cool things to them there. (See toolbar below).
Drawback: the shapes come in at a super huge size, so you'll do a lot of resizing with those! The graphics come in at a more useable size.
Double-click on text boxes to edit the text. As a designer, I have a tough time with not being able to adjust letterspacing and kerning, but I'm sure this is acceptable for most users.

How to Create Infographics with Piktochart
The easy way to see how all this works is to check out this 7 minute video that shows you how to create infographics with Piktochart.
Creating Infographics with Piktochart: The Verdict
I have a few complaints, but for the small business person who likes to "do it yourself," I think you'll find Piktochart is a great tool. I recommend to check out the free version to see if it's something you'll use. It can be frustrating – figuring out the layering drove me a bit crazy, as object's layer extended beyond the object. I often had to move items – that I'd carefully positioned – off to the side to edit others below. So try it out first – and if you have tried it, I'd love to know what you thought!
Check out my infographic Why Use Infographics?, and if you enjoyed my post on creating infographics, please share it – thanks!