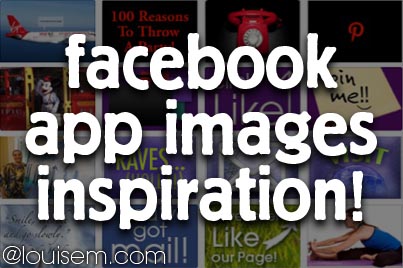 Got a Facebook Fan Page?
Using Facebook App Images to make the most of it?
Custom app images – those little thumbnails that link to your Fan Page apps – make your Fan Page look really pro. My post on how to create custom tab images continues to be one of the top traffic-attracting posts on my site.
I've gathered some examples to give you ideas of how YOU might use app images!
Facebook App Images: Ideas for your Fan Page
Most small businesses marketing on Facebook will want to keep it simple. Create the 3 visible app images with coordinated colors, and one font for all. Remember, you can reorder the app images.
Bonus tip: When creating images for your Fan Page, keep to the same branding, as you can see several pages have done here with their latest photo. It looks so coordinated!
To see more of what these Fan Pages are up to, simply click on their app images to be taken to their Facebook Fan Page. Enjoy the tour!



Can you get a little fancier? Sure! Add some graphics to your app images, still keeping your colors and font the same.



Creative, or have a designer to call on? Here are more complex ideas to inspire – always keeping branding in mind!





Got some inspiration? Next, check out How to Create Custom Tab Images to make and re-order your thumbnails.
If you found this post helpful, please share! And I'd LOVE to get your suggestions of Fan Page App Images to include in this post. Leave a link in the comments below to your favorite Facebook App Images!