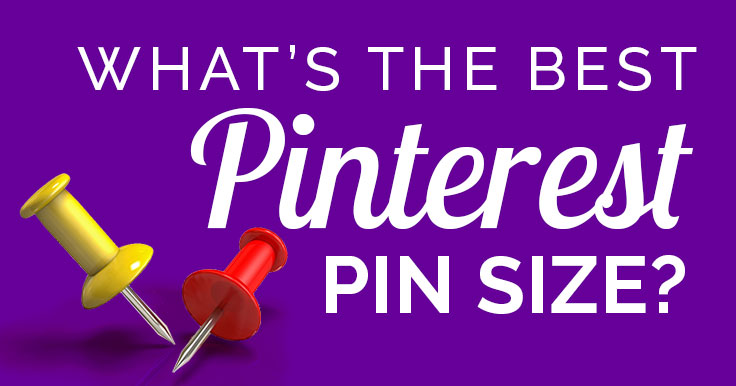 Wondering what's the best Pinterest Pin size?
You're in good company. Pinterest is changing things up, and Pinners are confused.
Some people are seeing only squares in the mobile stream.
Some are seeing a mix of squares and the oft-recommended 2:3 proportion.
Others are seeing everything cropped to an 8×10 portrait shape on the desktop feed.
What's a Pinner to do? Well, let's see what Pinterest says.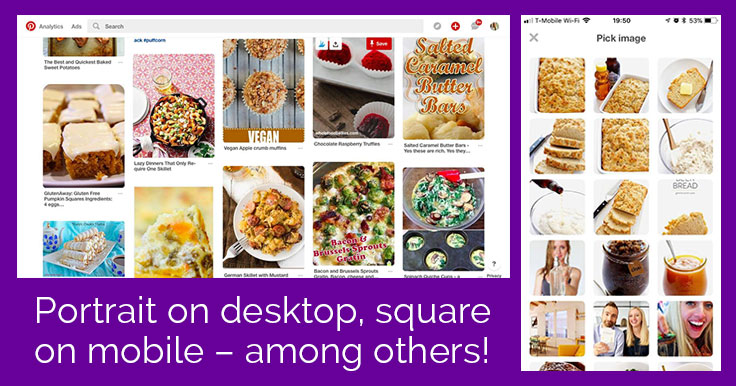 What does Pinterest say about Pin sizes?
Pinterest has been saying for years that the optimal Pin size is a 2:3 proportion.
For quite some time, that topped out at 736 x 1104 pixels, but they recently scaled down the size of the Pin when clicked. Now a 2:3 Pin will never appear larger than 564 x 846.
However, Pinterest is quoting (as an example, not a must-use size) 600 x 900.
Confused yet? Just wait!
In the same August 2017 webinar where they dropped a bomb about Pinterest hashtags, they also mentioned square images! For years they'd been saying 2:3 or taller, and now they were saying square up to 2:3 (1 1/2 times as tall as wide). This was new!
Let me confuse this a bit further: I've never found 2:3 Pins to be my best performers. In fact, my top 4 blog posts for Pinterest traffic have tall infographics. This "infographics rule" stat extends to my top 12 of 18 posts for Pinterest traffic.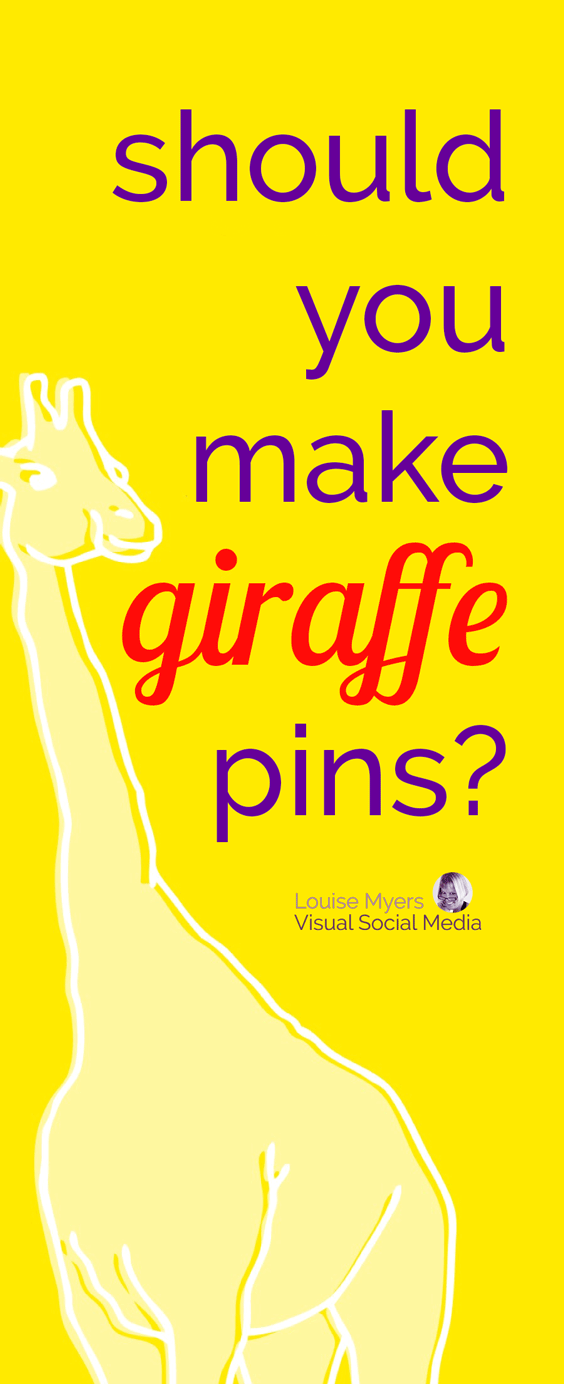 I've even moved to making my "regular" Pins taller than 2:3, because others have raved about how well tall Pins perform.
But now? Maybe not. Know what Pinterest called those feed-hogging, extra-tall Pins during that August webinar?
Giraffe Pins. And I don't think they meant it in a cute way.
I think Pinterest is out to quash those space-hogging Pins.
OK, so what size should I make my Pins already?
I don't think there's ONE specific size you must follow.
Personally, I like to make my Pins the width of my blog's content area, so I'll continue to use 736 width. I may cut my height to a 2:3 proportion, but – templates. I love using my templates, as they make Pin creation so fast. So I haven't really decided if I'll change the height yet.
But I won't be reluctant to post square quote images. I used to remake those in portrait shape! No more – though you can bet I'll be keeping an eye on the stats.
I recommend making Pins no smaller than 564 x 564, up to 564 x 846.
To make it simpler, you can go with Pinterest's 600 x 600, up to 600 x 900.
Or go with your blog width and do some simple math: 1.5 x blog width.
Anything larger than 564 will be scaled down proportionally, so use the width that looks good on your blog.
What about collage Pins and infographics?
I'm sticking with infographics, where appropriate to my blog post. I do not expect their popularity to die down! Everyone loves a useful infographic – and when clicked, Pinners can still see the whole thing.
I make my infographics no more than 2.6 times as tall as wide, because that's what most people see in the feed. And even though longer ones can be seen in their entirety once clicked, people get tired of scrolling. So, don't make them 10+ times taller than wide.
If you make collage Pins with several products, or the steps to create a project, I suggest you test 2:3 Pins as well. See which Pins get more Saves and drive more traffic.
I would not continue making needlessly tall, "Giraffe Pins." If you're really tied to them, again I suggest you split test.
Optimize your Pinterest account for success!
In my free e-course, you'll learn how to:
Help your target audience discover your account
Connect with influencers
Get repins and followers
Make eye-catching images
Easily, and for free!
Get ONE simple action step each day. Join now!
• • • CLICK to get your FREE Pinterest Basics e-course! • • •
What's the good news about Pin sizes?
If you make squares for Instagram, they will likely perform better on Pinterest than they have in the past.
If you post the tallest, portrait shape image on Instagram, these should also do well on Pinterest. This is a shape that's being tested in the Pinterest desktop feed (8 x 10 proportion).
Note that the type of content that resonates with IGers isn't always the same stuff that Pinners like! Quotes work well on both. But selfies are for Instagram and not Pinterest.
What Pin sizes perform for you?
I'll keep testing and reporting back. In the meantime, I'd love to hear what you're finding to be the best Pinterest Pin size!