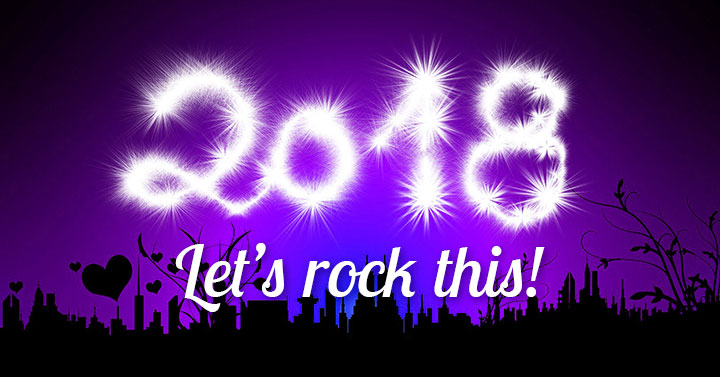 Checking out 2018 business trends?
You're sure to hear a lot about artificial intelligence, live video, Generation Z, blockchain… and any number of other things that I don't use, and barely understand!
This article is geared more towards the micro-business. And it's a very personal review of what I myself have tried in 2017 – and what's working for me.
I reveal a gamut of my bests this year, including:
My Best Social Media of 2017
My Best Blog Posts of 2017
My Best / Most Viral Pinterest Pin
My Best Income Producers of 2017
My Best Instagram Posts of 2017
My Best Personal Achievements of 2017
And I tell you what I plan to do more of, and what I'll dump!
While I still worked way too many hours on my online business this year, I started to see the results I'd been looking for – in some areas.
The others, I've greatly cut back or eliminated. This is KEY to succeeding without driving yourself nuts: Focus on what brings the greatest ROI. In the case of the solopreneur, that's Return on Time Invested.
Do you know the Pareto Principle? 80% of your results come from 20% of your efforts. So stop spinning your wheels on the stuff that's not driving results.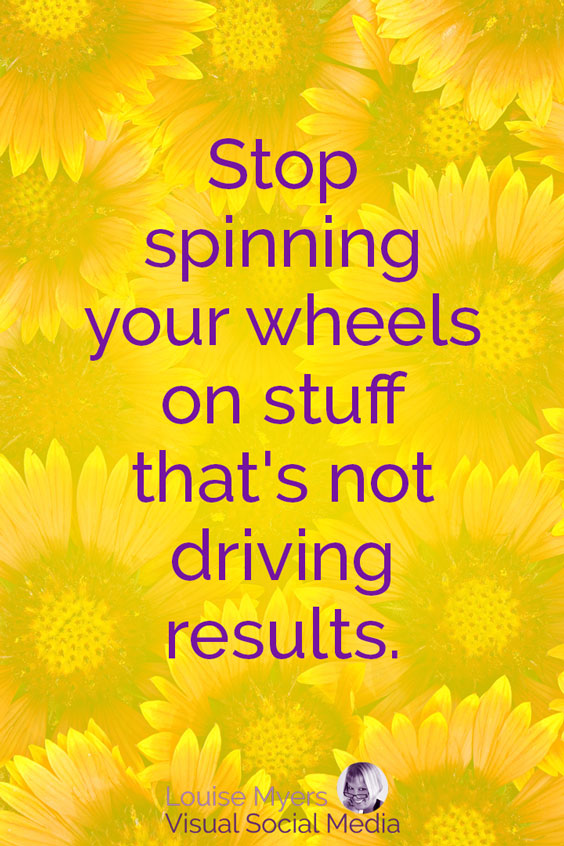 My Best Social Media of 2017
There's just no question here, and if you've been following me for more than a few minutes, you know this:
Pinterest rules my world for driving traffic, leads, subscribers, and sales.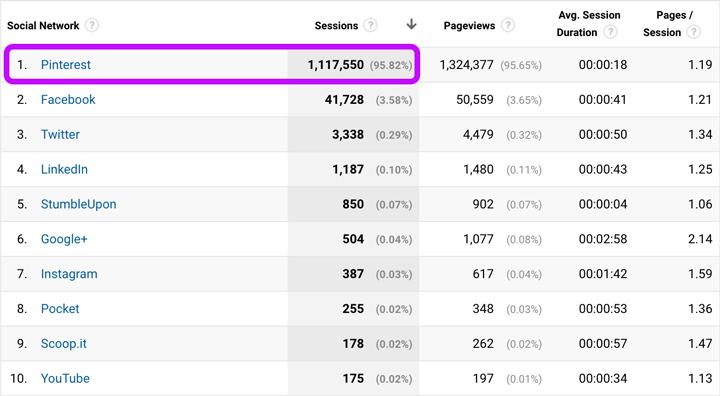 Pinterest brought in 96% of my social referral traffic.
I really focused on optimizing my Pinterest game this year, and it paid off big time. I received 1.1 million sessions from Pinterest, which was close to 25% of my total traffic. (Organic search is my top referrer, at just over 3 million sessions for 2017).
I automated my Twitter, LinkedIn, and Google+ posts, so I was able to stay "active" there. Read this for how I automated social media.
Using Facebook and Instagram for business takes so much thought, effort, and engagement that I largely abandoned them.
Meanwhile, my Instagram personal account is my absolute favorite, but that's a different story.
I also spent way too many hours creating 10 videos for YouTube and Facebook. Waste. Of. Time.
I gained 5,000 Pinterest followers to end the year just over 19K.
Want to improve your Pinterest game? Get my free e-course for beginners.
Get ONE simple action step each day. Join now!
• • • CLICK to get your FREE Pinterest Basics e-course! • • •
If you're beyond that stage, read how I automate my pinning with Tailwind.
Conclusion: More Pinterest, Less everything else.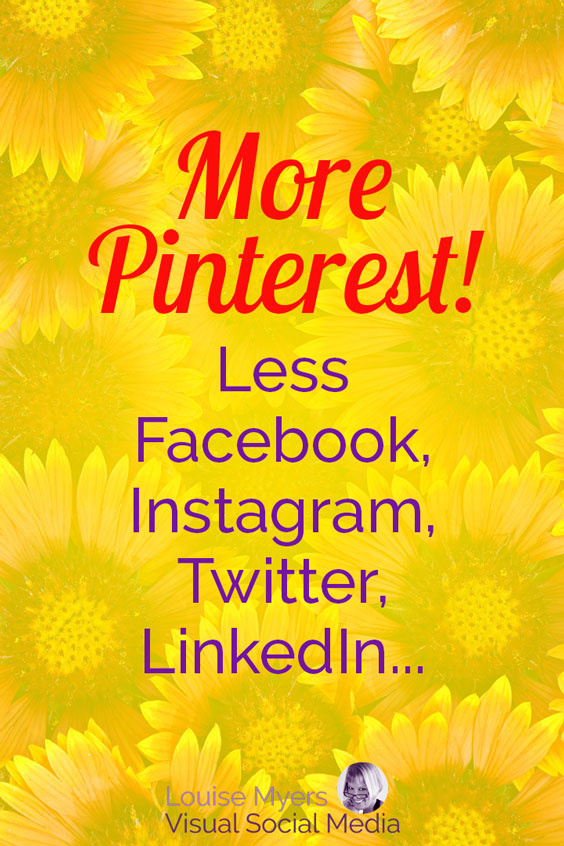 My Best / Most Viral Pinterest Pin
The Pin that won't die:
Yeah, I wish it were something else, but Pinners seem to love that one! And it's rapidly approaching 1/4 MILLION saves now. That's 250K saves in just under two years.
I built a list of 7,000 subscribers from Pinterest traffic to that post in six months, but couldn't figure out how to monetize it. It was just too far afield of my core business, so I archived that list this Spring. But I think you can see the power of Pinterest traffic!
My Best Posts for Pinterest Traffic
8 of the top 10 posts for the year are infographics. The other 2 were Promoted Pins (paid ads).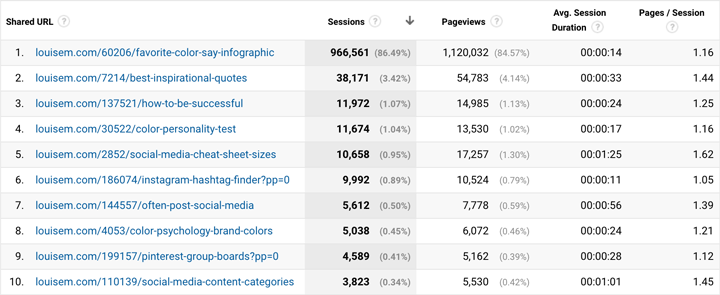 I still believe in infographics! Read my current thoughts on Pin sizes.
I will add that the Pins that drive traffic that stays on site link to tutorial posts. Traffic to a brief blog post with an infographic usually bounces quickly.
Combine a tutorial or sales page with an infographic, and you've got a winner!
Conclusion: More infographics, Less repinning of posts that aren't monetized.
I keep a list of high-traffic posts that I want to monetize before I add them back into my pinning schedule.
My Best Blog Posts for Organic Search Traffic
I love search traffic: It's steady and reliable.
Google loves my posts that I keep updated, and also posts with Facebook and Instagram keywords. (Keep scrolling for links to blog posts).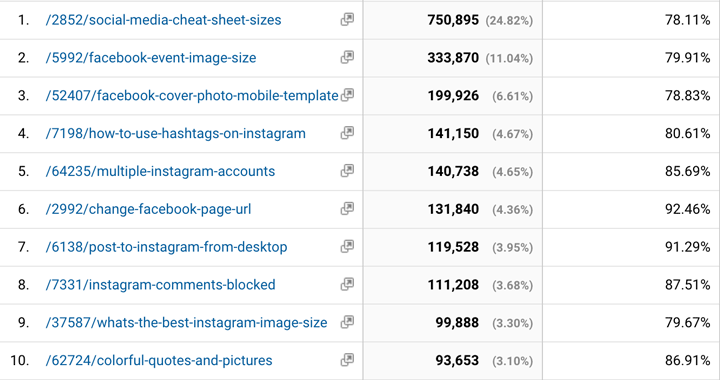 Did you know? I was one of the first people to blog about visual marketing on Facebook, way back in February 2012 when Facebook announced Timeline for business pages.
I had a pretty good SEO / keyword strategy, and Google quickly recognized me as a reliable source of quality content on Facebook visual marketing.
P.S. Some of these top posts, like changing your FB URL, are likely a bit rare online because they're not easily monetized. I don't keep that one updated but it still draws hordes of traffic. When I started blogging, I didn't have a whole lot of strategy for monetizing my efforts. That's definitely changed in the past couple years. Blogging is too much work to do for free 😉
Conclusion: More writing and updating posts with a lead capture, Less time on content that doesn't pay off.
Links to my Best Blog Posts of 2017
I've published 568 posts over 6 1/2 years. Here are the top ten this year, by traffic from all sources. NONE were written this year, and 8 of 10 were on the top ten last year.
Which is not to say I didn't have popular posts this year – I did. And if I hadn't published this year, I'm pretty sure my blog would have faded into obscurity. Fresh content is important to Google.
While many of my top posts were updated during the year, only 3 in the top 50 were newly published in 2017. They appeared at spots 27, 28, and 45.
The Top Ten Blog Posts:
What Does Your Favorite Color Say About You? [infographic]
Social Media Cheat Sheet 2017: Must-Have Image Sizes!
What's the Correct Facebook Event Image Size?
Ingenious! Facebook Cover Photo Mobile AND Desktop Template
How to Use Hashtags on Instagram for Explosive Growth
How to Change Your Facebook Page URL in 2015
Easily Manage Multiple Instagram Accounts with Account Switching
Can You Post to Instagram from Desktop? 10+3 Options to Try
Instagram Comments Blocked? Here's What You're Doing Wrong
33 Colorful Quotes and Pictures to Energize Your Life
Overall website traffic for the year: 4.5 million sessions. I stayed in the top 44,000 websites in the world all year (as ranked by Alexa). In the last 5 months, I stayed between 36–38K. The little dip is when I was working on my Planner and didn't have time to tend my blog as much.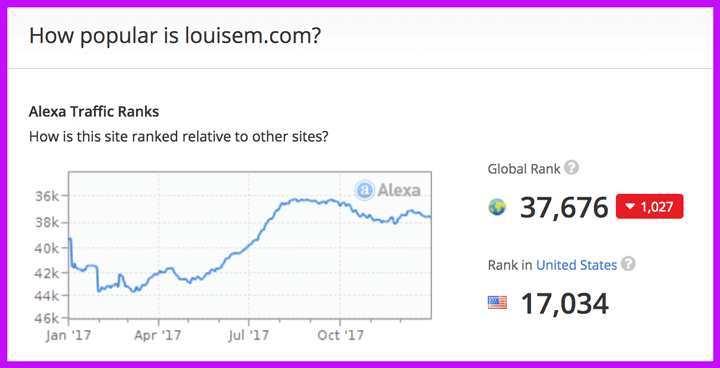 (According to Internet Live Stats, there are over 1 billion websites that each have a unique hostname. I'm in the top 44,000!).
Conclusion: More updating and maximizing posts that get traffic, Less worrying about ones that don't.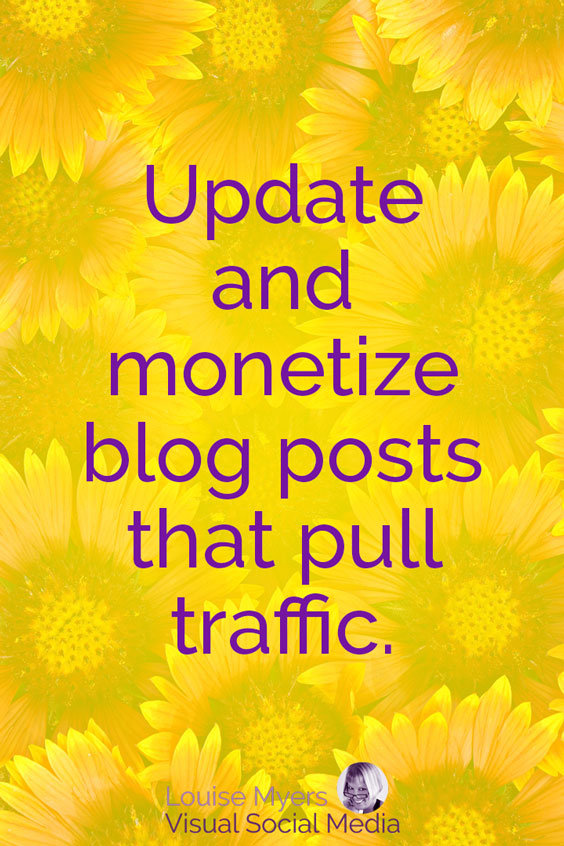 My Best Income Producers of 2017
This year, I really turned a corner as far as making money from my blog.
If you don't know my background story, I was a happy and successful freelance graphic designer for 25 years – from June 1984, until the recession pretty much killed my business in 2009. I turned to the internet, but I was unable to find the well-paying corporate design work I loved and was best suited for.
I started blogging to try to attract a clientele, but they were a bad fit for my skills and income expectations.
I hit on some visual marketing topics I liked (and lots of readers did too), but I didn't know how to make a real income from this skill. For years.
A few people told me I should teach business owners to do their own design – but that neither interested me, nor did I feel qualified to teach something that, after decades of being creative, seemed to come naturally to me.
But there had to be a way to earn something off my blogging skills and traffic, without resorting to a spam-fest of ads on my site.
In the past 16 months, I've created SO many products: Graphics, ebooks, and mini-courses. But only one came close to being worth the time invested: my Social Media Content Planner.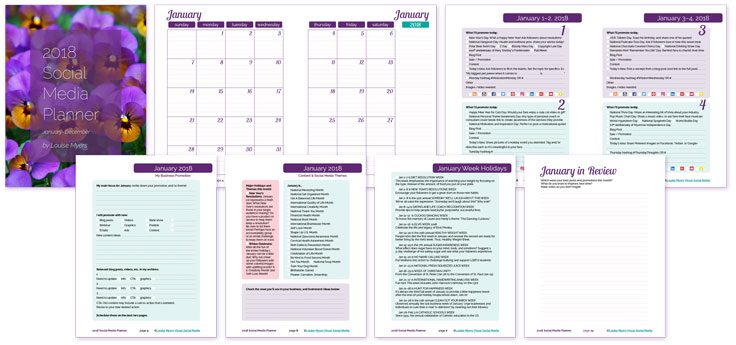 I was rather amazed that graphics for less than $1 each, and informative ebooks and courses promoted at $17 – $47, didn't sell like hotcakes.
They did not.
I thought about offering a blowout sale on the graphics I already had, but decided it wasn't worth the effort.
I still believe in my products, and my customers love them too! You can find them on my resources page.
But what I'll really be focusing on in 2018? Affiliate marketing.
I started getting serious about that this past Spring, and grew my monthly affiliate income from $100–300 per month, to $1,000–2,000 per month.
It incorporates the skills I love, which are research, reviews, blogging, and Pinterest 🙂
With little of the things I don't, like complicated techy things, networking, and customer support.
So yay to that 🙂
Conclusion: More affiliate marketing and growing my Planner subscribers, Less of trying everything.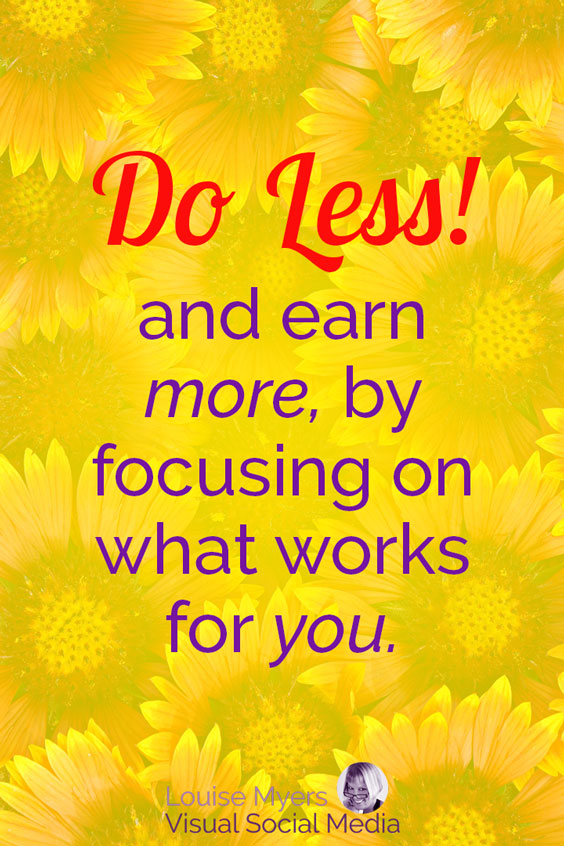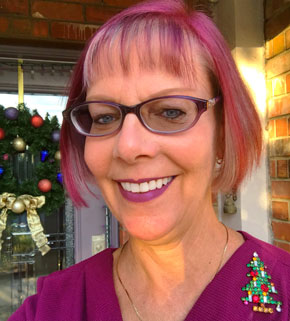 My Best Personal Decisions of 2017
More colored hair.
More mother-daughter time.
More "playing hooky" to do personal things during business hours.
Less overworking.
Annnd… I plan to get a Disneyland Annual Pass this year, and take more weekdays off 🙂
My Best Instagram Posts of 2017
Have you tried this? Find your best nine Instagram posts of 2017 (by number of likes) by visiting 2017bestnine.com. After you enter your username, a collage will be automatically generated. It takes a few minutes. Keep the window open while you go do something else.
Here are my top nine on my personal photography account. I'm not even going to post the grid from my business account LouiseMcom because the images got cropped weirdly by the best 9 website.
My photo account is full of color, and inspiration for your own photography. I edit almost exclusively in Instagram and reveal my edits in a comment. Follow my photo account here.
I'm sure you'll be seeing some Disney pics this year 🙂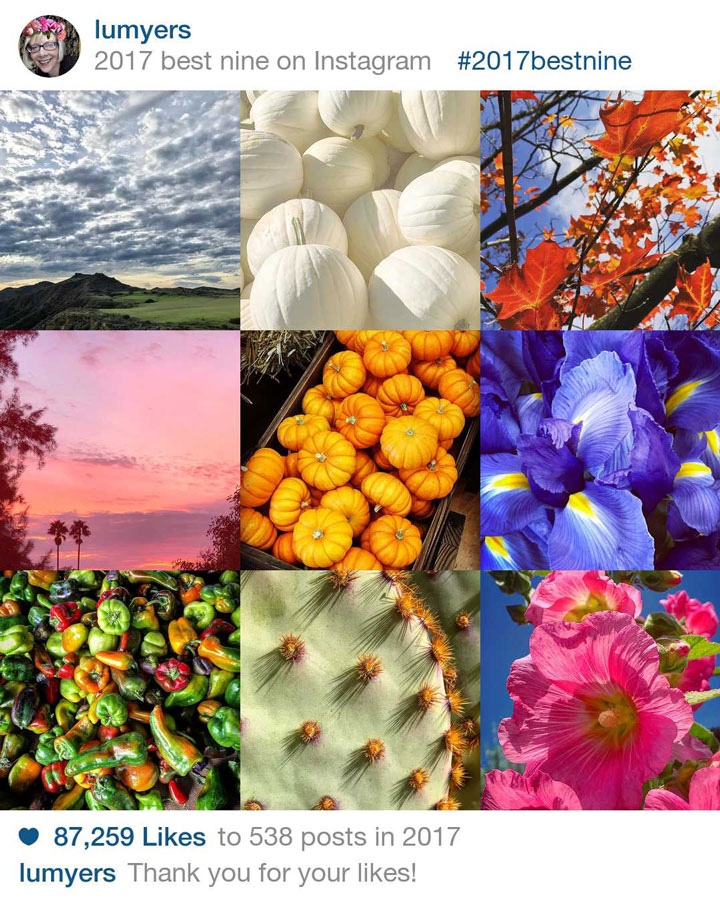 What's on Your 2018 Business Trends List?
If you're interested, here are my prior years in review:
I'd love to hear your achievements this year – share yours in a comment! And let me know which business trends you plan to pursue this year.