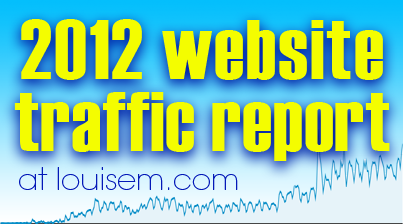 Thought I'd post a website traffic report after reviewing my top social media posts of 2012.
I hope my experience will give you some ideas for your own website!
Backstory: I had a website at MyAds.com for over a dozen years, then finally sold the domain name to MySpace several years ago. It was a very Web 1.0 "brochure" website where I directed potential clients to peruse my graphic design portfolio. [pinit]
My Website Traffic Report for 2012
April 20, 2011 marked the unveiling of this current WordPress website. I went with WordPress because I knew that blogging was the way to attract traffic to your website. My intentions were good, but my blogging was inconsistent – in both topics and schedule. I finally hit my blogging stride in February 2012. A glance at my Google Analytics tells the story!

I posted 72 times on this site last year, and that took me into the top 100,000 websites in Alexa rank, with an average 1,200 visits a day, by mid-November. Earlier, my typical traffic through mid-January 2012 was 1 to 12 visits a day.
Quite simply, blogging works! Google loves sending traffic to sites with fresh content.
By the way, that first spike you see (October 16 – 2,033 visits) was due to my post on Facebook emoticons. That graphic was pinned over 1,000 times in a week! It broke the Pinterest counter after a few weeks, so all I know is it had over 2,000 pins 🙂
The next spike (November 8 – 1,891 visits) was an influx of traffic from Facebook on a post about sharing photos on Facebook. Someone with a large fan base must have promoted that post on Facebook, as it got 784 views from Facebook in one day, and it normally takes me weeks to get that much traffic from Facebook!
My traffic held steady through December, which I did not expect. I feel I'm poised for great things in 2013!
What about you?
How often do you check your traffic stats? Have you ever done a website traffic report?