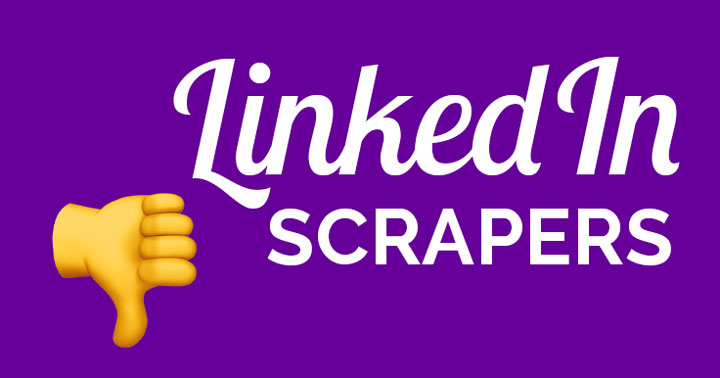 Are you a LinkedIn email scraper?
Or want to be?
Just don't.
It seems like every week I get another email from a list I never subscribed to. Is the sender one of my LinkedIn connections? ALWAYS.
I'm so fed up with this practice that I'm taking valuable time out of my day to post this and warn you:
This is spam! You're damaging your reputation and the health of your email list by adding addresses without permission.
Do you want to pay for big numbers on your email list? Or would you prefer to have subscribers that are actually interested in what you have to say?
If you're doing it, stop.
And if you're getting it, try this:
Unsubscribe the list.
Mark it as spam.
Block the connection on LinkedIn.
This is what I do – though you don't have to follow my lead.
If I know the sender, I only do step one, and let them know how annoying and wrong this habit is.
You may feel steps 2 and 3 are a little vindictive. So be it. I feel this is my small way of fighting back, and saying, This is wrong!
Because it is.
So don't be a LinkedIn email scraper. Pass the word.
Here's some great advice from the HubSpot blog:
How to Create Email Marketing Spam
Remember that as a marketer, you know what's best for people. As such, you should go purchase a list of people who you know need your business, and email them to let them know about the favor you're doing by being in their lives and, most importantly, their inboxes.
But what the heck? Why even pay for a list when you have all those LinkedIn users who agreed to your connection request. Obviously they want to get your spam – I mean, email!
And here's some advice from G-Lock:
One of best email marketing practices says that you need to obtain the recipient's permission before sending emails to them.
Want more? Webpower says:
Even if we disregard the fines you may have to deal with by ignoring the regulations, sending emails to people who have not given their express permission can have dire consequences for your deliverability.
And Synchronicity Marketing chimes in:
When email address owners delete unwanted email or register a complaint by marking it as "spam", the ISPs hosting those email accounts track their actions and tie complaints back to the sender – you! This, in turn, negatively affects your future ability to email those people because ISPs will block you from inboxes entirely.
Plenty more negatives on their blog if you care to read.
But really, all you need to know is:
Sending unsolicited email is annoying.
It doesn't work.
It hurts your deliverability in the future.
It's also illegal in many countries.
It's just a bad deal all around.
Don't be a LinkedIn email scraper.
I know LinkedIn is supposed to be the up-and-coming social platform of 2018, but already I can barely justify the time it takes me to approve connection requests and read messages.
I rarely use LinkedIn except to share my blog posts. I only get an iota of traffic from it. So even spending 1/2 hour a week to do some "housekeeping" is stretching it. There's no return on my time.
Now with LinkedIn scrapers sending unsolicited email, I just let the connection requests sit.
Let me know how you feel about LinkedIn spam in a comment.