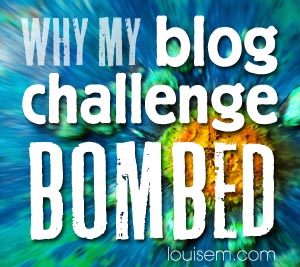 Did you take the blog challenge?
I hope you had better results than I did.
Don't get me wrong – I enjoyed meeting some cool peeps, and got some solid blogging ideas.
I still believe in the blog challenge benefits.
As Devo once sang, "For you… but not for me." 😀
Why My Blog Challenge BOMBED
Quite simply – no blogging strategy.
The story of my life in 2012 – the theme if you will – was lack of a strategy. Lots of activity, some success, lots of stress, very little additional income from it all. Did I really need to start 2013 on the same foot?
Ah, NO!
In taking the blog challenge, my commitment to myself was to blog 3 times a week. I have tons of ideas for blogging – really, I'd say enough to blog daily for a month, at least. But I have no strategy.
No way to get anything from blogging but traffic and exposure. Which is great and all, but I need a blogging strategy to make some money from my efforts.
The bad news is, I didn't see an increase in traffic from the 16 blog posts I wrote this month.* Why? No blogging strategy! I had fun writing blogging tips, but Google seems to love me for Facebook and social media images. Those posts take time to write – 3 per week (or heaven forbid daily, as the blog challenge suggests) just wouldn't be possible for me.
But those social media tutorials are well worth the time investment! When they score, boy do they ever – of my 100+ posts, TWO oldies are bringing in around 1,000 pageviews a day, between them. But still, I need a way to make money, not just solve a Googler's problem, then wave them goodbye.
The good news is, I've hired a business coach, and you can bet we'll be addressing these issues!
*Note: This is 2.666 times my posting frequency of 2012, which increased my Alexa rank from nowhere to the top 100,000.
How Was YOUR Blog Challenge?
Enough of my whining. You can come back next week to see the stats in my website traffic report, and get the whole picture. I still believe the blog challenge is awesome for those looking to get a blog off the ground. So lets hear some good news – what did YOU get from the blog challenge?