Best Picture Quotes: A Series of Inspiration to Make Picture Quotes!
Kicking off a new weekly series: Best Picture Quotes!
I like to post an inspirational picture quote on my Facebook Page each Monday morning. Starting today, I'll post the same graphic on my blog and tell you a bit about how I made it, for your inspiration!
You can pin each graphic from its blog post (like this one!), and I'll include a link to the Facebook post so you can also share it on Facebook!
Please don't download my images, or others you find on the web, and upload them to your website or Facebook Page (etc). That's copyright infringement. You may pin from this page, or share the image from my Facebook Page.
[pinit]
Best Picture Quotes: Get Up and Be Amazing!
Today's picture quote was made with a photo from Fotolia, with type added in Photoshop. You can learn to do this without Photoshop here: how to add quotes to pictures.
The font is Avant Garde – a simple font that's one of my favorites. I use this in my branding, so if it's appropriate to my picture quote, I'll use it there also. But I'm always open to using a font that better expresses the feeling of the quote.
I added an Outer Glow effect to the type. You can do the same thing on pixlr.com by going to Layer… Layer Styles… and double clicking on Outer Glow. That brings up this dialog box that lets you edit the color and appearance of the glow.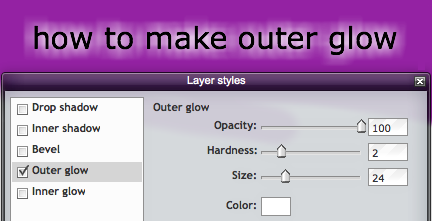 While not essential in this case, Outer Glow is quite handy when you need to type to stand out on a photo that has uneven tones. This photo had a large, plain area perfect for overlaying a quote. Helpful to keep in mind when you're searching for photos to make picture quotes!
For everything you need to make the best picture quotes, I'm creating my Ultimate List of Free Resources to Make Picture Quotes. Check back next week! I'll also have a new FREE ebook for you: 5 Minutes to Shareable Picture Quotes – Even If You're Not an Artist!
Let me know in the comments how else can I help you to make the best picture quotes!