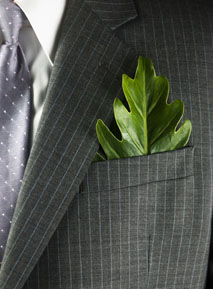 Got a home-based business? Or just lucky enough to telecommute to work several days a week? Thanks for helping the environment! Here are 3 ways that working at home is "green":
Less driving! I bought a Honda Civic over 5 years ago and have yet to reach 40,000 miles. Obviously this means burning less fuel, as well as less wear-and-tear on the vehicle and roads.
Less infrastructure: I use the same building to live and work. I don't need no darn cubicle! 😉
Less clothing: I save resources by not requiring the manufacture, shipping, shopping, care and storage of a business wardrobe. Don't need no walk-in closet either! And no dry-cleaning bills.
Here are some other ways I'm green at my home/office:
Solar panels provide about half of my household's electricity needs. That definitely covers my office use!
I dress for the season, using heat or AC sparingly.
I have an under-sink water filter, and only use a refillable water bottle. No environment-harming bottled water for me!
I buy food with minimal packaging. No single-serve, frozen food here!
I eat mostly raw, which cuts utility use.
Lawn covers less than 10% of my lot. I water lightly, so it needs less mowing 😉
I compost kitchen and yard scraps. I reuse and recycle.
Only the Sunday paper is delivered. No paper magazines. I opt out of phone books, credit solicitations and other junk mail, and pay bills online.
I buy locally or online, and buy as little as possible.
I group errands to minimize driving.
I know I have room for improvement, but I enjoy the "green" things I do. How about you? What do you do at home, or at work? What do you think I'm missing?
Oh, and Happy Earth Day!
Update April 21, 2012: Happy Earth Day 2012! Here's my eco update for the past year:
As I type, I have laundry hanging on the line to dry! Every load but one last year was line-dried. The weather fooled me on that one, and I realized it would get wetter rather than drier if I hung it outside! Line-drying sure beats machine-drying for less wrinkles. Not to mention the fabulous smell of line-dried clothes!
My solar energy production for the year was 4,043.00 kWh. SolarCity tells me that my solar system has offset 12,159 lbs of CO2 since installation, the equivalent of 5.8 mature trees. My system went live on Dec. 30, 2009, so that's about 2.5 trees per year 🙂
My non-hybrid Civic just turned 47,000 miles at 6 years of age – less than 8,000 miles per year. I dislike distance driving, so this is no big sacrifice 😉 But working at home saves a lot of gas! I use about 20 gallons a month.
I think I ran the heater for an hour or two this winter season. Of course, it was another lovely, mild winter! I rarely use AC – don't have central air but have good cross-ventilation. I love fresh air anyway! I know how blessed I am to live in this ideal climate.
That's the news for the past year! Please share your eco-friendly ideas and successes in the comments below. And Like or Share this post to keep our planet green!