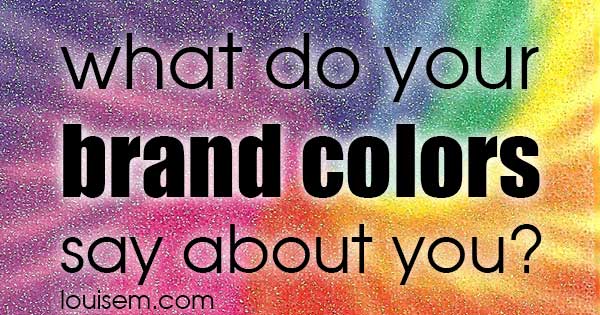 What is color psychology?
Can colors affect mood, perception, and even purchasing decisions?
Color psychology is the study of color as a determinant of human behavior. [wikipedia]
Artists and designers understand and utilize the power of color to evoke a mood, and even change behaviors. With this infographic, you too can harness the power of color!
Some snippets:
White: Cleanliness, Purity, Simplicity
Yellow: Happiness, Warmth, Caution
Orange: Affordable, Creative, Fun
Red: Action, Passion, Danger
Pink: Gentle, Romantic, Grateful
Purple: Expensive, Mysterious, Spiritual
Blue: Authoritative, Serene, Dignified
Green: Renewal, Healing, Money
Brown: Calm, Natural, Serious
Grey: Corporate, Practical, Somber
Black: Classic, Formal, Bold
Check out the full infographic from Muse Design and see what your brand colors are revealing about you! Article continues below.

Want to Learn More About the Language of Color?
Check out this highly-rated book on Amazon. Reviewers have called it "not to be missed," "a visual feast," and "a masterpiece."
If you buy the book via that link, I'll make a small commission, which helps keep this website running! You pay no more, and I appreciate your support. affiliate disclosure.
I've shared so many color infographics, you might say I'm a bit obsessed 😉
Try these for tips relevant to business branding and marketing:
The Secret Psychology of Color in Marketing: Infographic
The Psychology of Color for Your Brand: Infographic
Which Fonts and Colors Drive Top Brands? [infographic]
Below is my crazy-viral post on favorite colors. Nearing a quarter of a million Pinterest saves!
What Does Your Favorite Color Say About You? Infographic
Now, you too can be an expert on brand colors!