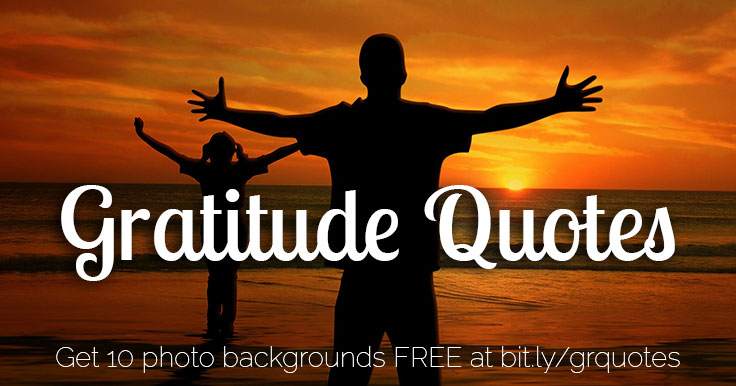 Ever done 30 days of gratitude?
They say gratitude changes everything. I say, bring it on!
If you're going through tough times, all the more reason to make time for gratitude this November. It's my project of the month!
How about you? I'll provide the quotes and FREE photo backgrounds. YOU make a little time and spread some gratitude!
I've cropped 12 photos that are perfect for making inspirational quote graphics. At 1200 pixels square, they're gorgeous, high-resolution images – perfect for Facebook, Instagram, Twitter, Pinterest, Google +, and any of your favorite social platforms.
Even if you just can't make time for creating graphics, you can share the short, tweetable quotes I've collected. Some I've shortened so they work even better for your graphics – OR just sharing as text. You'll find them at the end of this post.
You may share any of the graphics I've included in this blog post. Just hover the image you like, and you'll see sharing buttons for Facebook, Pinterest, and Twitter. Keep the image intact, as well as the link to this post. Do not download my graphics to edit or repost, as that's copyright infringement.
Get creative and make your own! Directions follow.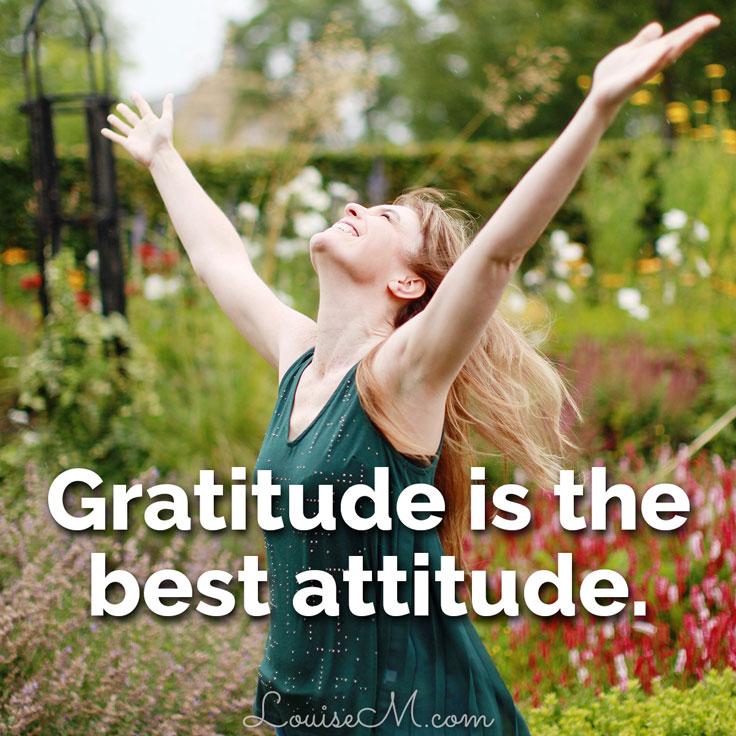 How to Make 30 Days of Gratitude Quote Graphics
The quotes are typed out right in this post for you to copy and paste. The photos are "zipped" and ready to download in my membership area, for paid and free members of my site.
If you've purchased or downloaded from me in the past year, you should have a log in.
Or get a FREE membership here.
How many should you make?
Two years ago when I wrote this, I had just read this
article by Rob Cubbon
on how he's crushing Facebook by posting 4 times a day. I decided to try 2 gratitude quotes, one tip graphic, and one link every day in November. I also posted the gratitude quotes on Instagram, Twitter, Pinterest, and Google+.
Now in 2017, it's recommended not to post that often on social media. So, after you've recovered from thinking about making 60 graphics – take it easy!
If you're just getting started, make one.
But I highly recommend "batching" your work and making at least 4 or 5 at a time. Then you have enough to post one every #ThankfulThursday in November.
Check my graphics for inspiration. Pin the infographic at the end of this post!
Choose 4 backgrounds. To keep it simple, pick 4 that can all use white OR black text.
Set up your first quote. Don't forget your URL at the bottom. Keep it as a template!
Change out the photo and words, but KEEP the font and watermark.
Repeat until you're done.
Believe it or not, you can really crank them out if you just stay consistent with your font and watermark.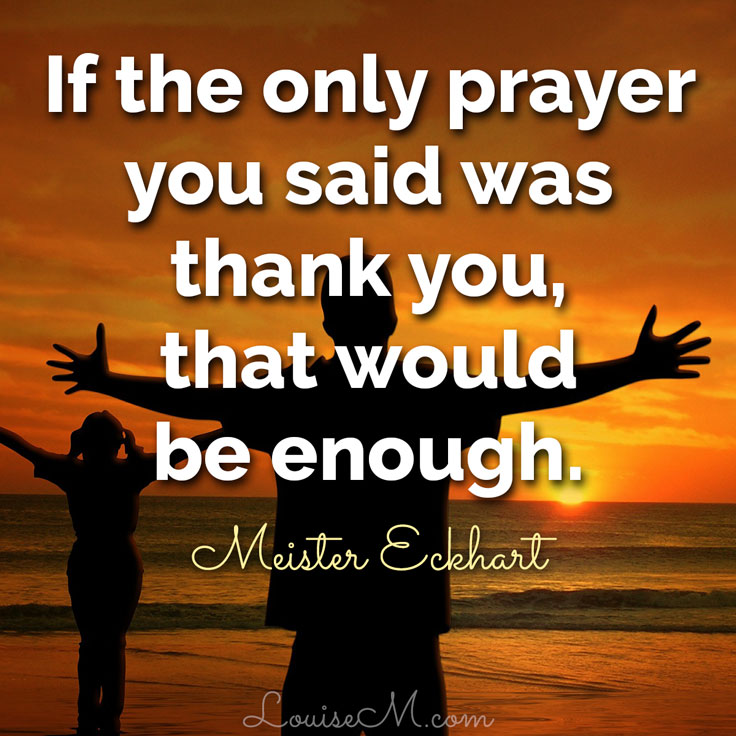 Need more instruction? If you don't know how to add words to the photos, be sure to read about my favorite design tools for non-designers.
Or check these posts:
Best Fonts for Picture Quotes on Gratitude
The most important thing for your picture quotes is that they're legible.
Choose a font that can be easily read, even at a small size on a mobile phone.
Bold, sans serif typefaces work well. My "brand" font is Raleway, so I used a bold version for my quotes.
All caps is a popular option, but I prefer upper and lower case.
White type for medium to dark backgrounds. A drop shadow makes it pop even more.
Choose black type for light backgrounds. Outer glow helps it stand out.
Colored type is difficult over a photo with various colors in it already. I'd avoid it.
The author's name and your website can be in a thinner or more decorative font, as their readability isn't critical.
Take a look at my graphics here to observe how utterly consistent my font use is. Let the photos be what varies. Trust me – they won't be boring!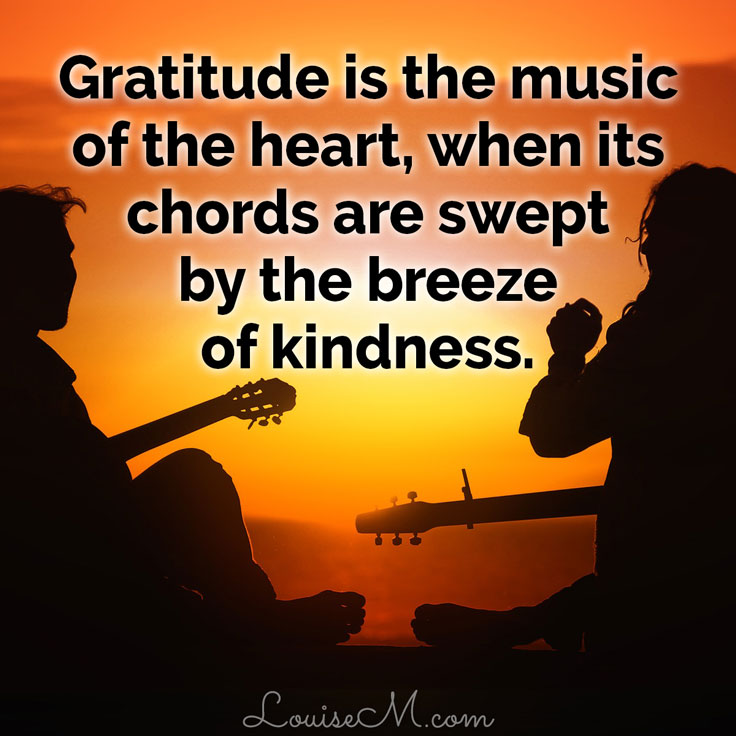 How to Post Your 30 Days of Gratitude Quotes
Post your graphic with a question to get viewer engagement!
Restate the quote and ask "Do you agree?"
Ask followers what they're grateful for.
Ask them to tag someone they're grateful for (Instagram and Facebook).
Ask anything related to your quote!
Post your graphic with hashtags.
Here are some hashtags you can copy to your notepad app to use on Instagram:
#30daysofgratitude #dailygratitude #bethankful #gratitudechallenge #givethanks #attitudeofgratitude #quotestagram
You can also use the popular hashtags – just be aware that those feeds move like lightning! Read this for tips on using Instagram hashtags.
#quote #qotd #quotes #quoteoftheday #inspiration #lifelessons #wisewords #truth #amen #word #gratitude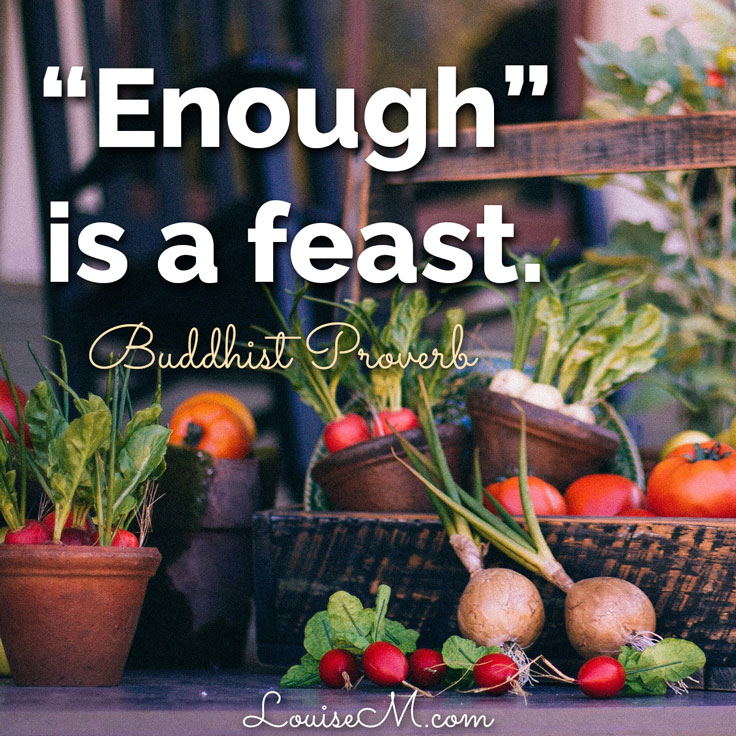 Best Gratitude Quotes for Inspirational Graphics
Short text rules for picture quotes, and social media posts in general. Remember, people's attention span is 8 seconds – less than a goldfish!
I've collected only short and sweet quotes on gratitude.
These are the perfect length for Twitter – with or without pictures. Shorter posts (under 80 characters) also get more engagement on Facebook!
If the only prayer you said was thank you, that would be enough. ~Meister Eckhart
Appreciate where you are at this moment instead of always focusing on how far you have to go. ~Mandy Hale
Gratitude is not only the greatest of virtues, but the parent of all others. ~Marcus Tullius Cicero
All that we behold is full of blessings. ~William Wordsworth
The hardest arithmetic to master is that which enables us to count our blessings. ~Eric Hoffer
Gratitude is the fairest blossom which springs from the soul. ~Henry Ward Beecher
We often take for granted the very things that most deserve our gratitude. ~Cynthia Ozick
Praise the bridge that carried you over. ~George Colman
Saying thank you is more than good manners. It is good spirituality. ~Alfred Painter
If you count all your assets, you always show a profit. ~Robert Quillen
What a miserable thing life is: you're living in clover, only the clover isn't good enough. ~Bertolt Brecht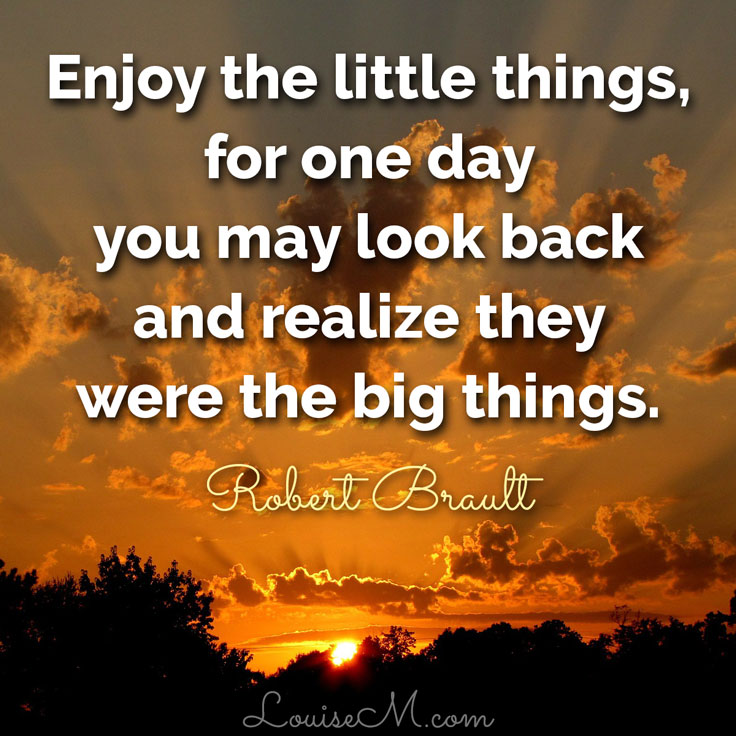 Gratitude is the best attitude.
The struggle ends when the gratitude begins. ~Neale Donald Walsch
If you want to turn your life around, try thankfulness. It will change your life mightily. ~Gerald Good
Gratitude is an opener of locked-up blessings. ~Marianne Williamson
There is not a more pleasing exercise of the mind than gratitude. ~Joseph Addison
Gratitude is the music of the heart, when its chords are swept by the breeze of kindness.
Who does not thank for little will not thank for much. ~Estonian Proverb
Hem your blessings with thankfulness so they don't unravel.
God gave you a gift of 86,400 seconds today. Have you used one to say "thank you?" ~William A. Ward
Gratitude is the memory of the heart. ~Jean Baptiste Massieu
The only people with whom you should try to get even are those who have helped you. ~John E. Southard
If a fellow isn't thankful for what he's got, he isn't likely to be thankful for what he's going to get. ~Frank A. Clark
Gratitude is an art of painting an adversity into a lovely picture. ~Kak Sri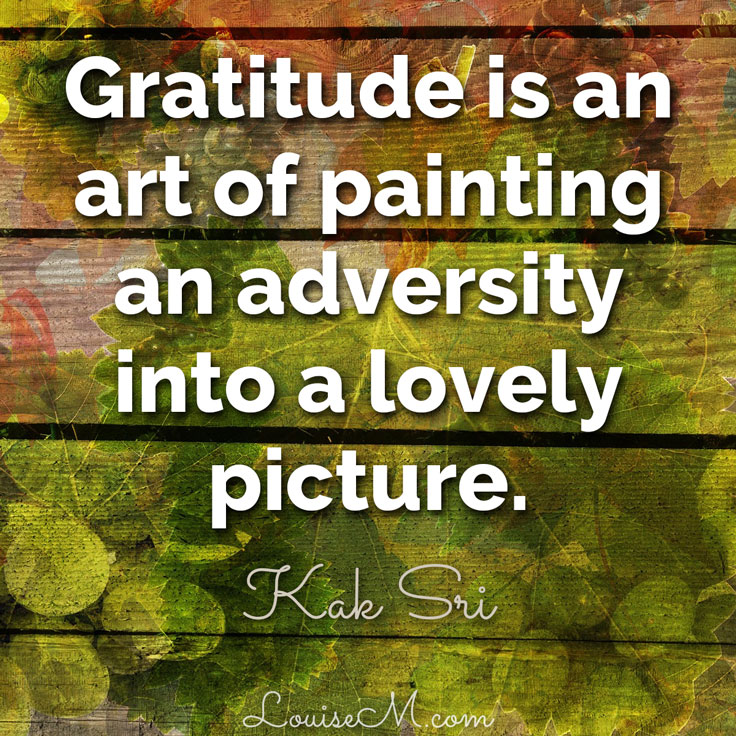 Feeling gratitude and not expressing it is like wrapping a present and not giving it. ~William Arthur Ward
Thanks are the highest form of thought; gratitude is happiness doubled by wonder. ~G.K. Chesterton
"Enough" is a feast. ~Buddhist proverb
Enjoy the little things, for one day you may look back and realize they were the big things. ~Robert Brault
We must never forget that the highest appreciation is not to utter words but to live by them. ~John F. Kennedy
Reflect upon your present blessings, of which every man has plenty. ~Charles Dickens
Acknowledging the good that you already have in your life is the foundation for all abundance. ~Eckhart Tolle
Gratitude turns what we have into enough, and more. ~Melody Beattie
What the world needs more of is people to appreciate and enjoy it. ~Michael Josephson
Will You Take the 30 Days of Gratitude Challenge?
Whether you use these resources or not – I sincerely hope you take the month of November to reflect on your blessings.
Share something you appreciate each day on Facebook.
Show appreciation to someone in your life each day.
Start a gratitude journal.
Count your blessings in any way you choose!
How about committing to an attitude of gratitude? Let us know in the comments what you'll do to celebrate 30 days of gratitude.