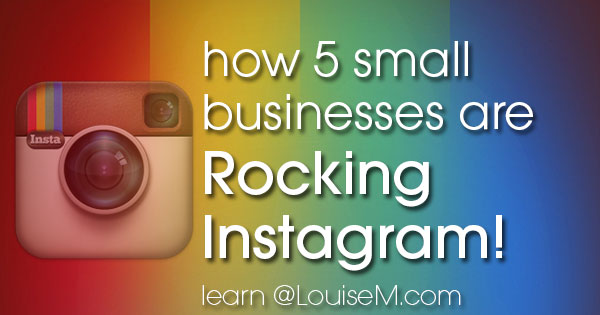 Got a small business considering Instagram marketing – or struggling with it?
You may have found great info on how BIG businesses are crushing it on Instagram, but that does little to inspire the service-based small biz.
Check out 5 completely different ways solopreneur service providers are making their mark with Instagram marketing! One is sure to inspire you. Follow by clicking their username in the embedded post!
5 Small Businesses Rocking Instagram Marketing
The Free Person
Matt Potts describes himself as a passionate entrepreneur, setting people free one day at a time. This account has over 4,000 followers who appreciate his unique style.
Brand: The Free Person inspires through long, blog post-like copy paired with a picture quote.
Posting frequency: once a day.
90 Day Entrepreneur
Brandon Schaefer is ready to take your business to the next level. He posts business tips by video only. These short, helpful videos have garnered him over 23,000 followers.
Brand: Friendly advice for you – sometimes "and me" – in short, inspiring, on the go videos.
Posting frequency: once or twice a day.
AJ's Tutoring
What can a math tutor post on Instagram? Amanda Jordan has figured this one out!
Brand: colorful graphics with math problems her target audience needs to be able to solve.
Posting frequency: 1 – 3 times a week.
Epiphany Consulting
EIS Consulting seeks to nurture businesses from caterpillars to butterflies. Graphic design is part of their business offerings, so they rock it!
Brand: strong butterfly graphic with a short story for most of their IG posts.
Posting frequency: about once daily.
Epic Solutions
Nicole Mazer simplifies marketing for business owners. This account currently has 2,000 followers who appreciate her marketing and Instagram tips.
Brand: simple graphics from screen shots and apps. Writes in a casual, genuine tone.
Posting frequency: several times a week.
There you have it – 5 very different small businesses. Some good with graphics, some with writing, some with video – but all have established their brand and stay true to it.
Note also that it doesn't take a lot of content. A few times a week up to twice a day is a great posting frequency. Don't get unfollowed by filling up your followers' feeds with too much content.
And let me know of other small businesses rocking Instagram marketing.