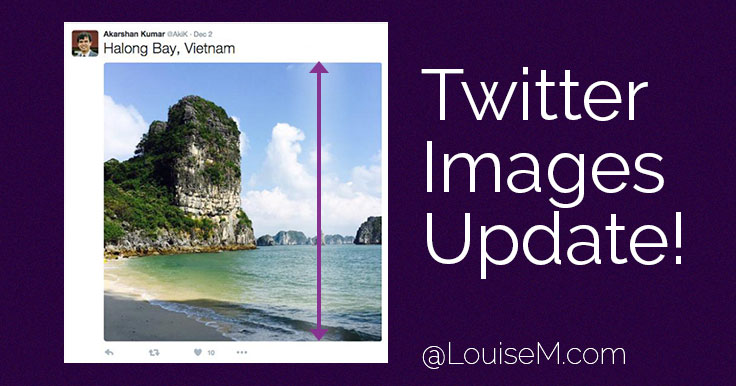 Have you seen the new Twitter images?
No longer locked into a squatty horizontal, images now show in their full glory, right in the Twitter stream – up to a square. Tall, portrait images will still get cropped, but much less destructively, to  a square.
This makes it so much easier to create content that works cross-platform. Square is perfect for Instagram and Facebook. How exciting that it's now perfect for Twitter too!
Another new feature is a more attractive collage when posting multiple photos in a single tweet. Now you'll see one large image with the others off to one side. More impact!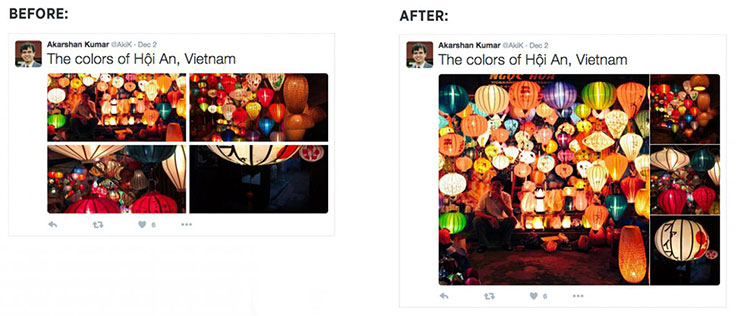 The update was announced and rolled out on Monday, December 7.
What size should you use when creating Twitter graphics?
My recommendation is 1200 pixels square, as this is the best size for Facebook, and just a bit bigger than Instagram's ideal size of 1080. Bigger is always better quality!
If you're only creating images for Twitter, you can use their recommended size of 1024 pixels square, down to as small as 440 pixels square. Images will show in the Twitter stream at 440 pixels.
Remember that higher resolution (more pixels) means a higher quality image. And going forward, social platforms and viewing devices will continue to support higher resolution. Think ahead and create images you can reuse in the future!
Should you post directly from Instagram to Twitter?
Ideally, you'll post to each platform individually to tailor your message. I post longer captions, often with many emoticons as divider lines, to Instagram. Twitter is still restricting character count, and brevity rules there.
But if you simply don't have time to craft a separate caption for each platform, I recommend using this IG to Twitter workaround so that your image will show directly in the Twitter stream, instead of appearing as a link.
What do you think? Are you ready to make a bigger splash with Twitter images?