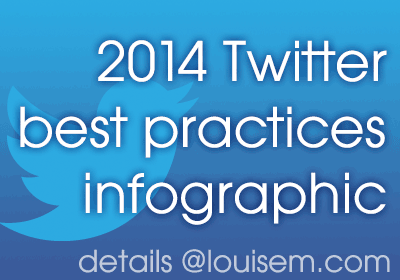 What are the Twitter best practices for 2014?
To be sure, they can vary by industry. Still, it's helpful to know what's working overall, and test it with your followers!
Here are 20 Twitter best practices on an attractive infographic that's sure to inspire. 
Twitter best practices sound bites:
Keep your tweets short.
Only 20% of your tweets should be self-promotional.
Afternoons are the best time to tweet.
B2C brands get more engagement on weekends.
B2B brands get better engagement Monday through Friday.
A username at the beginning of a tweet addresses that person.
Don't use irrelevant hashtags.
Tweet pictures for double the engagement!
Put your link in the middle of the tweet.
Don't overuse hashtags.
Join existing conversations.
Don't be salesy.
Don't procrastinate (do think before you tweet, though).
Tweet about what you know best.
Tweetdeck or HootSuite help manage your account.
Interact with your influencers.
Remove unnecessary words.
All with detailed info on the infographic from Passion Digital.
Double your Twitter impact! Learn how to use images effectively with this new ebook.
Then check the infographic to learn 19 more Twitter best practices!