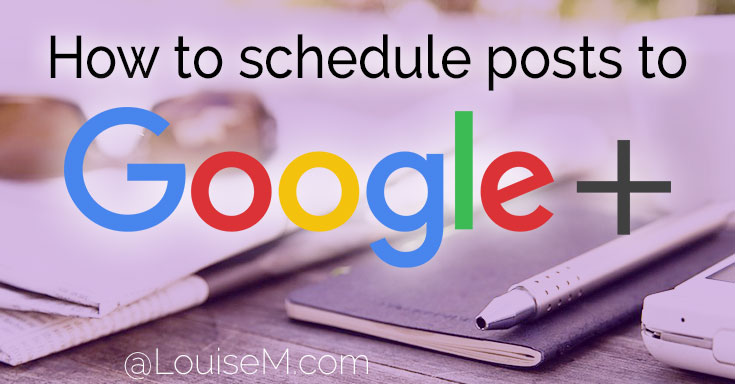 Want to schedule posts on Google Plus?
G+ hasn't seemed eager to allow scheduling.
Due to their API, social media management tools could only access GooglePlus Business Pages, not personal profiles.
This just changed! Google is allowing full access to personal profiles via their API.
There are 3 tools now, and likely more to follow, that will let you schedule posts to G+:
DoShare: old school and unreliable, per readers.
Friends+Me: Reader recommended.
HootSuite: NEW to G+. My fave management tool and sanity saver.
I wrote about DoShare here first, in July 2014. That copy appears towards the end of this article.
I added a recommendation for Friends+Me last year.
HootSuite support for G+ is new! I'll delve into that first.
NOTE: Some links in this article may be affiliate links, which means I make a small commission if you purchase. This helps support my blog and costs you no more.
Schedule posts to GooglePlus with HootSuite
To add your Google+ profile:
Log in to HootSuite.
Click on your avatar at top left.
Click Add a Social Network.
Select Google+ and follow the steps to authorize.
Add your personal profile, and business accounts if you wish.
These will be available at left of the Compose message box when you create a post.
The cool thing is you can add your Google+ profile when composing a post for Facebook, LinkedIn, or Twitter – saving you time.

You can also monitor your G+ profile for:
Shared posts
Scheduled posts
Activity within selected circles
Your main home stream
Searches for keywords, hashtags, and other conversations.
Hat tip to Mike Allton for the heads up!
Schedule posts to GooglePlus with DoShare or Friends+Me
I thought Google plus didn't allow offsite posting, until I discovered DoShare in 2014.
NOTE: Reader comments indicate this app is unreliable, at best, and may no longer work. Reader recommended: Friends+Me. I haven't tested it, and will now be using HootSuite!
DoShare is a Chrome extension that lets you write and schedule posts on Google Plus Pages and personal profiles!
It features:
Easily share links to Google+ from any tab on Google Chrome
Create a post, and schedule it for later. Do Share will automatically send it
Supports sharing to circles, +mentions, notifying circle, link sharing, reshares, and photo uploads
Supports sharing to Google+ communities
Supports Hashtag autocomplete
Allows you to share a comment from the Google+ stream
Bring out your inner author with a distraction free rich text editor
Save a draft now, edit it into a post later
Share a post directly from the stream
Share a post directly from the notifications panel
Quickly share to your personal page from your page's stream and notifications
Supports Multiple Google login
Supports automatic numbering of public posts
Automates creating of polls on Google+
I haven't used this tool myself – even though I did install it! But seeing how important GooglePlus is, I thought you'd like to know about it.
Over to You
Please leave a comment if you've tried scheduling to Google+, and let me know of your experience!
Then share with a friend who may want to know how to schedule posts on Google Plus.