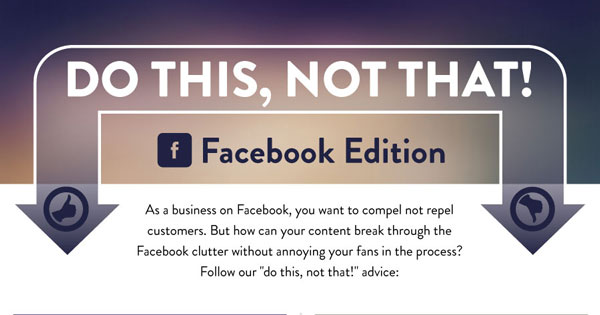 Using Facebook for business?
Wouldn't it be great to have a handy cheat sheet with the best tips, all in one place?
Lucky for us, the good folks at Verticalresponse have put together a handy infographic of the top Facebook tips! Pin this to remind you how to compel, not repel your Facebook fans!
Some of their nuggets:
Posts with less than 80 characters got 66% more engagement than lengthier ones.
Question posts have 92% higher comment rates than non-question posts.
Posts that have a question at the end have a 15% higher overall interaction rate and a 2x higher comment rate than those asked in the middle.
82% of people think Facebook is a good place to interact with brands.
The number one reason 73% of social media users "unliked" a brand on Facebook was because the brand posted too frequently.
Check the infographic and see if these tips improve your use of Facebook for business!