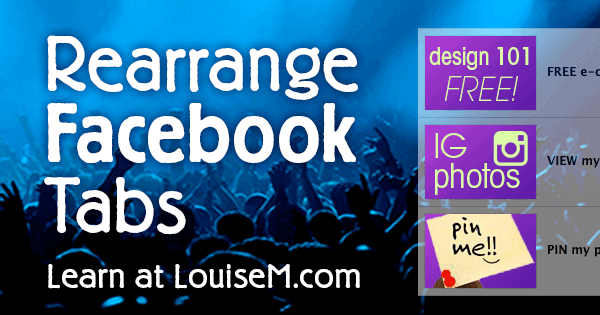 Want to rearrange Facebook Tabs?
You should!
With the latest Facebook Page redesign, only 2 Tabs are linked under your Cover Photo.
If you have more than 2 Facebook Tabs (also called Apps), rearrange them to showcase what's most important. Hint: anything that gets you a lead or sale would be important!
Where Are Tab/App Images in the New Facebook Page Design?
The Facebook Tab Images used to run in a row beneath most of the Cover Photo. Now your top 2 appear as text links under the Cover Photo, and the top 3 Tab Images appear in the left column (see image below).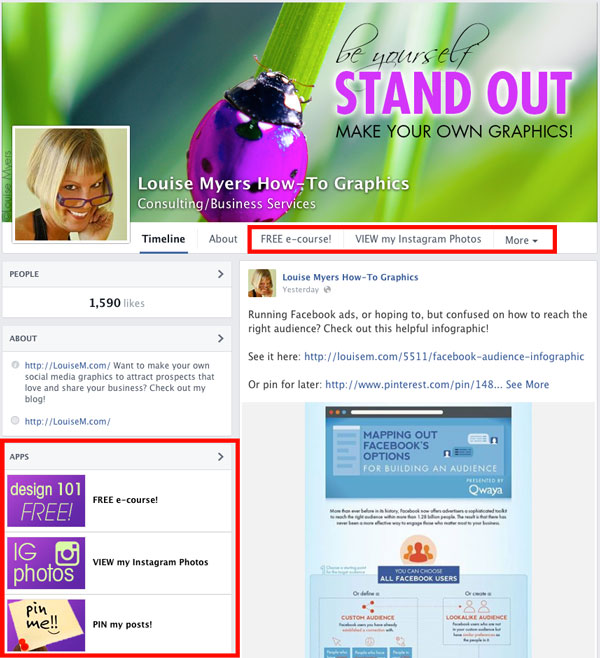 Page visitors can access the other Apps by clicking the More link at top right, or the small arrowhead at top right of the Apps section. All your Tab Images will be visible when that arrow is clicked (image below).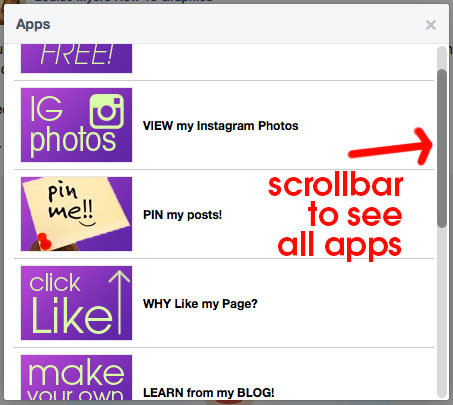 The Apps section sits beneath the People and About sections. Those can't be moved. But you can move the Apps section above the Photos and Posts to Page sections. Hovering the bar at the top of any section will show the Edit pencil, where you can Manage Sections.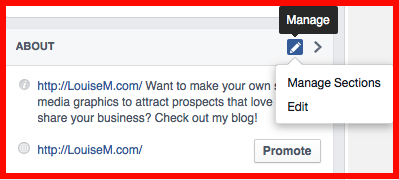 Once you're happy with the position of the Apps Section, you're ready to reorder your Apps within it.
How To Rearrange Facebook Tabs in the Apps Section
Decide which are your 3 most important Apps.
Click the word MORE under your Cover Photo, and then Manage Tabs at the bottom of the pop-up menu.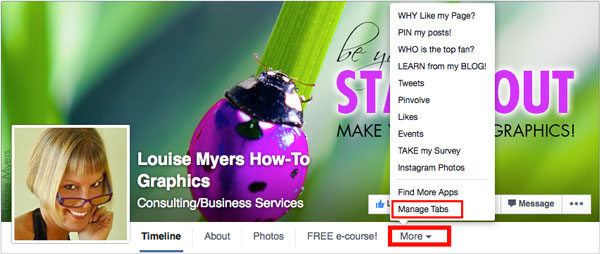 Now just click on and drag the Tab names so you have your 2 best at the top, followed by the third one you want to show with the Tab Thumbnails. Easy peasy!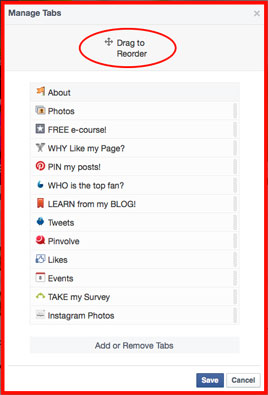 Of course, you'll want to highlight your 3 best Apps with compelling Custom Tab Images. (Click there for the how-to's! 😉 ).
Now you know how to find and rearrange Facebook Tabs! Any more questions? Leave a comment!