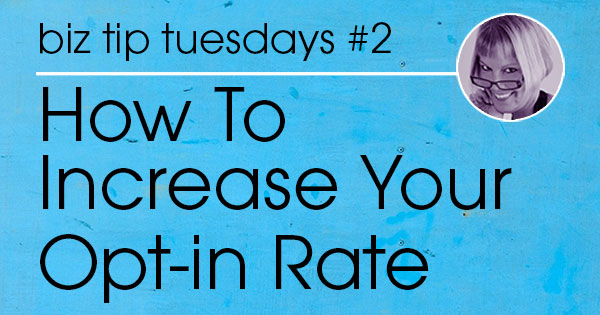 Want to increase your email opt-in rate?
Email marketing has long been a great way to keep in touch with prospects and customers. Even though social media has taken the spotlight, email marketing is still useful in many ways – and should be included in your marketing strategy.
Email is really your best way to stay in touch with your prospects, and turn them into customers! But first, you must get leads to opt-in.
What's Your Opt-in Rate?
Your opt-in rate (also known as conversion rate) tells you how well your visitors are taking action on your offer. It's just the number of visitors divided by the number of opt-ins. So if 100 people visited your offer and 25 people took you up on your offer, you have a 25% opt-in rate. The higher the opt-in rate, the better.
If you are getting a poor opt-in rate, it's time to take a look at a few things.
Take a Look at Your Offer
What's your offer? It is useful, valuable, and something that your target market really wants?
Is your offer lined up with the desires of your target market?
The offer must be irresistible to the person visiting.
Can you change your offer or make it even better?
Take a Look at The Traffic
Not all traffic is good traffic. Take a good look at your analytics to see where the traffic is coming from.
Also, take a look at what people are doing when they get to your page.
Are they leaving quickly, or do they spend time on the page?
If they leave quickly, then the page is not doing a good job to capture their attention.
If they are spending time on the page but not signing up, then you might want to take a look at copy one more time.
Take a Look at Your Landing Page
Is your landing page set up to convert?
Do you have too many distractions on the page, like social media sharing icons and outgoing links all over the page?
The only place you might want social media share buttons is under the sign up form, but even that should be tested.
You should have a strong headline, a list of benefits, and a strong call to action.
Is your opt-in form easy to find and sign up with?
Testing to Improve Your Opt-in Rate
Have you spent any time testing your forms or your sign up page?
Testing will help you weed out badly designed forms and pages.
Test things one at a time so you can tell what's making improvements.
Test copy, design, form design, and graphics.
As you can see, there are several things to look at if your opt-in is not as high as you'd like. All it takes is some focused effort and testing to turn things around.
Soon you should see improvement in your opt-in rate!