It's beginning to look a lot like… well around here, it's Christmas.
As in Christmas cards, and Christmas card promo!
Here's the direct response mailer design to go with the Christmas card designs and the Christmas card box designs.
Direct response mailings with more pieces included get a better response—and response is the point, right?
We always include a 3- to 4-page letter, a reply device and a reply envelope. This piece also includes 2 Christmas card samples—increasing the likelihood that the envelope will be opened, and the cards ordered!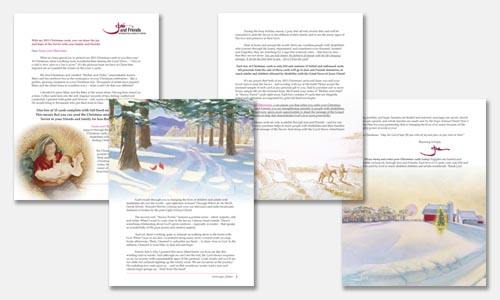 Shown above are the 4 pages of the letter. I love designing the pages with the art that I used on the Christmas cards. The art draws the reader into the letter, which explains the artist's creative process, and also how the money raised from the card sales will be used.
The letter and the carrier envelope are printed in four-color process. The reply device and reply envelope are printed in black and one Pantone color.
In keeping with the color theme of the Mother & Child card, I used dark red on all the pieces, which meant Pantone 201 on the 2-color pieces.
For the 2-color reply envelope, I opened the Mother & Child art in Photoshop. I selected Image: Mode: Grayscale, then Image: Mode: Duotone. After selecting Pantone 201 as the second color, I then adjusted the Duotone Curve on the Black, so the lighter tones in the art would print with more red than black. Makes for a prettier piece, don't you think?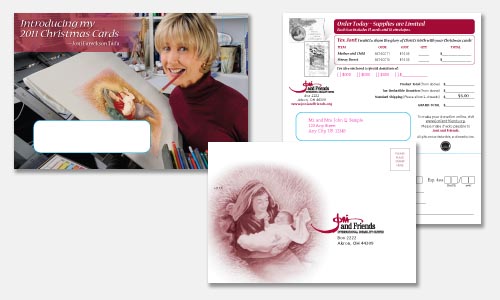 Don't you love how the art from the Christmas card is featured on the artist's desk, pictured on the carrier envelope? That wasn't how the photo was taken though! The artwork on the desk was replaced in Photoshop. Then I also recolored the lime green pencil in her mouth to a suitable dark red!
Those are a few of my techniques for creating this direct response mailer design sample. Have you done any direct response mailings? What have you found to be effective?
If you're in need of graphic design solutions, let me know. I'm a direct response design expert!
From my freelance graphic design portfolio:
Direct Response Mailer design portfolio page