Here's another direct response mailer design sample. I design 14 mailers per year for this client, so I'm often found working on one.
This particular mailer raises funds for Family Retreats, a summer getaway for families in which one family member has a disability.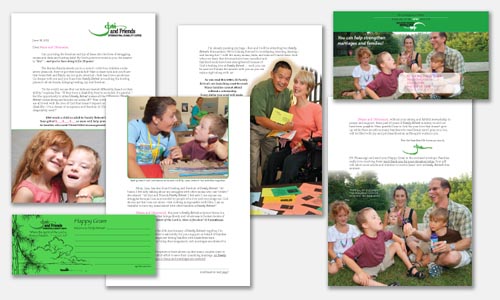 The client switched to full-color printing on letters and envelopes at the end of 2010, making for a much more attractive mailing. I create a splashy carrier envelope design (upper right) with the photos that are available. In this case, I was able to work out a full bleed. The address "window" is an 80% white box—slightly transparent over the full-bleed photo design. Seeing a bit of the photo through the "window" is a little less harsh.
Believe me, it's tough to find a photo horizontal enough to span the envelope, let alone with a "hole" in the middle to accommodate the mailing info!
The photos are generally taken months in advance at the event discussed in the letter, without an art director in sight! It's often a challenge to select good photos, and crop them to look professional. I was happy to find a few good ones here.
I like to use a photo on each page of the 4-page letter. Longer letters really do get a better response. The photos break up the copy, and tell the story in an abridged version through the captions.
This mailer included a "Happy Gram" (lower left) for the donor to send a message to a camp family. Creating this connection between the donor and the scholarship recipient engages the donor, helping them to feel the significance of their donation.
For the Happy Gram design, I chose an ink drawing from the artist's portfolio which portrayed a canoe on a lake. This simple design was printed in black ink on colored paper.
On page 3 of the letter, I showed a photo depicting many of the colorful Happy Grams from last year's direct response campaign. Now the donor can see that these messages really are read and appreciated!
I chose the bright green color theme to coordinate with the lush green camp photos.
If you're needing help with your own direct response campaign, do contact me now for a no-obligation chat to see how I may help.
From my freelance graphic design portfolio:
Direct Response Mailer design portfolio page