When something works, you run with it. And last year's October direct response mailer was a hit. So this year's mailer design follows suit.
The winning element? A free bookmark in the mailing. So simple, so inexpensive—yet effective.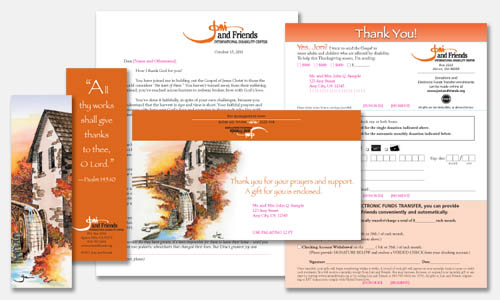 This Fall direct response mailer design includes full color on the carrier envelope and bookmark front. The remaining designs are black with one Pantone color.
Last year I chose a ginger color. This time, I warmed it up a bit with a pumpkin spice shade, PMS 173. On the carrier envelope, this is simulated in four-color process. The type reads: "A gift for you is enclosed."
Last year I was given a line drawing for the bookmark, to which I added Fall colorations in Photoshop. This year we had color artwork, but the colors had a 1970′s look. The client provided a bitmap scan of the color art which they expected I would treat in a similar manner to last year.
Well, a bitmap scan of color art isn't quite the same as a line drawing!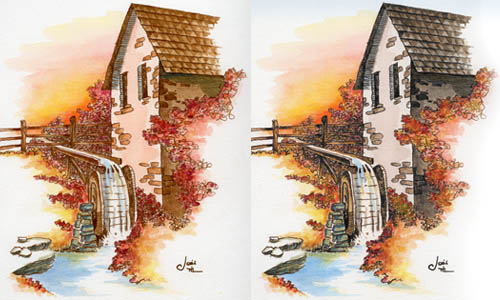 Starting with the watercolor art, I selected all the brown lines in Photoshop and darkened them. I adjusted the stone building to a cooler shade, added a bit of blue to the sky, and some gold to the red bushes. Voila! A more sophisticated, less 70′s-brown color scheme.
The mailman just brought this direct response mailer as I was writing this post. I'm pleased with how it turned out! Last year people were calling in for more free bookmarks. We'll see what happens this year!
Can I help you with your direct response mailer graphic design? I've designed 14 mailings a year for this client, for numerous years. We've learned what works, and we've developed a simple, efficient process to complete these direct mailings on tight deadlines. Contact me now to see if I can help your direct response results.
From my freelance graphic design portfolio:
Direct Response Mailer Design portfolio page