Looking for brand identity design ideas?
What's a brand?
A brand is someone's personal identity, or the corporate image of a business.
Everything the business does, owns and creates should reflect the values and aims of the business as a whole. So what your business stands for, believes in, and why it exists, is the core of your brand image.
The graphic design of the brand identity reflects those core values visually.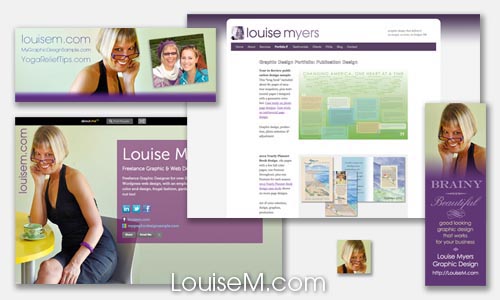 What's in a brand identity design?
The graphic design for your brand identity encompasses everything visual:
logo design and/or your personal photo
online design such as website design, email etc.
print design like business card design, brochure design, etc.
packaging design like boxes, bags, hang tags
and anything visual seen by clients and customers
Your brand identity also includes all modes of communication, but that's beyond the scope of the graphic designer. 😉
What's in my brand identity graphic design sample?
My visuals include:
My personal identity is colorful and fun, but still businesslike,  practical, and down-to-earth.
Purple is my favorite color! I love this triadic color scheme with purple, soft greens, and flesh tones. Triadic color schemes tend to be quite vibrant, but I let the purple dominate the soft green and orange tones. I think it says creative without the crazy.
I purposely subdued the purple and went with a monochromatic scheme on my graphic design portfolio web­site, so as not to compete with the colors in the portfolio pieces I show.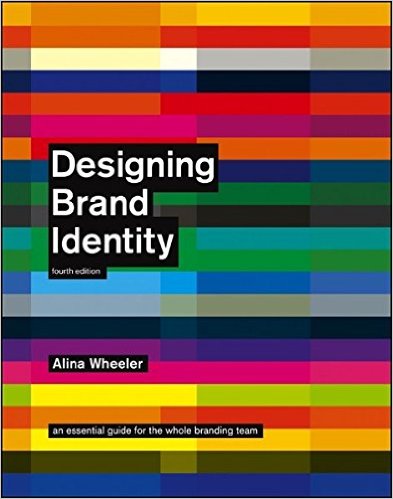 There are scads of books available on brand identity design
. I featured a lovely, 4.5-star reviewed book, Designing Brand Identity, that you might want to look into.
From research and analysis through brand strategy, design development through application design, and identity standards through launch and governance, Designing Brand Identity, Fourth Edition offers brand managers, marketers, and designers a proven, universal five-phase process for creating and implementing effective brand identity. Enriched by new case studies showcasing successful world-class brands, this Fourth Edition brings readers up to date with a detailed look at the latest trends in branding, including social networks, mobile devices, global markets, apps, video, and virtual brands. Read more here.
Need help with your brand identity design? Visit more examples of online branding design in my graphic design portfolio. Then contact me to see if we might be a good fit to work together on giving a visual design to your core values.
___________________________________
From my free­lance graphic design portfolio:
Social Media branding design port­folio page
Branding & Campaigns design port­folio page