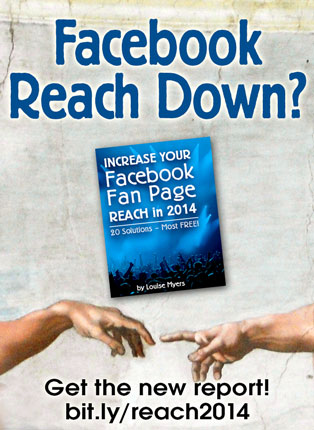 If you have a Facebook Page, you know it.
Facebook Reach is down! 
Yes, Facebook Reach has dropped – in some cases quite dramatically – since Fall 2013.
But, you know what? Facebook Page Reach has actually been dropping since 2007.
Why? One reason is that fans AND businesses are flocking to Facebook. It's the place to be!
On one hand, you've got thousands of potential customers there.
On the other, you've got a lot of competition.
How to break through and increase your reach?
New Report! Increase Your Facebook Fan Page Reach in 2014
20 Solutions to Boost Your Reach – Most FREE!
I've pulled together all the latest info to help you boost your Fan Page Reach!
My report explains:
How to get Facebook to put YOUR content in fans' news feeds
How to discover which content your fans LOVE
Strategies for keeping your fans engaged
How often to post
When to post
Which posts to promote
And so much more!
This information will save you loads of time and frustration on your Facebook Page.
And I'm offering it now for only $5!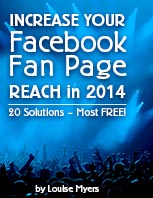 I don't know how long I'll hold that price.
Why not purchase NOW, before your Page Reach gets worse?
Save yourself time and hassle with all the helpful info in one handy PDF.
Your customers are on Facebook.
They're waiting to hear from you.
Reach them now with Increase Your Facebook Fan Page Reach in 2014!
Your payment grants your own use of the report. You do not have rights to share access details, or to sell or give away the report. Thanks!