Looking for a Save the Date Postcard design sample?
Just released! Postcard-sized "Save the Date" handout.
I created this with a stock photo from dreamstime.com on the front, and Zapfino typeface.
To make the back just as beautiful, I used an offset gradient.
The logo was provided by client. I added transparencies and shadows for a rich look. I kept to a soothing, monochrome cool blue, even though this was printed in full color.
I created this postcard design in Quark XPress on my dual-core Intel Xeon Mac. (Update: I now use InDesign on a 27″ retina display iMac!)
Enjoy my latest graphic design sample!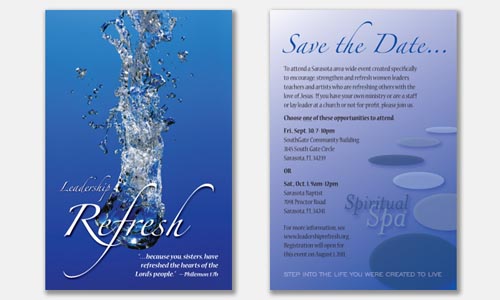 If you need help with eye-catching graphic design, contact me today!
___________________________________________
From my freelance graphic design portfolio:
Postcard design portfolio page