Looking for a cool website design?
Here's a blue beauty for a personal brand.
My brother is interested in both astronomy and cars, and wasn't sure which he wanted to write on—maybe both! So I designed a cool website that would work for both.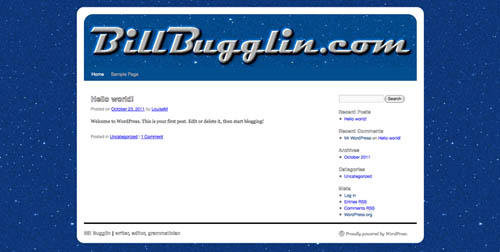 I started with a sparkly metallic car paint background. I shifted the color from red to blue in Photoshop using the hue adjustment under Image –> Adjustments –> Hue/Saturation (or Command-U on a Mac). Now the background can also stand in for a starry sky!
I created the website header with a sparkly swath of the background, and the Magneto font. This font looks like a vintage car brand name, with a bit of a retro-futuristic look.
Creating Chrome Type in Photoshop
It's easy to create a chrome-like look in Photoshop! I started with the type in light gray. Note: you could fill the type with gradients in Illustrator to get a more metallic look, but I was going for a fast and simple design technique here.
On the type layer, go to Layer –> Layer Style –> Bevel and Emboss… Choose Emboss and play around til you get the look you want. I chose Chisel Hard for this web header design. But it's easy to try different things and see the effects as you go.
I also added a drop shadow and was done in minutes.

Customizing WordPress with a Child Theme
A few simple tweaks to the 2010 WordPress theme were to create rounded corners, and change the link colors as well as the navigation bar to shades of blue. I learned the rounded corners on lynda.com.
For the color changes, I just picked around in the stylesheet til I figured out where that info is located. As you  may know, best practice for tweaking a WordPress theme is to create a child theme. Easy-to-follow training is available on lynda.com. Check it out!
Need a quick and easy website design solution? WordPress rocks!
I no longer set up websites, but would be happy to create graphics for your cool website design as part of your branded look.
___________________________________
From my freelance graphic design portfolio:
Website design portfolio page