Heard of curated website design?
My latest* endeavor is both an exercise in creative writing and design—but an attractive design nonetheless!
I haven't done a lot of customization to this WordPress website design, as I intend to upgrade to a custom theme once I start seeing some real traffic. This project pulls a number of disciplines together: writing, design, research, SEO, marketing. No wonder I've been so busy!
*This post was originally published on My Graphic Design Sample website on 12/09/2011.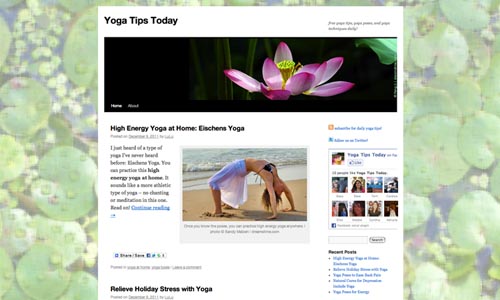 Designing the Curated Blog Website
A hot topic online these days is a curated blog. This is a website where the webmaster sifts through the volumes of information posted daily on the internet, and selects only the best and most relevant information to comment on and link to. I decided to design and curate a yoga tips website.
I found some stunning images on dreamstime.com and selected a lovely lotus for the website header design. It was easy to fade this dramatic photo into black on the left side to span the 940px header design. When I find the time, I'll add "Yoga Tips Today" in a custom font!
I tried a soft green for the background, but found it too flat. I wanted something soft, relaxing, and not distracting… Lotus leaves seemed like a good idea, but I had a hard time finding a photo suitable for a background. I went with the one you see above—I have a feeling it's actually dichondra or something other than lotus, but it had an even enough tone to work as a background.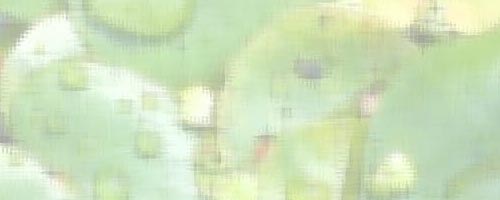 I softened the contrast further by overlaying light green. Using the "water paper" filter in Photoshop blurred the edges and added an artistic feeling.
Now the background sets off the main content area without competing for attention, or just sitting there in a boring flat color.
WordPress Website Design for the Web Newbie
WordPress is an easy website interface that anyone can use to keep their website updated. You can add pages and images as you please. And a continual flow of new data is what makes your website show up in the search engines, so potential customers can find you!
I no longer take on website design projects. I have an associate who does web design. However, WordPress is so easy, you can create a curated website design yourself!
___________________________________
From my freelance graphic design portfolio:
Website design portfolio page