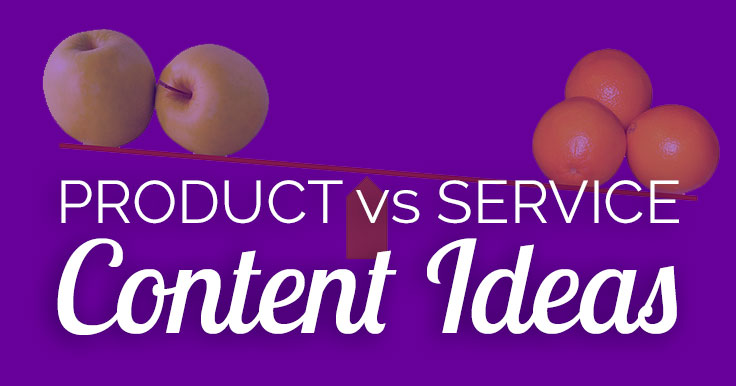 Looking for content marketing ideas?
If you're marketing your business with content, you need to create the right content! The kind that will draw prospects, and help them know, like, and trust your business.
According to this infographic, your content will vary if you're selling products vs. services. Makes sense! My kudos to Matt Mansfield of 1000ContentIdeas for his insights (I did alter the color scheme! 😉 )
Content marketing includes more than your blog, but I think you'll find this infographic a valuable source of blog post ideas too!
Definition of content marketing from CopyBlogger:
Content Marketing means creating and sharing valuable free content to attract and convert prospects into customers, and customers into repeat buyers. The type of content you share is closely related to what you sell; in other words, you're educating people so that they know, like, and trust you enough to do business with you. source
More insights from Matt:
Products:

If your product is not a commodity, then create content that highlights the unique value it provides.
If your product is a commodity, or just plain boring, then hook folks in with helpful information and advice – both of which will build the trust needed to make sales happen.

Services:
It's harder to differentiate yourself using benefits on the service side as many others will offer the same types of services.
However, you can build trust by explaining the ins-and-outs and benefits of the services you provide. This is a great way to establish your expertise and qualifications, both of which build the trust needed to make sales happen.
Have you joined my FREE content marketing mini-class yet? Each of your lessons will arrive as a printable PDF with space for journaling how you can apply it to your business.
• • • CLICK to Get your FREE Content Marketing Lessons! • • •
Pin the infographic so you'll always have content marketing post ideas handy!