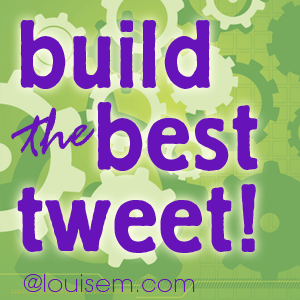 Want to know how to write a tweet?
Whether you're just starting, or have been tweeting for a while, it's good to review these principles.
If you have a website, you need to know that Twitter is the top platform for sharing links! It's rivaled only by Facebook for building website traffic via social media. Writing better tweets means more clicks, and more traffic!
[pinit]
How to Write a Tweet: Build the Best Tweet! [infographic]
So, how hard can it be to write a good tweet? It's only 140 characters.
With such a short message, you need to make the most of it!
Check out this terrific infographic below, from MarketingThink.com, that makes it easy to build the best tweet.
The perfect tweet has 3 parts: your message, a link, and blank space. Here's the info on the graphic:
Message:
Call to action: Tell readers what you want them to do.
Message: Use good punctuation, upper and lower case, and avoid txt speak.
Format: Use a mix of headlines, questions, and stats to drive clicks and retweets.
Hashtags: Include one or two to increase your reach among non-followers.
Tone: Use your own voice in a professional way to add personality.
Link:
Blank space:
Leave at least 20 characters so retweeters can use your handle or add a comment.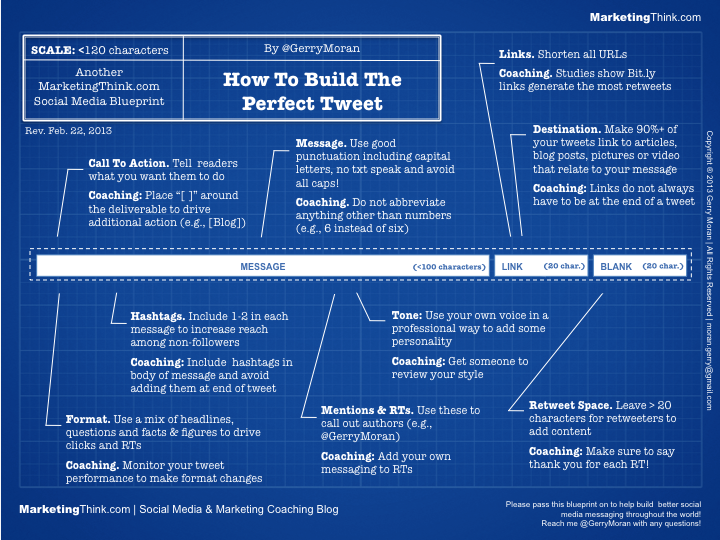 Share this post with others who'd like to build the best tweet! Be sure to pin this infographic so it's handy when you need to remember how to write a tweet.