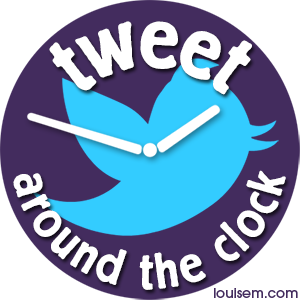 How to schedule tweets is one of the top questions I'm asked.
Your own best time to tweet will vary by your business type, target audience, and time zone.
But if you have a global market – what then?
Your best bet is to tweet around the clock to catch your followers in all time zones.
You've asked, so – here's how I schedule my tweets!
How to Schedule Tweets Around the Clock
I no longer use or recommend Hootsuite. The tool I currently recommend for bulk uploading of tweets from a .csv file is SmarterQueue.
I apologize that this post needs to be updated! The info is not current.
Take SmarterQueue for a free trial run and see how you love the ease of bulk uploads!
Disclosure: I'm an affiliate for SmarterQueue and may earn a commission if you purchase after clicking my link.
It gives you the capability to "bulk upload" up to 350 scheduled messages at one time. This is an incredible time saver – worth well more than the small cost.
If you use it to schedule tweets only, you could upload 350 tweets in one spreadsheet! (As long as you had nothing already scheduled). However, I prefer to keep a collection of smaller files that I can pick and choose when to reuse, and layer over one another.
I've created several Excel files of "link tweets" – tweets that share links to my blog posts or social media hubs. I decided on a maximum of 64 tweets per file, because that's as many as I can see on my monitor at one time! 😉 I schedule these link tweets to go out on odd numbered hours, around the clock.
Add More Tweets From Your Favorite Bloggers
Later, I manually schedule the even-numbered hours of 4am to 6pm Pacific with links to my most recent posts, plus those of other terrific bloggers in my niche. This is my plan – if I don't fill up all the slots, I don't stress about it. I know I've already got a good presence from my bulk upload!
Bulk Schedule Quotes & Tips, Too
I've also made several Excel files with quotes by theme. Some are general (motivational, inspiring), some niche related (creativity, design), some time-specific (freedom quotes for Independence Day, eco quotes for Earth Day, famous birthdays). I set these to go out on the half hour, every 4 hours. So these "layer over" my link tweets.
Another file you might want to create: helpful tips relevant to your niche.
If you don't have this much content yet, just space your tweets out more, until you have more blog posts, quotes, and tips collected.
You can start with tweeting 3 times a day until you have enough for every 3 hours, every other hour, and maybe eventually hourly. Dan Zarella discovered that the optimum number of tweets per day is 23! More tweets = more new followers.
This is a bit of work to set up – but once you have these files set up, you can change the dates and times in a couple minutes – really! – and be ready for another couple weeks. And there's no reason not to reuse good quotes and tips, or links to good, evergreen content – it's highly unlikely that the same follower will be on Twitter at the exact time to catch these tweets a second time. And even if they do – maybe they'll see it at just the time they need it!
How to Bulk Schedule Tweets
You'll create a .csv file in either Excel, Google Docs, Text Edit, or Text Wrangler. Here are the specifics:
Creating a .csv File with Excel.
Creating a .csv File with Google Docs Spreadsheet.
Creating a .csv File with TextEdit.
Creating a .csv File with TextWrangler.
Now, in the HootSuite dashboard:
1.  Click the paper airplane (Publisher) icon on the left-aligned launch menu.

2.  Click Schedule in Bulk.

3.  Upload your bulk schedule
Click Choose File, locate your bulk schedule file, and then click Open.
Click to select a date format. Be sure to select the same date format as the one used to create your bulk schedule.
Click to select social profile(s) to post the messages, and then click Submit.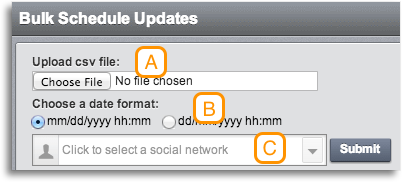 If you're serious about tweeting, I recommend you give SmarterQueue a try. Then let me know what you think of it!
Check out my tweet schedule on Twitter! If we're not connected yet, follow me here.
What do you think of my tweeting schedule? Tell me in the comments.
If you found some good tips here, tweet out this post! Help your followers learn how to schedule tweets.