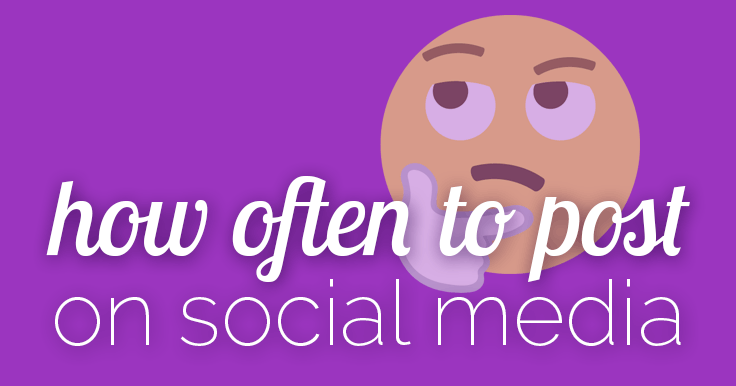 Wondering how often to post on social media?
Great question. The short answer is, "As often as you can post quality content, consistently."
Quality and consistency are key to social media success.
The longer answer is: Recent studies have shown that there really are optimal posting frequencies for the different social media platforms.
And the good news is, it's probably not as often as you may have heard!
That Facebook Page posting hourly, or Twitter account posting every 15 minutes? Forgetaboutit. Maybe it works for accounts with 100,000's of followers, but it doesn't work for the average business using social media marketing.
Whew!
Why is post frequency important? As Neil Patel says,
If you post too infrequently, your audience will forget that you exist and you will quickly fade into the deep dark recesses of their minds. However, if you are posting too often, you will become a complete nuisance and they will dread seeing your posts overcrowding their feed.
So here's what the research says, to help you get this right.
I share my own posting frequency. Don't try to max out every platform – unless you have unlimited time or funds. Or use a magical scheduling tool, like Missinglettr, mentioned below (my secret weapon!).
Note: Some links to scheduling tools I recommend are affiliate links, which means I'll get a small commission if you purchase. I only recommend social media management tools I use and love!
Once you know how often – what should you post?
• • • CLICK to Get your FREE Social Media Content Guide! • • •
How Often to Post on Facebook
Most studies agree that once per day is optimal, with a maximum of two posts per day.
Hubspot found that pages under 10,000 fans experienced a 50% drop in engagement per post if they posted more than once per day.
At a minimum, you should post to your Facebook Pages 3 times per week.
As far as when to post to Facebook, I keep seeing studies that tout early afternoon. That's never worked for me. It may be that more people are online and sharing then, but I think that just means I'm lost in the crowd. I find it best to post before 6:30am Pacific, or after 8:30pm. I post 2–3 times per week.
Schedule your posts in advance right on your Facebook Page (It's free! here's how).
For engaging, viral content scheduled in a snap, you should try PromoRepublic. You can edit and add your branding to their clever, pre-made content – or just post it as-is!
PromoRepublic also schedules to Twitter, Instagram, and LinkedIn, but the content is most needed on a platform like Facebook, where users are looking to connect and have fun.
Click here to try PromoRepublic free for 7 days.
An amazing option for bloggers is Missingletter, mentioned just below.
How Often to Post on Twitter
This seems to be a big controversy these days! I was recently taken to task for "only" posting about 10 times a day on Twitter. The top accounts are posting 100 times a day, I was told. Can you imagine?
Well, that's just not necessary. But the studies I found did vary wildly – anywhere from once per day to 51 times a day!
More helpful is a general consensus of 3 to 30 times a day. Tweets do have an incredibly short shelf life, so it's important to spread your tweets through the day.
If you blog, you'll adore using Missinglettr to automatically create visual content and schedule your blog posts.
How Often to Post on Pinterest
The recommended minimum is 3 Pins per day, with a maximum of 30 Pins per day. Posting more than 30 Pins per day does not show any additional benefits.
Pinning often is easy with Tailwind. You tell it how many times you want to pin per day, and it sets up recommended time slots for you. Save a Pin to Tailwind, and it falls into the next slot (or you can customize the times, if you wish).
I started with about 5 Pins per day and have worked my way up to about 12 scheduled Pins, plus a few "live" Pins here and there. Posting this often has definitely done amazing things to grow my followers – I more than tripled my account in 2016, to 14K followers.
And despite follower growth becoming increasingly difficult for most Pinners, I added another 5,000 followers in 2017. ?
Try Tailwind free. Schedule 100 Pins!
(Post continues after graphic).

Copy the Code to Embed this Image On Your Site
How Often to Post on Instagram
It's generally recommended to post at least once per day, and no more than 3 times per day, on Instagram.
I've found similar times of day to Facebook effective: my Iconosquare stats showed that 8pm was my best time, closely followed by 6am. Remember I'm on the West coast, so that'd be 9am and 11pm Eastern time.
Instagram is currently my second favorite platform, and I post six times a week. I don't use any schedulers, but you can read about options for Instagram scheduling.
How Often to Post on LinkedIn
This one's easy. At least twice a week, and no more than once each business day, which is optimal. Post in the mornings.
I share my new or updated blog posts here, and I was only posting once or twice a week, but now I use Missingletter. This recirculates my blog posts and keeps them in front of my connections – because some may have missed them (or not had time to read) previously.
Click here to try Missingletter.
How Often to Post on GooglePlus
Minimum 3 times a week, maximum 3 times a day. Mornings are best for Google+.
I post the same stuff as I do on LinkedIn. Once again, Missingletter saves the day.
Hat tip to CoSchedule, Buffer, and Neil Patel for data.
Now that you know how often – what should you post?
• • • CLICK to Get your FREE Social Media Content Guide! • • •
Conclusion
Now you've got the latest research on how often to post to
Facebook
Twitter
Pinterest
Instagram
LinkedIn
and Google+
Along with my own thoughts and frequencies, and suggested scheduling tools.
Choose your pace and stick to it, so your followers know what to expect. Consistency is key to attracting and retaining followers! Of course, high quality content is a must.
How to stay consistent with your social media posting?
Don't take on more platforms than you can handle.
Create and schedule content in bulk, to save time.
Keep fresh ideas flowing with the Social Media Content Planner!
Does this help you with how often to post on social media? Let me know!