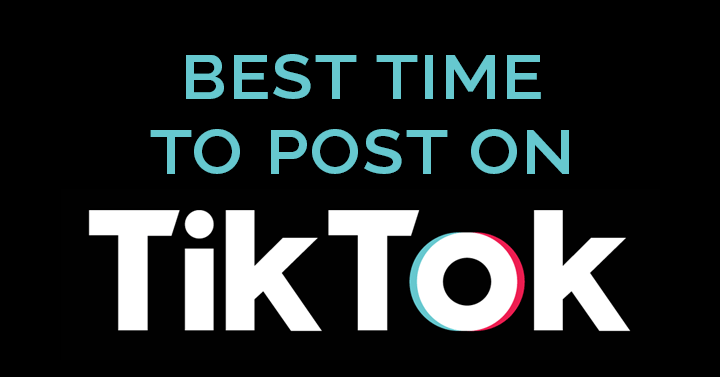 Wondering the best time to post on TikTok?
Want to make sure every video you post gets seen by the most people?
The key is to understand the best time to post for your audience.
There are a few general ideas from big studies to help. Then learn how to find the perfect time for your own audience!
Let's dive in.
Why posting time matters
TikTok is one of the fastest-growing social media networks. It has over 800 million active users, with new users arriving every day.
It's huge with teenagers, but more age groups are arriving.
That means figuring out when to post is important to increase the chances of being seen.
Otherwise, your content could get lost in a sea of teens dancing and funny memes.
When is the best time to post on TikTok?
Studies have looked at when TikTok users are most active. These are worked out in Eastern Standard Time.
The studies found the best times to post on TikTok is:
What are the best times for each day?
Let's take it one step further and find the best time to post to TikTok by the day of the week.
These vary in interesting ways:
Monday – 6am, 10am, 10pm
Tuesday – 2am, 4am, 9am
Wednesday – 7am, 8am, 11pm
Thursday – 9am, 12pm, 7pm
Friday – 5am, 1pm, 3pm
Saturday – 11am, 7pm, 8pm
Sunday – 7am, 8am, 4pm
In all of those, there are a few spots that are best for engagement:
9am Tuesday
12pm Thursday
5am Friday
So, by trying to post at these times, you might see better engagement than other times.
Other top times may see more eyes on your content.
You'll need to start posting to see what works best for your own audience, but these stats will get you off to a good start.
How to use analytics to find the best time
TikTok does have some good information to help you decide on the best time to post – but you do need to have a Pro account to access this.
As a serious TikTok user, this would be a normal step anyway. Just head to the "Settings and Privacy" page, choose "Manage My Account," and tap "Switch to Pro Account."
Note that TikTok analytics aren't retroactive. After switching to Pro, you'll need to wait up to 7 days to see insights.
Once you have enough data, check out the three tabs in the "Pro Account" page of your settings:
On desktop, you can download and export your Analytics directly to your computer! Access the Analytics page by hovering over your profile photo in the upper-right corner of your screen and clicking "View Analytics."
Followers
We'll start with Followers as there's some good info here.
You can see things like top territories and activity with your followers.
It tracks 28 days' worth of data so you can see patterns. You can compare spikes with what you posted. But also, when.
Plus, when figuring out time zones to post, knowing where most of your audience lives really helps.
TikTok doesn't record where people live within a country.
But if your audience is mostly US-based, you can assume EST is a good zone to work with, since the US population is highly concentrated there.
You can also experiment with some peak times for the West Coast and see how they do.
Followers Activity
There's also another graph you want to check – Followers Activity.
This is a map of when your audience was most active. It shows each 24-hour period and you can scroll backwards.
So, you can easily see what times on what dates people were busiest.
Then check this over 2-3 weeks and see if the same trends keep appearing.
Toggle to days and you can see a similar graph for the days of the week.
Again, compare it over a few weeks to spot patterns.
Content
The Content tab is where you can see post performance for the last 7 days.
Plus, when you click an individual post, you can see more information about it. This includes watch time, where in the world views came from and total views.
Again, you can look for patterns. TikTok works in UTC for time zone so you can check this against your time zone.
You might want to set up a tracking sheet to study those key metrics and look for patterns.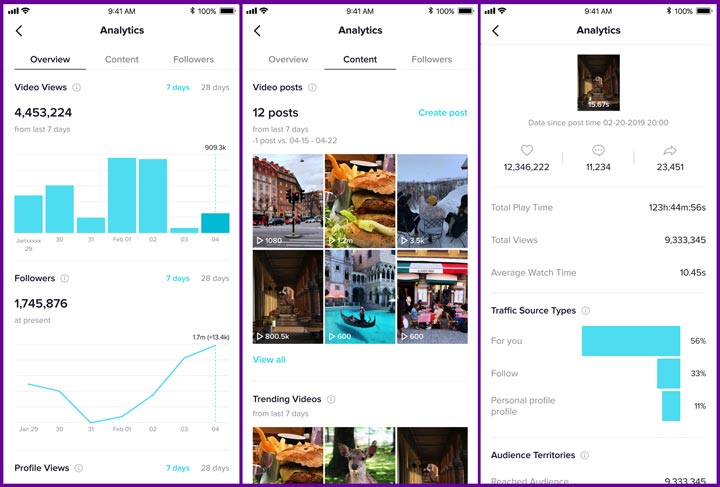 Finding your perfect TikTok time to post
Because it is so new, there's not a lot in the way of tools to help find the best time to post to TikTok. But the platform's analytics are good at providing some solid information.
In particular, the day and hour graphs help you see what works and when.
Use this data combined with information from individual posts to see patterns. Then you can create a schedule that's particular to your account.
Get the most eyes on every video!
Are you a TikTok user? When you find your audience is most active? Tell us in the comments below!