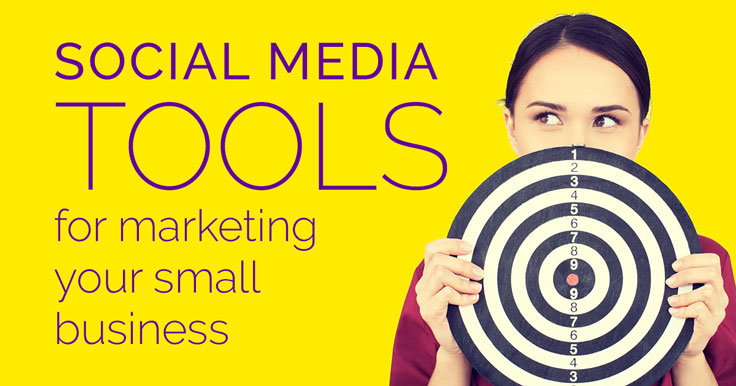 For more help with your social media and visual marketing, try these resources.
These are the tools I use to make my business run smoothly, look great, and make money!
Some products here are my own, created because I (or my readers) needed them. ?
Some are affiliate products where I may make a small commission if you purchase, but you won't pay more. I only recommend products I use and love! I believe if they work for me, you should know about them too. You can read my full disclosure here.
Download the PDF here. No opt-in! Just right-click and "Save As" to get my Top Tools List.

Social Media Marketing Strategy, Ideas & Planning
2019 Social Media Content Planner: Get over 150 content ideas every month, and a way to keep them organized! Printable PDF. Geared toward those who are up and running on social media, but need ideas and a plan to stay consistent. Click here to learn more.

Online Photo Editing & Graphics Creation
PicMonkey is a fun and easy option for photo editing and graphics creation.
Read my blog post about How to Use PicMonkey or click here to try it.
Stencil is one of the fastest and easiest ways to make images online! Free, or Pro version.
Read my blog post about Quote Images with Stencil  or click here to try it.
Snappa is another super-fast online image creation tool with lots of templates– over 250 for Pinterest Pins! Free or Pro upgrade.  Click here to try it.
PromoRepublic: create and schedule graphics with 100,000 post ideas and templates. This one's ideal for Facebook and Twitter. Click here to try it.
Adobe Photoshop – my favorite, and more affordable than you think. Choose "Photography" for Photoshop + Lightroom at $9.99 a month.  Click here to learn more.
DON'T KNOW WHICH? Read the blog post or get the quickie comparison chart.
Low Cost Stock Photos
When you don't find what you need on free photo sites, try these inexpensive resources for more professional options:
Dreamstime: No need to sign up for a subscription – buy credits for as little as $16 USD. This is the one I use because I don't need to purchase a lot of photos. Click here to check it out.
Adobe Stock: Get one month free when you choose the 10 or 40 images per month plan. My client has a subscription here because we need a lot of top-quality photos for Facebook posts. Click here to check it out.

Social Media Management & Scheduling Tools
These are my fave tools to keep on top of social media, quickly & easily!
Tailwind: schedule Pinterest to get more repins and followers! Approved Pinterest partner.
Read my blog post about Tailwind for Pinterest or click here for a free trial.
Tailwind: schedule Instagram with super-helpful Hashtag Finder tool. Read my blog posts about Tailwind's Instagram hashtag finder or Instagram-approved auto-posting.
Click here for a free trial of Tailwind for Instagram.
Post Planner: Rock your Facebook Page and Twitter by finding proven content you can share, or use to inspire your own viral posts. Get started for as little as $36 for a YEAR!
Click here to try Post Planner.
MissingLettr: Automate your blog post sharing to Facebook, Twitter, LinkedIn, Pinterest, Medium and Google+. Creates quote images for you! Read my blog post about MissingLettr social media marketing for bloggers or click here for a free trial.
PromoRepublic: create and schedule Facebook, Twitter, Instagram & LinkedIn posts with 100,000 ideas and templates right in your dashboard. Click here for a free trial.

Done-for-you Social Media Marketing
From PromoRepublic at the seriously-amazing price of $97 per month. To get details and try it for a week FREE, click here.
Offered for these industries ONLY: Accessories, Apparel, Beauty Salon, Café & Bar, Dental, Etsy Shop, Fast Food, Fitness Studio, Gym, Real Estate, Restaurant, Spa Salon, Yoga Studio.
Social Media Graphics Templates
Find thousands of social media image templates on Creative Market. Add your own text in any easy design program like Canva!

How to Start a Small Business Blog
A video course with PDFs and spreadsheets to help you set your blogging goals and strategy!
Buy for only $17.
FREE if you buy your website hosting through my link below. Send me your receipt and I'll set up your access (or refund the course purchase price if you bought the course first).
Website Hosting
HostGator: I use for all my satellite websites. Inexpensive hosting for beginners, or anyone on a tight budget! You can read my post about How to Set Up Your Website with HostGator, or click here to learn more. Be sure to use my promo code LouiseM60 for big savings!
Email Marketing
ConvertKit is the easy way to automate email marketing for bloggers and online businesses. Click here to learn more.
WordPress Themes
StudioPress: The best! LouiseM.com is built on the Genesis framework, currently using the Beautiful theme. My theme is subject to change at any moment – and it's easy with StudioPress.

Pinterest Training
Pinterest 101: Business Basics is my inexpensive course in Pinterest marketing for beginners. Includes an eBook with checklists, 6 short videos, Pin templates and a mini-tutorial to add text in Canva. Click here to check it out.
How to Master Master Tailwind is perfect if you want to save time automating your pinning with Tailwind. From Pinterest master Kate Ahl. Click here to check out this course.
Get the Top Marketing Tools Guide as a PDF!
Download the PDF here. No email required! Just right-click and "Save As" to grab the Top Marketing Resources & Tools guide.