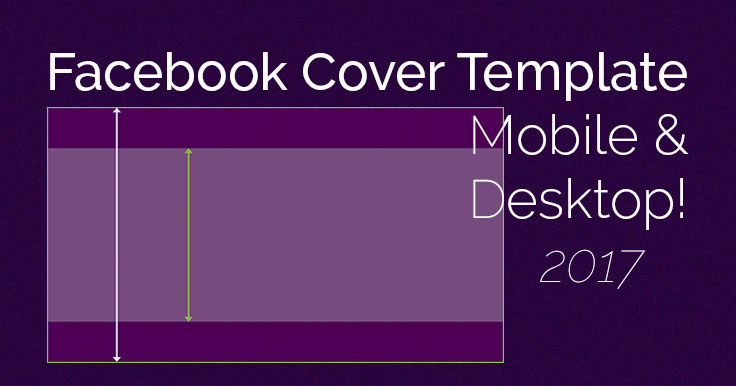 Want your Facebook Cover Photo to look good on both desktop AND mobile?
It ought to! Over half – 56.5% – of Facebook users ONLY access the site by mobile (up from 51.7% in January 2016).
One billion users access Facebook daily through their mobile phones. source
I love my big beautiful desktop monitor, but even I use Facebook on mobile sometimes 😉
Now your Cover Photo can have it both ways! Here's a Facebook Cover Photo mobile template – that also works great on desktop. NOTE: For FB Business Pages. Personal profiles differ.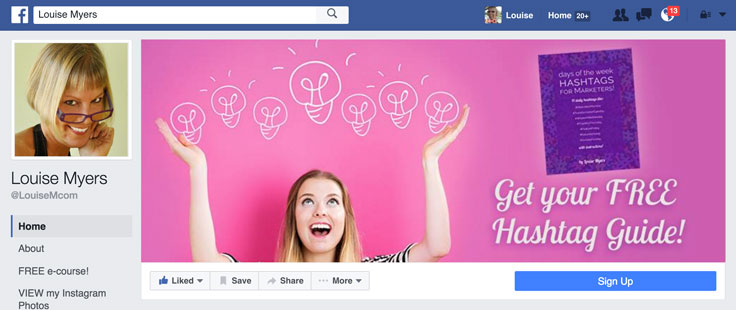 Facebook Page Cover Photo Mobile AND Desktop Template
Your mobile Cover Photo will no longer have the sides rudely chopped off with this template.
The secret is to make your image much taller than the recommended 820 x 312 pixels – 461 pixels tall, to be exact. This gives you 75 pixels top and bottom that will be cropped on desktop.
I tried numerous sizes, and this one worked best. You may lose a pixel or two on one or more of the edges on mobile. Nothing worth worrying about!
I've made a handy NEW template you can follow –
Just right click the image below to download, and choose "Save Image As…"
Sorry, I can't email you the template. It's right here ⬇️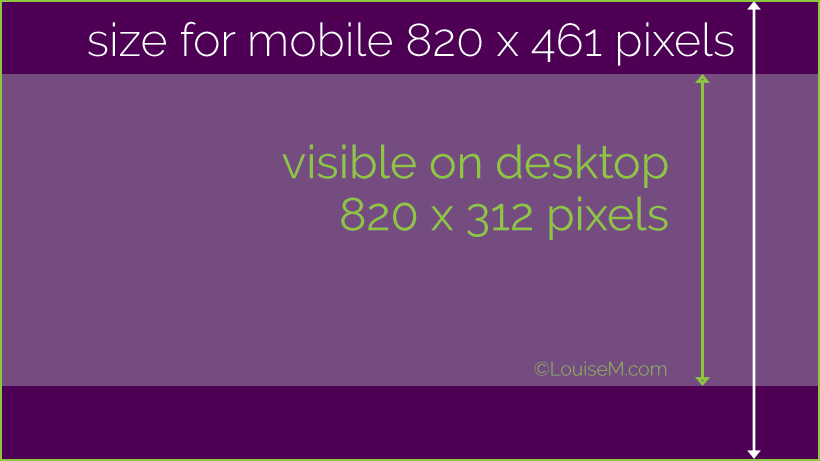 Even better! Make your Facebook Page Cover Photo BIGGER! I recommend 1200 x 675. Right click here to download the LARGE template.
This one is so close to the recommended size for link shares that you can multi-purpose it. It's also the exact size recommended for tweeted images. 🙌 The proportion is 16:9.
For current image sizes for Facebook and 7 other social platforms, click here:
Updated Social Media Sizes Cheat Sheet
When you upload your Cover Photo on desktop, you can adjust the top cropping so it's positioned top-to-bottom exactly as you like it. If you upload on mobile, it will crop to center automatically in desktop view. However, I don't recommend this, as the compression is terrible! Stick to uploading a PNG file via your desktop computer and it will look 10 times better.

Instructions for using my social media templates
1. Open in Photoshop or other graphics editing program that has layers.
2. Change Image > Mode to RGB (the template is an indexed color PNG).
3. Add guidelines to match template, or use template as a translucent layer for guidance.
4. Delete template from image file when your design is done.
If your design program doesn't have layers, you can use them for size and visual reference.
There are more social media templates in the Free Member Area.
What Changed With Facebook Cover Photo Size 2016–2017?
This post was originally published on Dec. 7, 2015, with a desktop size of 851 x 315 and a mobile size of 851 x 475. Then these changes happened:
Spring 2016: The desktop width reduced to 828 pixels. I reduced the height for mobile accordingly. Facebook personal profiles are NOT affected.
Summer 2016: There are no longer type or profile picture overlays on the cover photo!
Winter 2017: The desktop size was reduced to 820 x 312 pixels, from 828 x 315.
This is the same proportion! So you don't need to redo your cover photo if it's 828 x 315.
What do you think? Now your Facebook Cover Photo mobile version can rock just like on desktop! Share with a friend!