Want your Facebook Cover Photo to look good on both desktop AND mobile?
As Hootsuite says, Optimizing your Facebook content for mobile is non-negotiable.
95 percent of Facebook visits are made on smartphones and tablets!
But your Cover Photo can have it both ways: Here's a Facebook Cover Photo mobile template – that also works great on desktop.

Facebook mobile usage stats 2019
Over half – 56.5% – of Facebook users ONLY access the site by mobile (up from 51.7% in January 2016).
One billion users access Facebook daily through their mobile phones. source
I love my big beautiful desktop monitor, but even I use Facebook on mobile sometimes 😉
This article applies to Facebook Business Page cover photos ONLY.
For personal profiles, groups, and events, click:
Facebook Profile Cover Photo size
Facebook Group Cover Photo size
Facebook Event Cover Photo size
Why is the Facebook Page Cover Photo so confusing?
Facebook Cover Photo sizes seem to be a tough concept for many to grasp.
First off, there are 4 different kinds of cover photos on Facebook (see above).
If that's not confusing enough, Facebook recommends different sizes for each.
BUT the problem is NOT the pixel dimensions!
Issues arise because each cover photo has a different shape on desktop vs. mobile.
Cover photos have a wider aspect ratio on desktop. They're taller on mobile.
This isn't because Facebook is trying to confuse designers! It's because a browser window is wide. A mobile device is tall.
FB is trying to accommodate these completely different displays.
However, Facebook doesn't help us much when they tell us:
Your Page's cover photo:
Displays at 820 pixels wide by 312 pixels tall on your Page on computers and 640 pixels wide by 360 pixels tall on smartphones.
Must be at least 400 pixels wide and 150 pixels tall.
Loads fastest as an sRGB JPG file that's 851 pixels wide, 315 pixels tall and less than 100 kilobytes.*
Yeah. Well that would be great if we could actually upload a separate image for mobile and desktop. But we can't!
What we need to do is design a cover photo that works for both sizes / shapes.
Let me reiterate, the pixel size is not the critical issue. It's that the SHAPES are different.
You can design for desktop, and have a huge portion of the sides cut off on mobile.
OR, you can design for mobile, and allow some cropping top and bottom on desktop.
I highly recommend mobile-first design!
As marketers, we spend a lot of time at a computer monitor. This is not the case with the general public!
Over half – 56.5% – of Facebook users ONLY access the site by mobile. These folks will never see your desktop-optimized design.
My templates are optimized for mobile first.
*By the way, I strongly suggest you ignore any cover photo size advice from Facebook!
Facebook Page Cover Photo Mobile AND Desktop Template
Your mobile Cover Photo will no longer have the sides rudely chopped off with this template.
The secret is to make your image much taller than the recommended 820 x 312 pixels – 461 pixels tall, to be exact. This gives you 75 pixels top and bottom that will be cropped on desktop.
I tried different aspect ratios, and this one worked best. You may lose a pixel or two on one or more of the edges on mobile. Nothing worth worrying about!
I do recommend that you make your cover photo even larger than 820 pixels for best resolution. I have a template for that too! The one just below is 820 pixels wide, Facebook's recommended width.
Just right click the image below to download, and choose "Save Image As…"
For high-resolution version and instructions, keep scrolling!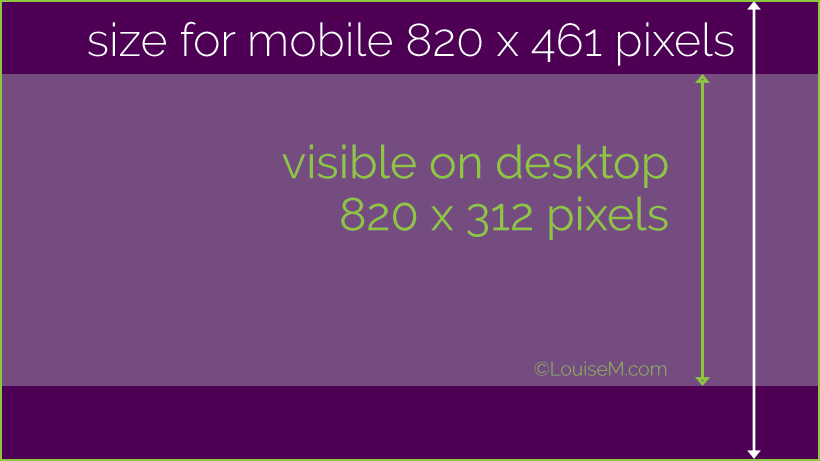 Facebook Page Cover Photo template, UPSIZED!
Even better – Make your Facebook Page Cover Photo BIGGER! I recommend 1200 x 675. Right click here to download the LARGE template.
Instructions for using the Facebook Cover Photo templates under the next heading ⬇️
This template is so close to the recommended size for link shares that you can multi-purpose it. It's also the exact size recommended for tweeted images. The proportion is 16:9.
For current image sizes for Facebook and 7 other social platforms, click here:
Updated Social Media Sizes Cheat Sheet
When you upload your Cover Photo on desktop, you can adjust the top cropping so it's positioned top-to-bottom exactly as you like it.
If you upload on mobile, it will crop to center automatically in desktop view. However, I don't recommend this, as the compression is terrible!
Stick to uploading a PNG file via your desktop computer and it will look 10 times better.

Instructions for using my social media templates
1. Open in Photoshop or other graphics editing program that has layers.
2. Change Image > Mode to RGB (the template is an indexed color PNG).
3. Add guidelines to match template, or use template as a translucent layer for guidance.
4. Delete template from image file when your design is done.
If your design program doesn't have layers, you can use them for size and visual reference.
There are more social media templates in the Free Member Area.
What Changed With Facebook Cover Photo Size 2016–2017?
Fortunately, the Facebook Page cover photo size has remained stable for almost 2 years now (since Spring 2017).
This post was originally published on Dec. 7, 2015, with a desktop size of 851 x 315 and a mobile size of 851 x 475. Then these changes happened:
Spring 2016: The desktop width reduced to 828 pixels. I reduced the height for mobile accordingly. Facebook personal profiles are NOT affected.
Summer 2016: There are no longer type or profile picture overlays on the cover photo!
Winter 2017: The desktop size was reduced to 820 x 312 pixels, from 828 x 315.
This is the same proportion! So you don't need to redo your cover photo if it's 828 x 315.
Unless you want it to look good on mobile 😉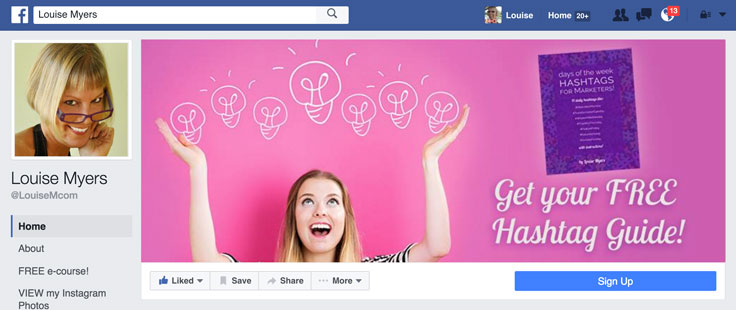 Facebook Cover Photos: Conclusion
Don't forget to visit these other articles for more cover photo templates:
For all Facebook dimensions, including ads:
Want all the top image sizes? This one rounds them up for you, plus provides links to in-depth articles on many of the topics! It's truly the ultimate guide to social media image sizes.
One last tip, if you design your cover photos in Photoshop.
You can find flexible social media header templates available for purchase on Creative Market.
They use Photoshop Smart Objects so you can preview how your design will look on desktop, phone, and tablet. Move your images and text around and see the mockups update before your eyes!
Note: I'm a Creative Market affiliate and will make a small referral fee if you purchase.
I believe the small cost is well worth the time you'll save.
What do you think? Now your Facebook Cover Photo mobile version can rock just like on desktop! Share with a friend!