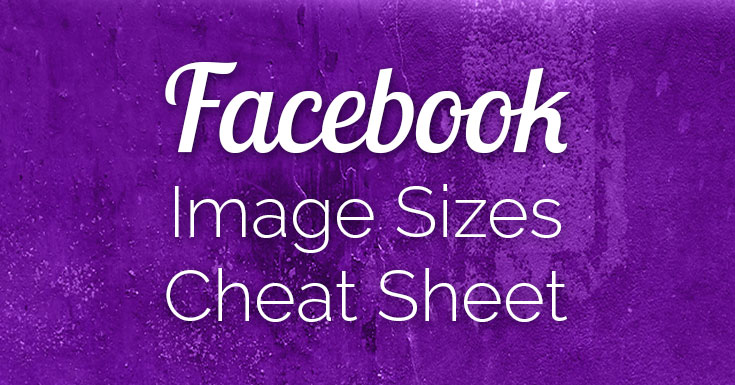 Looking for the latest Facebook image dimensions infographic?
All sizes here are updated for 2020 and verified correct as of April 20, 2020.
While I do keep my handy social media cheat sheet updated – this one goes in-depth to the many Facebook image sizes you might need for your Business Page.
You'll find the best variety of Facebook Page sizes covered here, and in the infographics at the end of the article:
Facebook Page cover photo and profile picture.
Facebook Page photo post sizes.
Facebook Page video post and Live videos.
Facebook Page link image dimension and aspect ratio.
Facebook Stories image size and aspect ratio.
New! Facebook "Our Story" cover photo size.
Facebook Page ads across desktop and mobile.
Facebook catalogs (new in 2019).

Towards the end, I will also cover:
Facebook 20% text rule.
Facebook Notes image dimensions (added April 2020).
Facebook Page services image size.
Facebook job post image size.
Facebook Workplace image dimensions (added April 2020).
All the sizes you need to optimize your Facebook business page!
Why worry about Facebook Page image sizes?
Creating highly engaging images for Facebook is no easy task. You work hard to make creative images that send a message about your brand, products and services, or offers.
Before you upload your image, however, ensure that you have created an image that abides by Facebook's varying recommended upload sizes. It's difficult to keep track – because Facebook has different requirements for each of its images, including profile pictures, shared links, thumbnails and sponsored posts, for example.
Good news though – I keep an ear to the ground for changes so this article is always current! And I've published a brand-new infographic of the Facebook Page image dimensions all social media marketers need.
For ads, you'll find an infographic provided by TechWyse to help you quickly reference all the recommended dimensions and image sizes for the multitude of Facebook ads available.
Facebook updates its platform regularly. Most recent updates saw changes to the layout of Facebook business pages, image dimensions for event response ads, and the maximum upload size for videos, which is now 4GB.
And the profile picture is now round, which I haven't seen one other site portray correctly.
It's important to ensure that your images meet Facebook's guidelines for image sizes to prevent your high-quality images from becoming pixelated, and your text from becoming clumsy.

Optimize your Facebook cover photos for desktop and mobile
The cover photo sizes frequently shared online come directly from Facebook's recommendations, which are not always ideal, and never optimized for both desktop and mobile.
See these blog posts for cover photo dimensions that are optimized for both desktop and mobile. You can download free templates with no opt-in needed:
| Facebook Page Cover Photo with free template.
| Facebook Group Cover Photo with free template.
| Facebook Event Cover Photo with free template.
Those templates are ideal for pro designers and Photoshop users.
Want something simpler? Read on for an easy cheat!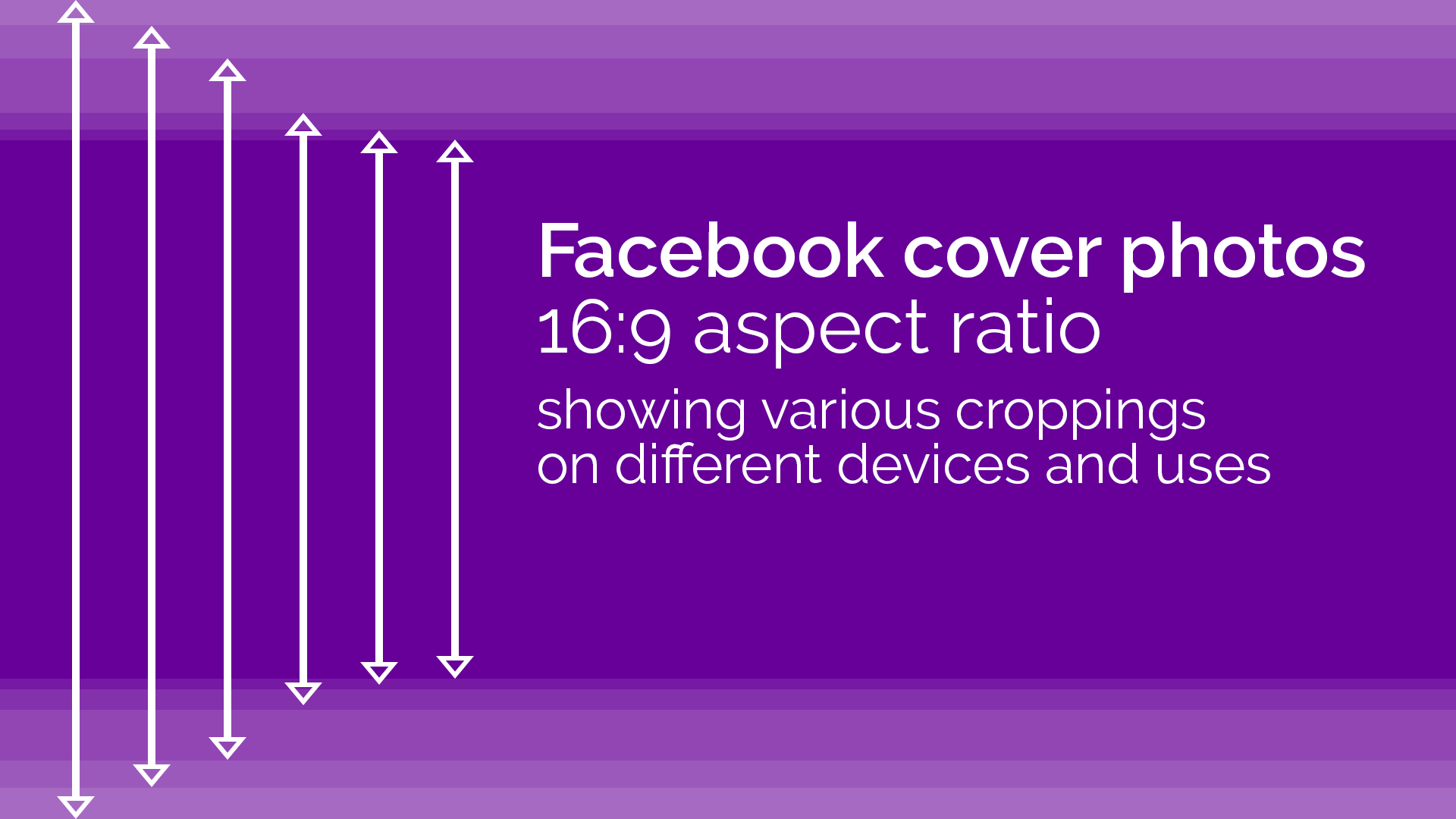 Facebook Page cover photos made easy!
Don't want to mess with Photoshop and templates?
Make your FB Page cover the easy way – with Snappa!
Great news: Snappa has integrated Facebook's cover photo dimensions and safe zones into their graphic design tool, so it'll look perfect on both mobile and desktop.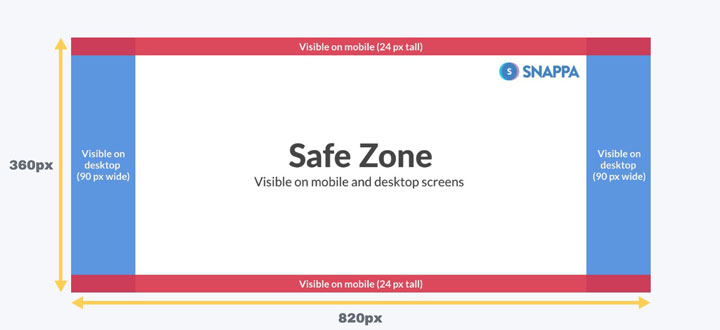 Cover Photos on Desktop vs. Mobile
It's tricky to design your Facebook cover photo to display properly on both mobile and desktop. Designing with "safe zones" will get you a Facebook cover photo that looks great on all devices!
Facebook doesn't stretch and distort your image to fit different devices – it crops it automatically instead.
On a mobile device, your Facebook cover photo will crop out the sides, while showing more of the cover photo's height.
And on a desktop device, Facebook displays more of your cover photo's width, while cropping the top and bottom.
You can quickly see the difference below.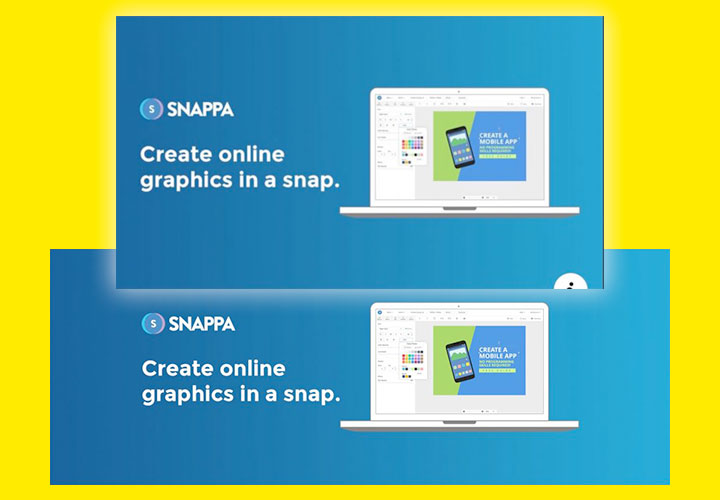 Using the Facebook cover photo size of 820 pixels by 360 pixels and keeping critical elements within safe zones will ensure that nothing important gets cut off on either mobile devices or desktop.
If you're ready to create a Facebook cover photo, Snappa's powerful and easy-to-use graphics builder has made this process incredibly simple.
Here's a step-by-step video showing you how to create a Facebook Page cover photo in the optimal size using Snappa.
Or, follow these screenshots to walk you through the process.
Choose the Facebook cover photo preset for a perfect cover photo size – automatically!

Next, choose a premade Facebook Cover template (which is fully customizable), or create a cover photo from scratch.

Even if you use a template, you can upload your own image – or choose from Snappa's library of free images.
Add text, graphics, shapes, and effects to any part of the image.
All of these add-ons can be dragged and dropped easily; you can define the opacity of each, and choose what layer you want them to show up in.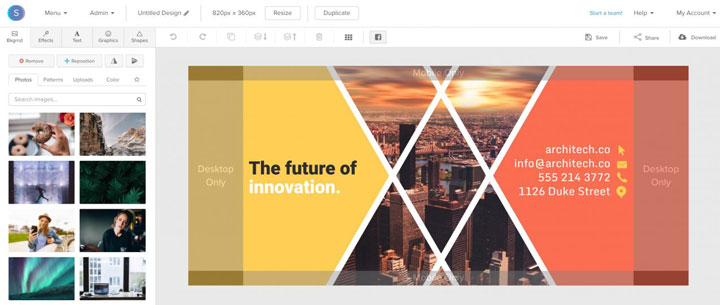 You'll notice that there's an overlay showing the mobile and desktop only zones of your Facebook cover so you'll never have to worry about text and graphics getting cut off. 🙌
Ready to get going?
• • • Create a Facebook cover photo for free NOW! • • •
Disclosure: IF you upgrade to a paid plan, I may receive a referral fee.

Facebook Page Profile Picture
Your Page's profile picture displays at 170×170 pixels on your Page on computers, 128×128 pixels on smartphones and 36×36 pixels on most feature phones.
I do recommend you upload a larger size than 170. Try 400 pixels square, which works well across all social platforms.
Keep in mind that your Page's profile picture will be cropped to a circular shape in ads and posts. Facebook says it will remain the same square shape when people visit your Page, but mine sure doesn't.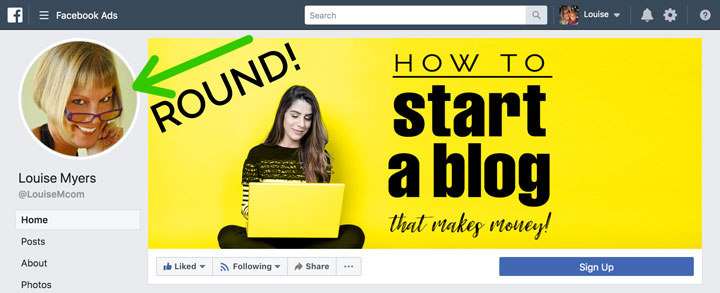 Profile pictures with logos
If your profile picture is your logo or text, you may get a better result by using a PNG file. A JPG may become pixelated and show strange compression artifacts.
If using a squarish logo, be sure to reduce it on an extended background before uploading to your Page, to accommodate the circular crop. See examples below.



Facebook photo post dimensions
Facebook photo posts offer a lot of flexibility. You aren't locked into a specific size or shape.
You can create these image posts at 1200 pixels square for portability across social networks. 1080 x 1080 also works.
In addition, you can choose to post horizontal or vertical images. I've found that Pinterest Pins at 2:3 aspect ratio look awesome on Facebook. Not sure about long infographics, these may get cropped.
The vertical portrait shape of 4:5 (or 8×10, as it's known in the photography world) is also my favorite on Instagram. Use 1200 x 1500 pixels, or Instagram's recommended dimensions of 1080 x 1350.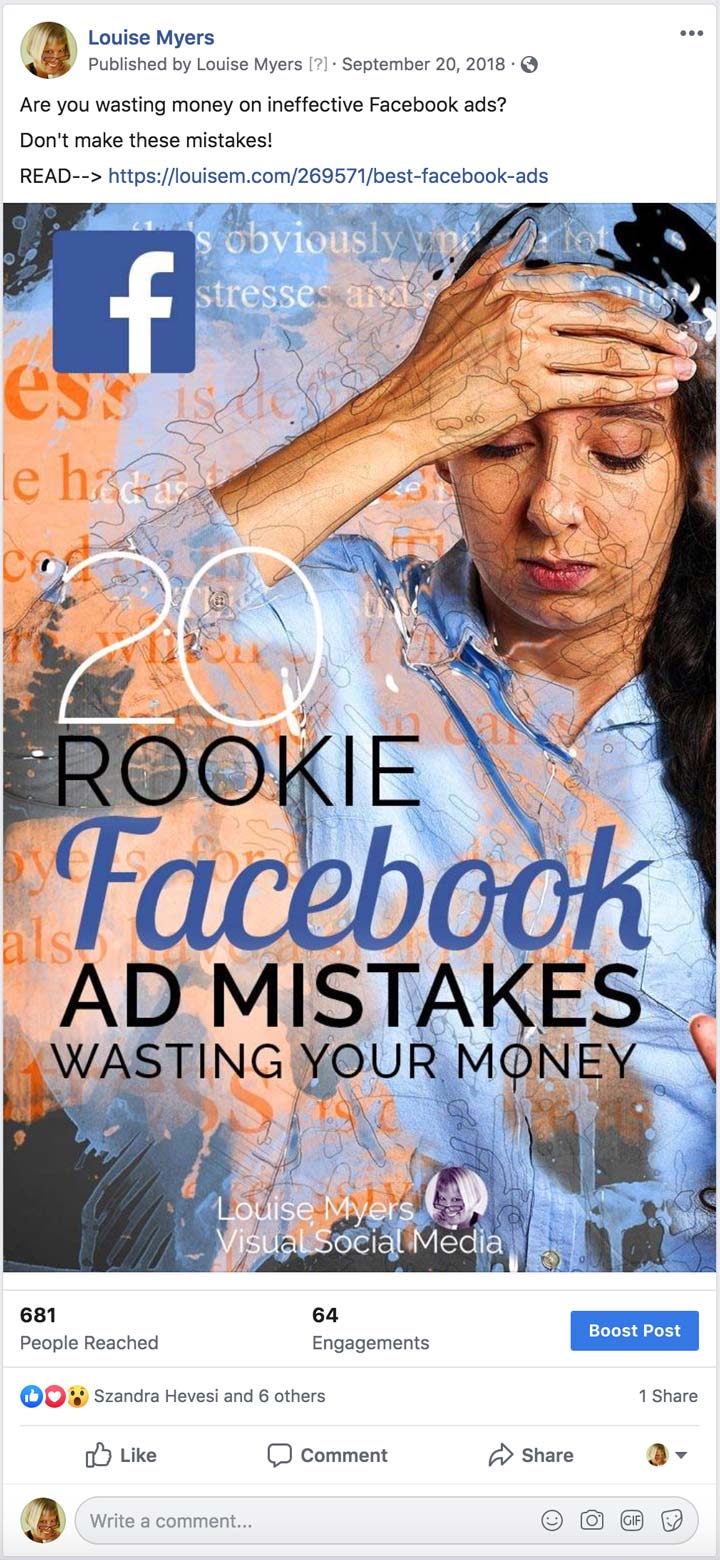 Facebook video post size
Facebook videos have options. Directly below are organic, non-ad videos. 360 and Live videos follow.
You can use horizontal or vertical videos. I believe you can use square as well.
There's no firm size you must stick to, except for ads. Please refer to the infographic at the end of this article for video ad specs.
Video specs (organic or non-ad):
Recommended video size is 1280 x 720 landscape, 720 x 1280 portrait.
Minimum width is 600 pixels for both landscape and portrait.
Landscape aspect ratio is 16:9.
Portrait aspect ratio is 9:16.
Mobile renders both video types to aspect ratio 2:3.
Max file size is 4GB.
Recommended video formats are .MP4 and .MOV.
Video length max is 120 minutes.
Video max frames 30fps.
Facebook 360 Video specs
360 videos provide users a complete 360° view by scrolling with a cursor on web, or by touch or turning their device on mobile. This format appears organically in feeds, and often gets more reach.
360 video specs:
Maximum dimensions 4096 x 2048 pixels.
Minimum width is 600 pixels.
360 aspect ratio is 2:1.
Max file size is 1.75GB.
Recommended video format is .MP4.
Video length must be less than 40 minutes.
Video max frames 60fps.
How To Go Live On Facebook Horizontally: Facebook Live Landscape Mode
You can go Live either horizontal or vertical, but you must set the mode you desire before you tap the Go Live. Once you're Live, you can't change.
Watch this short video for the details.

Facebook link share size
For link shares, use images that are at least 1200 x 630 pixels for the best display on high resolution devices. At the minimum, you should use images that are 600 x 315 pixels to display link page posts with larger images.
Fortunately the Facebook link share size of 1200 x 630 is also the recommended size for Twitter and LinkedIn, so it works great on all 3. You can also post this size on Instagram!
The infographic provides tips for ensuring your images meet Facebook's guidelines.
For example, if your link share image is smaller than 600×315, it will automatically render as a thumbnail. Also, Facebook will automatically choose the center of your image if you neglect to upload it to the correct dimensions – which could cut off a portion of your image.
The minimum allowed image dimension for a link share is 200 x 200 pixels.
The size of the image file must not exceed 8 MB. source

Facebook Stories image size and aspect ratio
Facebook Story images will fill the frame of the viewer's device, which aren't all the same pixel size or aspect ratio.
To add photos and videos to your Facebook Story quickly, simply hold your phone vertically when snapping or filming. No need to worry about an exact dimension.
If you wish to make graphics, a good guideline is 9:16 aspect ratio. 1080 x 1920 pixels is your go-to size.

New! Facebook "Our Story" cover photo size
Now we've reached the newest and most difficult Facebook image size: Our Story.
This Facebook Business Page feature allows you to expand on your business information beyond your "About" section. And, you can add a cover photo of your choosing.
This is features on your Business Page with a preview image:
On desktop, below your main cover photo at the top of the right column.
On mobile, near the top, directly below your brief "About" section.
So what's the problem? Many and varied croppings.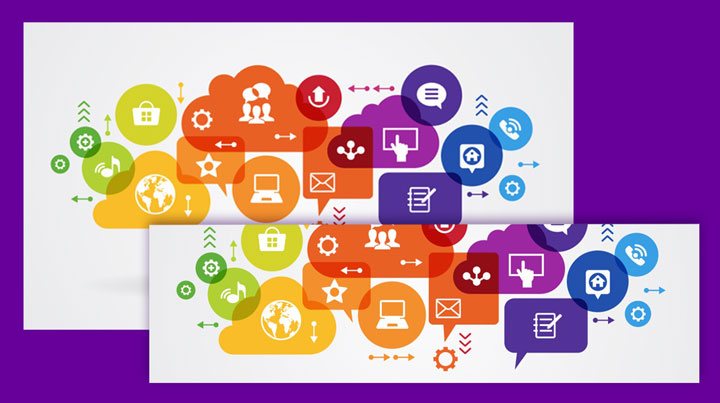 On desktop, the preview image seen on your Page matches the image seen if someone clicks through to your Facebook "Our Story" reasonably well.
But on mobile, the cropping is vastly different from preview to Story (see above).
On desktop, 1200 x 445 works well, but not on mobile, where 1200 x 672 looks right… on the "Our Story" itself.
The preview will be severely cropped though – to 1200 x 348.
If you want to get super specific and plan for the various croppings, feel free to right-click and download this handy dandy template I made.
Note: Sizes are approximated to the best of my ability.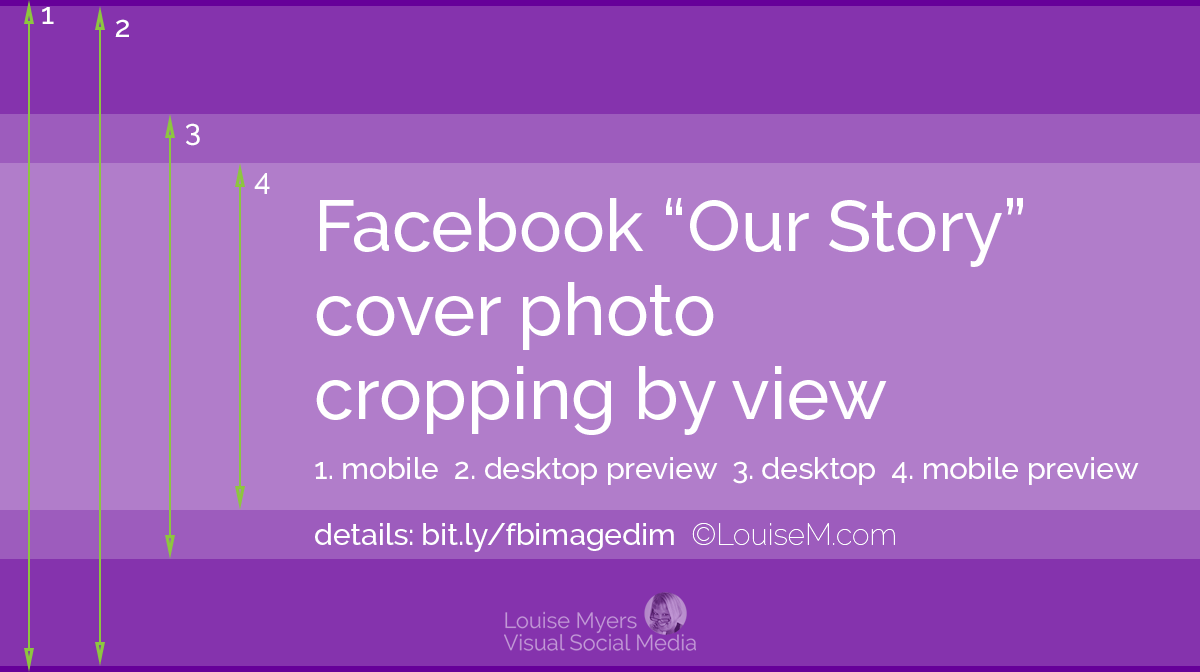 What's the Facebook 20% text rule?
Although they haven't discarded it completely, Facebook has changed their 20% rule which stated that the text on an ad image shouldn't make up more than 20% of the image.
Facebook no longer rejects ad images on the basis of the text they contain. Although this is somewhat good for marketers, Facebook has also stated that, as the amount of text on your image increases, the reach of your ad may be limited.
This just means that Facebook prioritizes images with less text.
Facebook even has a page where advertisers can check if their images comply with the 20% rule.
Upload an image to determine how much text is in your ad image. If the proportion of text to image is too high, your ad may not reach its full audience.
They make exceptions for certain kinds of products being advertised. Visit the Facebook Help Center to learn about exceptions, see examples of images with text, and get more guidance.
Facebook uses this classification for the text overlay on images:
Ok: Your ad will run normally.
Low: Your ad's reach may be slightly lower.
Medium: Your ad's reach may be much lower.
High: Your ad may not run.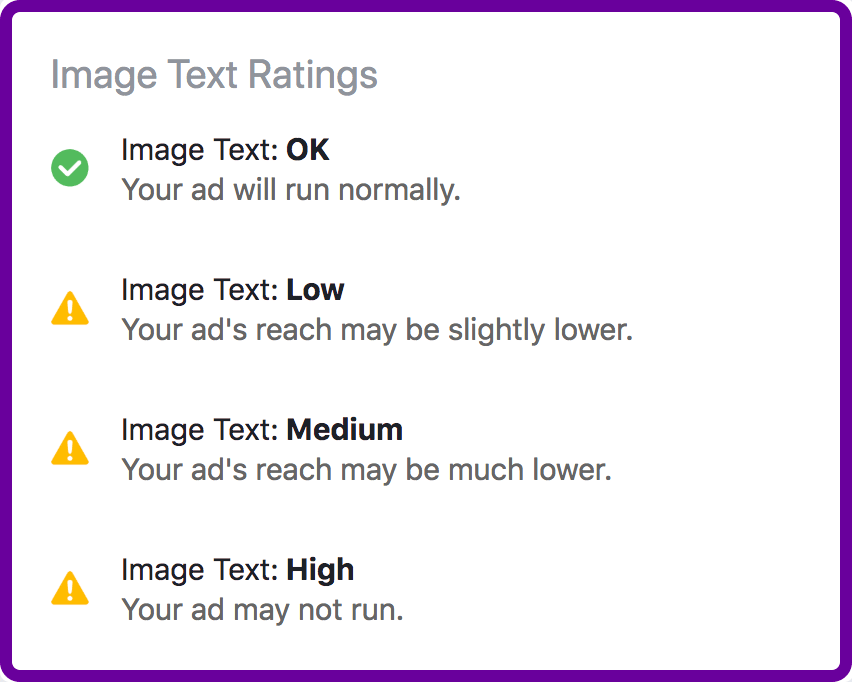 Frequently Asked Questions about Facebook's text rule
What does it mean that I have too much image text?
Text in your ad image includes text laid over a photo or illustration, text-based logos, or watermarks used in an ad's image. It also includes text in thumbnail images used for videos as well as images used as cover photos or profile photos of promoted Pages.
How much text should my ad image have?
Facebook prefers ad images with little or no text, because images with a lot of text may create a lower-quality experience for people on Facebook.
What should I do to reduce the amount of text?
Consider putting most of your text in the text area of your ad instead of on the ad image. If you must use text, use a smaller font size and fewer words to lower the proportion of text to image. Try reducing image text and checking it with this tool again.

Facebook Notes image dimensions
Notes are a useful addition to your Business Page content.
To make it easy for your fans to discover and enjoy your Notes, add Notes to your Page tabs.
Visit your Page timeline, and select the "More" tab.

Select "Manage Tabs," and then "Add or Remove Tabs." Add the Notes app.
You can then re-arrange your tabs to make Notes more visible on your Page tabs.
Notes cover photo
Your cover photo is one of the first things your followers will see when they're scrolling through News Feed — make it bold and eye-catching!
The current dimensions for the cover photo are 1200px wide by 445px tall. This is approximately 2.7 times wider than tall.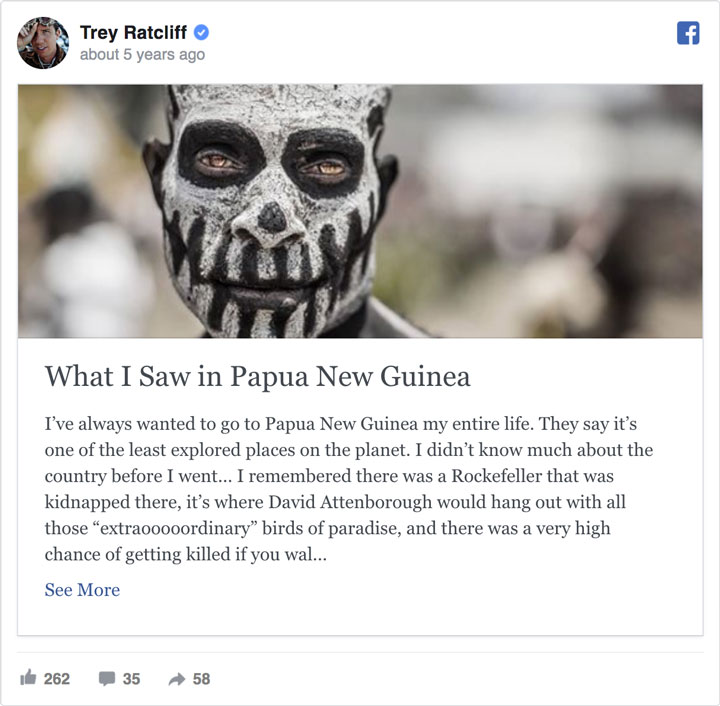 It's recommended you use an image that's at least 1200px wide to allow for the best resolution. Smaller photos will be enlarged to fit the space, but that can result in grainy or blurry images.
The same aspect ratio and cropping apply on mobile.
Facebook Notes images
You can add as many photos into your actual post as you'd like. Photos inside your note should be at least 700px wide.
Facebook recommends you include a caption with each photo to help your readers understand what's represented in your picture.

Facebook Page services image size
The services image will appear as a small square to the right of your title and description.
While there is an opportunity to add multiple images, only the last one you add will show! And there's no link for the viewer to click through and see more.
In fact, services have no link at all! It just shows the service name and (optional) price, description, and duration.
And a small square image. The Facebook Page services image size displays at a measly 138 pixels square on computer browser, or 276 pixels on retina display.
There's no cropping adjustment. Any size or shape image you upload or choose from your Page photos will be center-cropped to square.
I recommend cropping your image to a square before adding to your service tab.
Try 600 or 1200 pixels square, so you can reuse it as a Page post.
138 or 276 is just too tiny!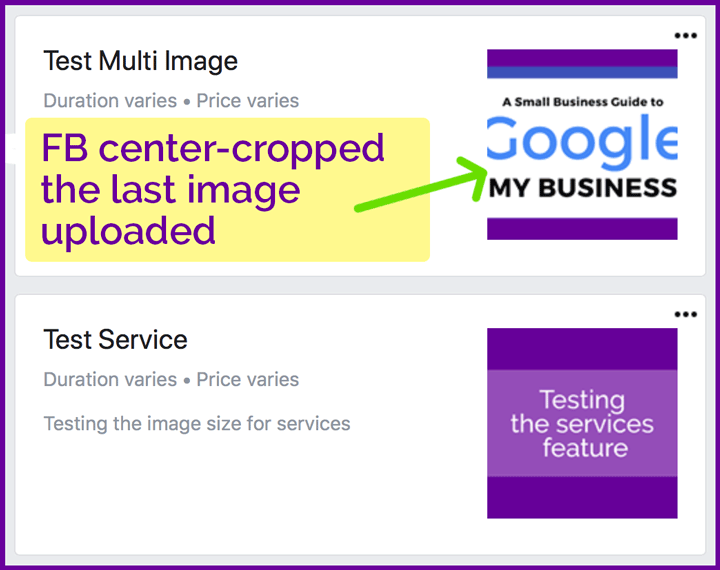 Facebook job post image size
The Facebook job posting image is exactly the same as a link post. 1200 x 628 pixels is ideal.
While Facebook has not recommended a size, I tested and found that you can upload any size, and choose your preferred cropping, but it will be in this 1.91:1 aspect ratio.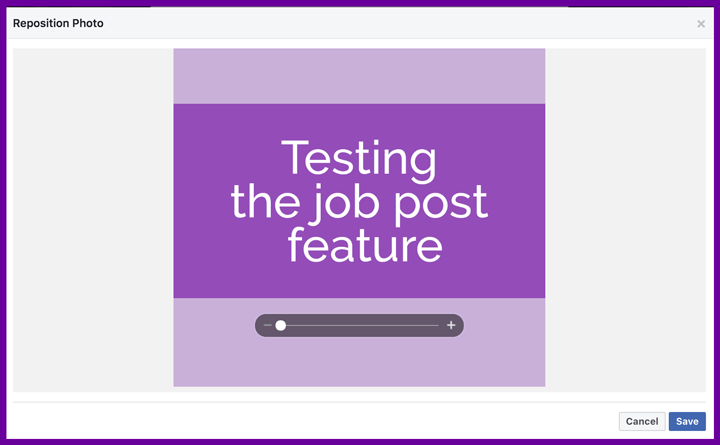 The default will be your cover photo. If you haven't created a dedicated job post image, you can use the cover photo if it works, or click the X in upper right to choose to have no image.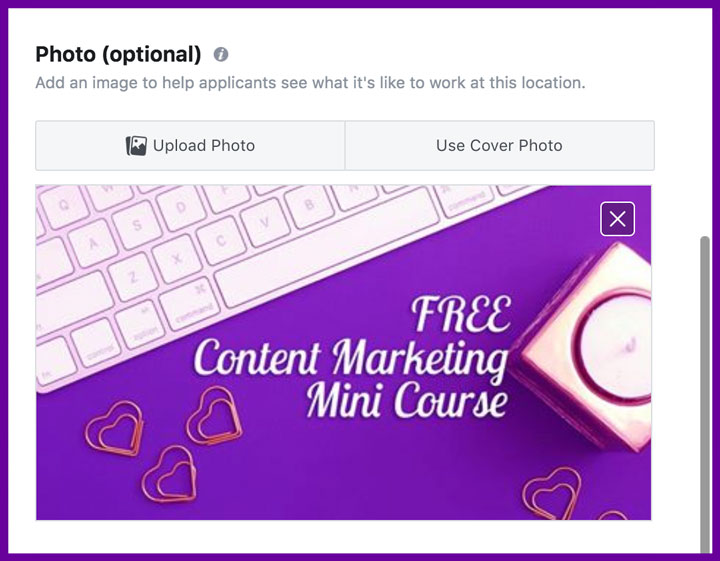 Of course your job offer will be much more eye-catching with an image! The good news is, you can use the Facebook link size in any easy design tool to get the correct size and proportion.
Shown below are just 4 of Snappa's FB link image templates. Snappa offers 7 different sizes for Facebook, with thousand of pre-built templates for posts, cover photos, and ads.


Facebook Workplace image dimensions
Workplace cover photo
Workplace admins can upload or change cover photos for their groups.
To upload a cover photo:
On your group page, hover over the cover photo and click Upload Cover Photo in the top right corner.
Upload a cover photo, drag to reposition then click Save.
To change an existing cover photo, hover over the photo and click Update cover photo then click Upload Cover Photo.
For best results, choose a group cover photo that's 2048 pixels wide and 1032 pixels tall (approx. 2:1 ratio).
Note: If an admin doesn't upload an image, group members may be able to add a cover photo themselves. source
You can download the 2048 x 1032 template provided by Facebook by right-clicking it below: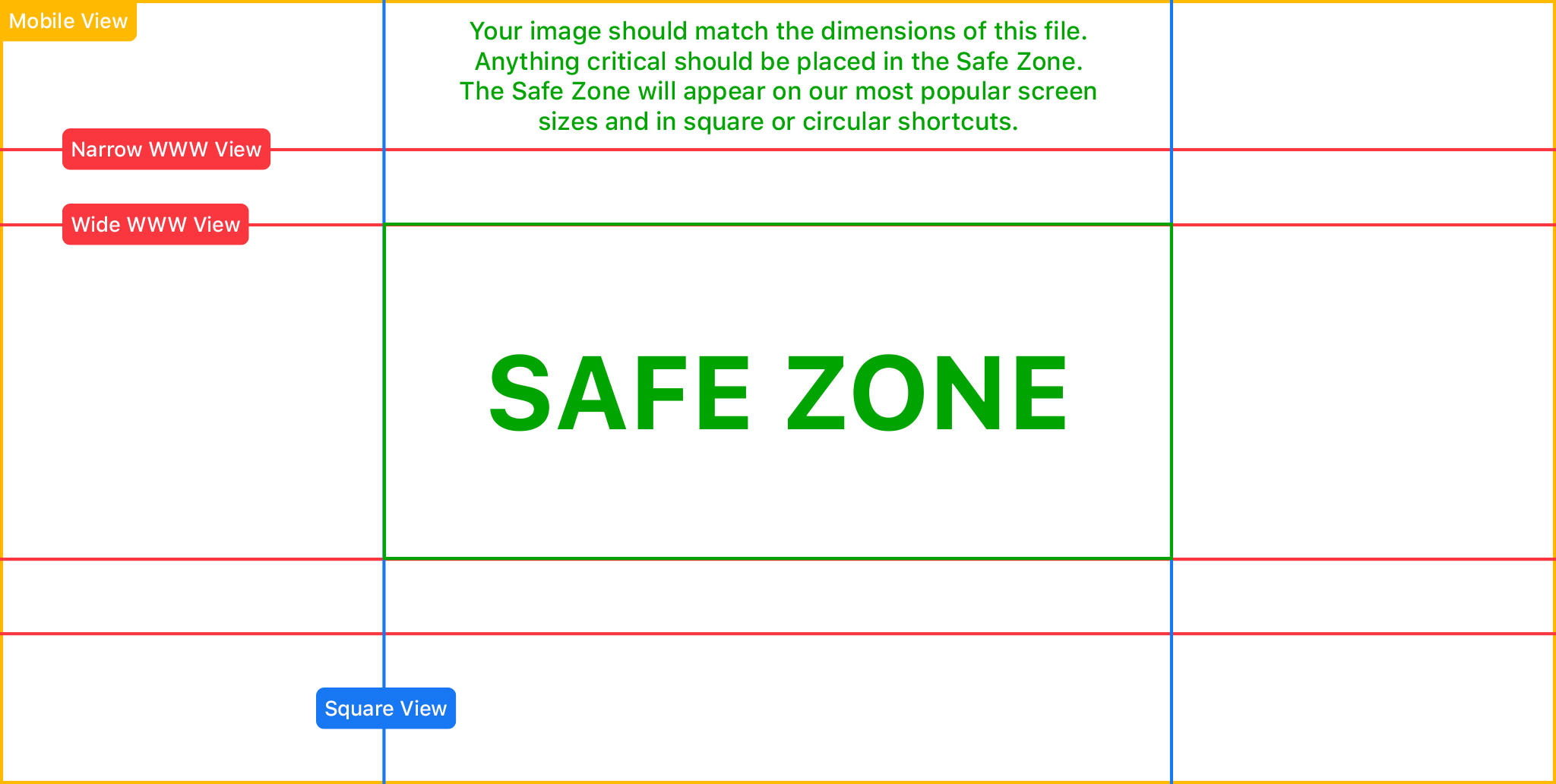 Facebook Workplace logos
Logo images on Workplace should be 495 x 234 pixels or larger. These dimensions ensure that the image will fit in the provided logo template.
Images larger than 495 x 234 pixels are scaled down to fit into the logo template.
The following formats are supported:
.PNG (with or without background)
.JPG
Keep in mind that animated formats such as .GIF aren't supported and files should be saved in RGB mode. Uploaded logo(s) in CMYK mode may be different in color compared to the original file preview. source

Ready to make your Facebook Page cover photo?
Make your FB Page cover the easy way – with Snappa!
Their templates give you the perfect size, with safe zones to ensure your beautiful design looks great on both desktop and mobile.
• • • Create a Facebook cover photo for free NOW! • • •
Disclosure: IF you upgrade to a paid plan, I may receive a referral fee.
Facebook image dimensions infographics
Keep going, there's more!
The Facebook Page image sizes infographic directly below is brand new for 2020.
The Facebook Ad Sizes Cheat Sheet was created by TechWyse in March 2019.
The most recent updates include the addition of live videos and catalogs, along with the changes in the image dimensions and aspect ratios of various ads.
Check out the TechWyse infographic to learn more about how your Facebook ad campaign can be improved using the knowledge of Facebook's recommended dimensions and image sizes.
Save these infographics to Pinterest for quick reference when building your Facebook posts, events, ads, and more.
If you'd like an easy-to-follow cheat sheet for all the major social platforms:
It's updated as soon as I hear of changes.
Hope you enjoy these new Facebook image dimensions infographics!