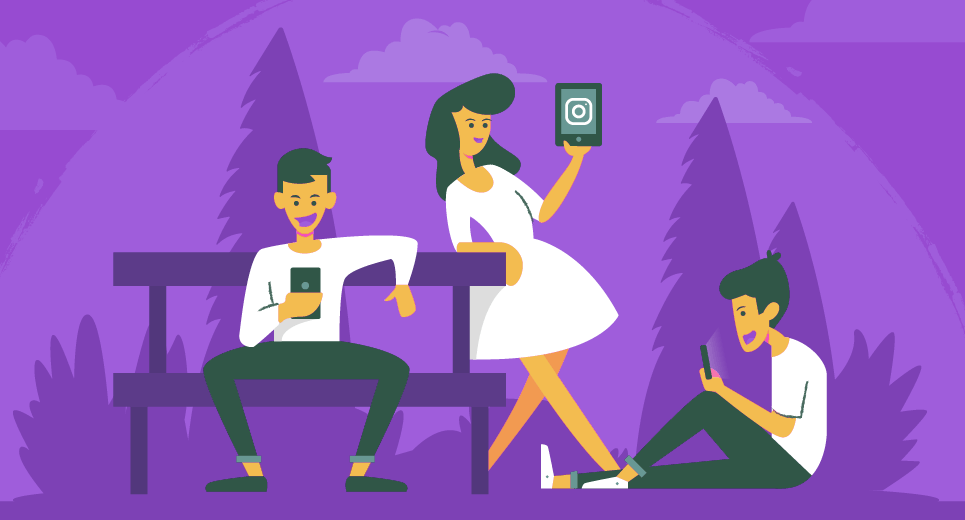 Thinking about Instagram Stories?
If you haven't tried them yet, let me give you a nudge.
While the concept behind IG Stories isn't exactly groundbreaking – they were copied from Snapchat – the IG Story has quickly become enormously successful.
But why?
Let's take a look at the popularity and success of the Instagram Story, so you can see how they can help your business win the social media marketing game!
We'll cover:
What are Instagram Stories?
How do I make an Instagram Story?
The popularity of Instagram: marketing stats 2018
Why should my business use Instagram Stories?
How can I make better Stories?
Can I post my Stories automatically?
Little-known tips revealed! And 5 fun infographics. Read on…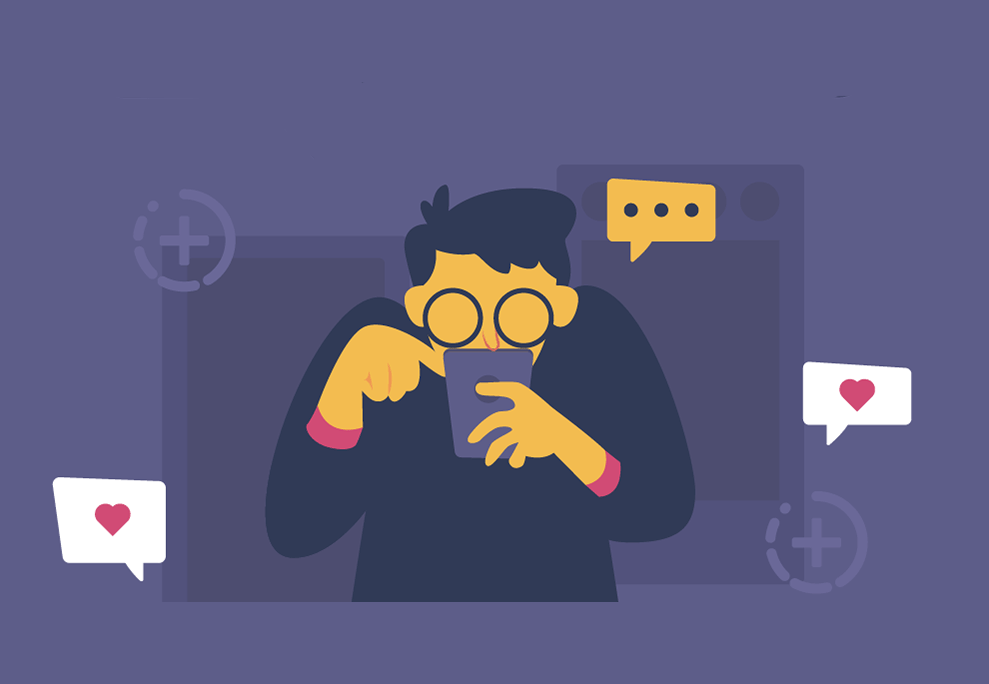 Why Instagram?
Instagram has been hitting the headlines a lot lately, especially in the marketing community.
It's no surprise, seeing that as of 2018 the social media giant has more than a billion active users every month.
So, there are indeed a billion reasons to consider using Insta to promote your business, but how do you get started?
Do you just set up a page, post a few pictures and hope for the best? Or do you look a little deeper into the features available to you and work from there?
One feature that is gaining in popularity is that of Instagram Stories.
What are Instagram Stories?
The idea behind Instagram Stories was a simple one. The intention was to allow people to share "moments" of their day quickly and easily.
These could be in the form of a series of photos or videos. Then everything that you put together for your Story would become a slideshow on Instagram.
This stays on your account for twenty-four hours and then disappears.
The coolest part is, IG Stories are featured at the TOP of the home feed. No beating the algorithm required! Simply add another element to your Story and you're bumped to the front of the line.
In addition, Instagram posts a little reminder in the feed about Stories that are about to expire, so your followers have another nudge to watch your Story before it disappears.
Plus, Instagram places a lovely rainbow circle around your profile picture that travels with you wherever you post or comment.
This is a clue to anyone who sees your image that you have a new Story available!
Followers, non-followers, anyone at all can simply tap your IG profile photo, and your Story takes over the screen. Magic!
But that's not all! You can post your Story to your profile page if you want to keep it. These are called Highlights.
String a bunch of related Story elements together, give it a short, clear name, and it can live on your profile page as long as you like.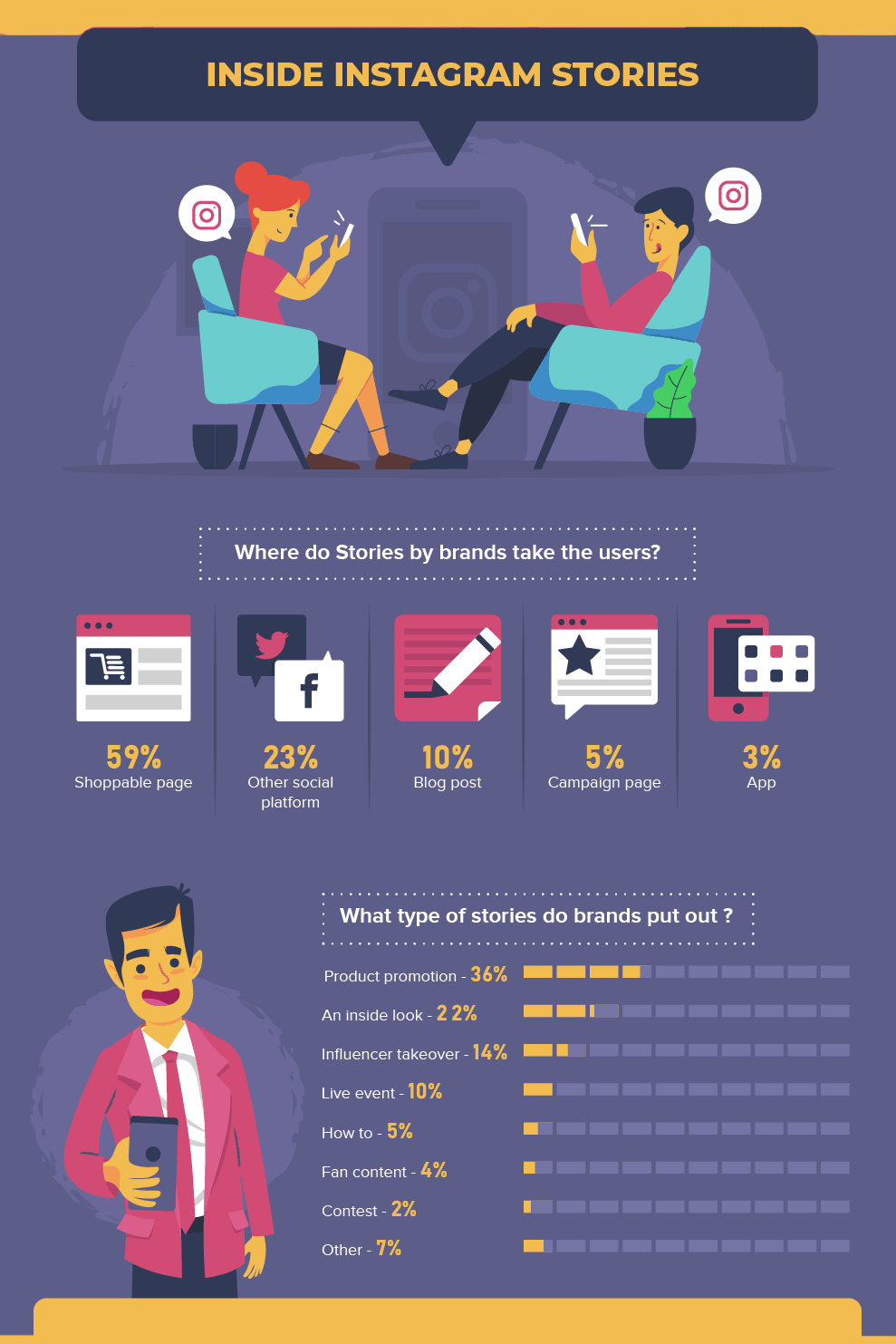 How do I make an Instagram Story?
Creating your Story is simple – point and shoot.
Or import any photo or video on your camera roll! Tap the icon at bottom left to find the images you want to add.
If you like, you can add music, filters, or even doodle on the screen as well. It's a highly flexible way to create content.
Plus, it's a lot of fun! And maybe even a bit addictive 🙂
Instagram marketing stats 2018
The number of daily Stories as of June 2018 was 400 million, as per the information from 99firms.com. This is an incredible 400% growth rate in a little under two years.
This feature is becoming more and more popular and shows no signs of slowing down anytime soon.
More stats from 99firms (sources cited on their site):
More than 80% of registered Instagram accounts follow a business on that social network.
The largest percentage of Instagram users make more than $100,000+ per year.
About 60% of Instagram users claim to discover new products via other profiles.
75% of Instagram users get engaged with a company after seeing their post.
About 25 million Instagram profiles are business profiles.
About 800 million Instagram users follow business profiles.
People spend almost the same amount of time on Instagram as they do on Facebook.
More than one-third of grown-ups in the US use Instagram.
More than 20% of Instagram users visit a business profile daily.
More than 95 million photos are uploaded to Instagram every day.
Yikes! How can you stand out in that hot mess?
The answer is Stories!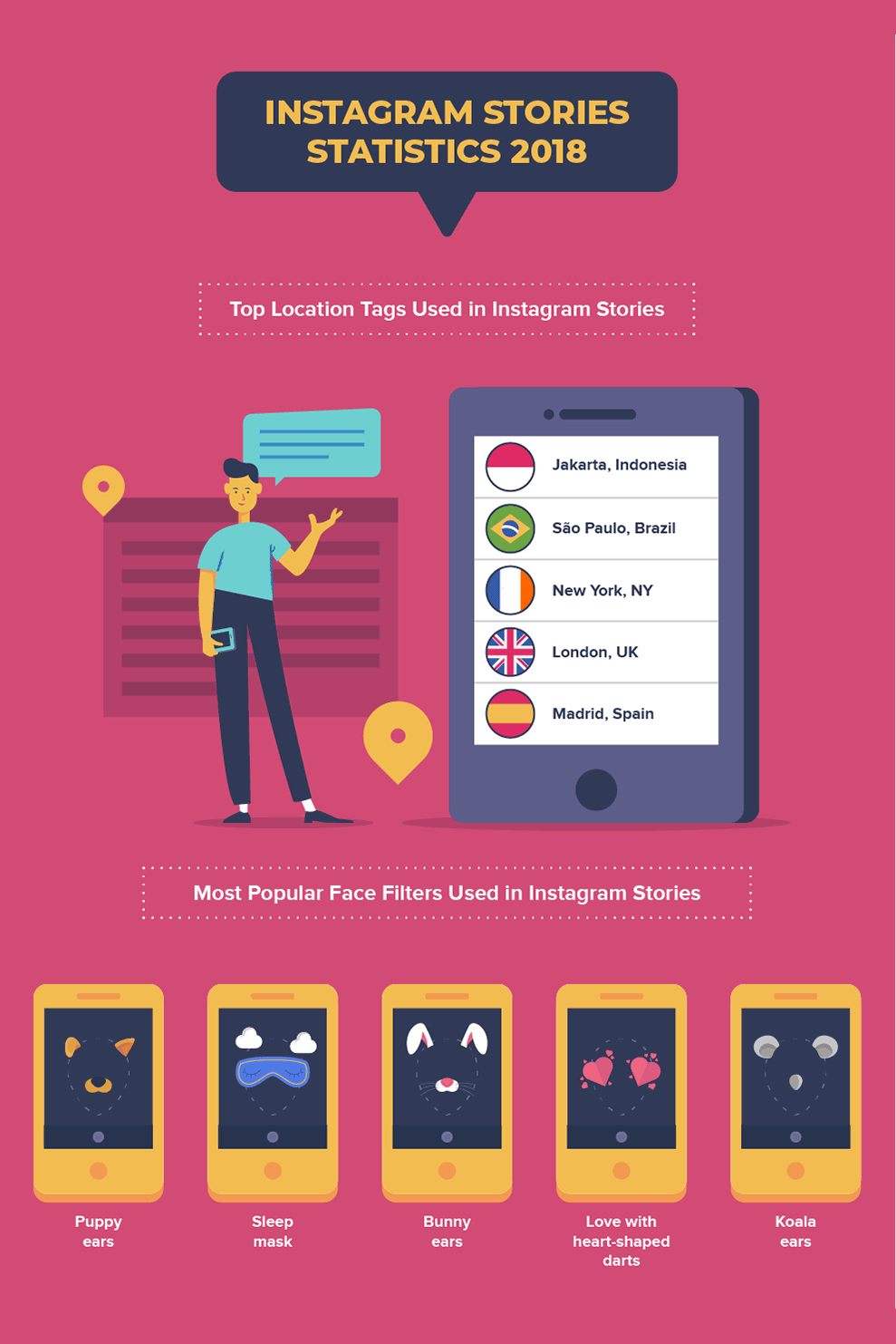 Why should my business use Instagram Stories?
The simple answer is because they are effective.
Stories have a natural progression – a beginning, middle, and end. This logical series of events is satisfying for the viewer because it makes sense to them.
Look at it this way. My features are:
I'll bet you're wondering what's going on!
What if I changed that up a bit and said, "The features of our balls are red, branded and bouncy." Makes a lot more sense, doesn't it?
Now, what if I decided to take a video of people bouncing the red, branded balls and posted that.
The video would tell the story without the need to use words. There would be no worrying about people misunderstanding the language, phraseology, etc.
You could act as a storyteller for a variety of different reasons. Businesses globally have found many different ways to use this feature.
But, enough about what other businesses do, why should you be using Instagram stories?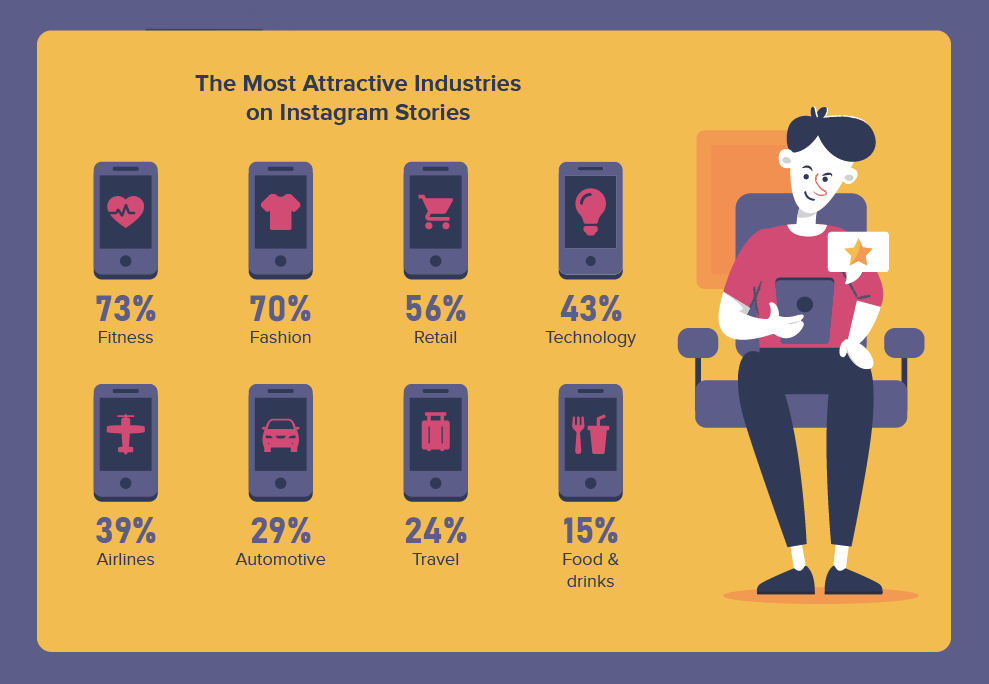 Top 3 reasons to use IG Stories
Clients get to know you and your staff better: Why not have your team introduce themselves and say one or two things about themselves?
Show why your process is better: Maybe you only use the freshest ingredients. Let your clients see you buying them or picking them. You don't have to give away your proprietary secrets but give them a glimpse.
Highlight your product and grow brand awareness: Use this opportunity to show off what your company and product can do for them.
Getting started here is easy and, if it doesn't go as well as you'd hoped, you will have a clean slate the next day anyway.
What do you really have to lose?
Instagram Stories are here today and gone tomorrow – or you can save them on your profile as long as you like.
Options 🙂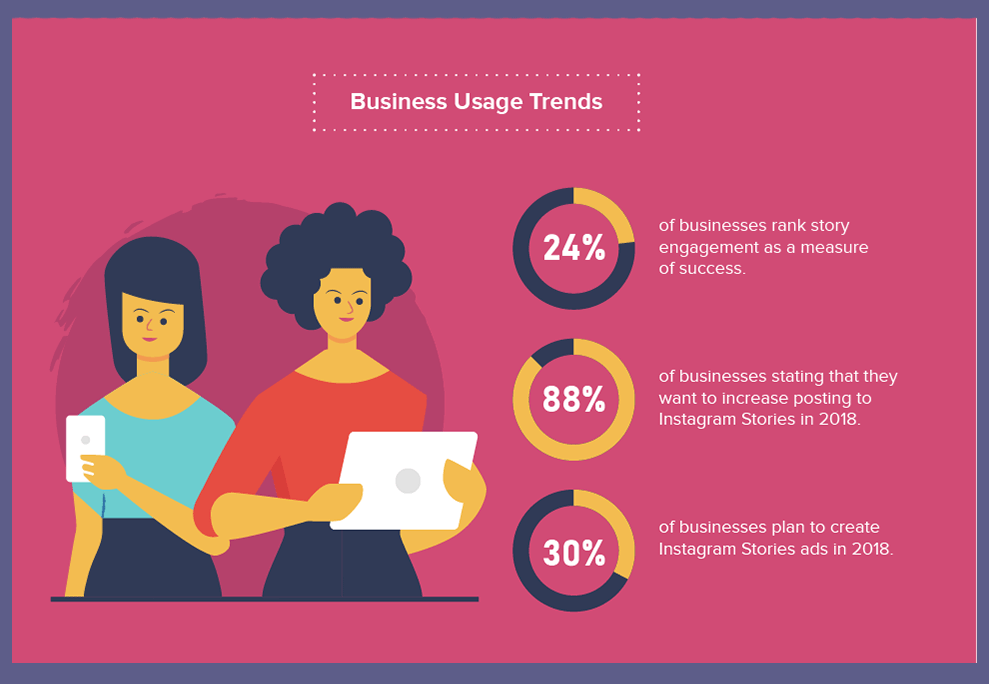 How to make the best Instagram Story
To maximize your Story's effectiveness, try these tips:
Geotags increase your reach by including you in the relevant Stories for that area.
Links have been shown to get up to 25% follow-through to your site or landing page.
Long videos can be cut into shorter segments with an app like CutStory.
"Takeovers" by employees or influencers generate high levels of engagement.
Polls collect feedback or simply start a conversation.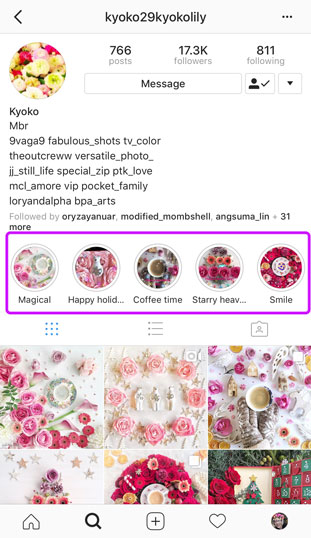 Don't forget to more fully express your brand identity by grouping Stories you've shared into Highlights and featuring them on your profile.
Stories Highlights appear below your bio. To create a Highlight, tap the "New" circle at the far left. From there, you can choose any Story segments from your archive, select a cover image for your Highlight, and give it a name.
Once you're done, your Highlight will appear as a circle on your profile that plays as a stand-alone Story when someone taps it.
Highlights stay on your profile until you remove them, and you can have as many Highlights as you'd like.
To edit or remove a Highlight, just tap and hold that Highlight on your profile.
Can I post Instagram Stories automatically?
While a Story segment will disappear from the feed in 24 hours, you can keep your presence alive by adding more segments.
How will you remember, with all you've got on your plate? It's easy with Tailwind! Just schedule as many segments as you like ahead of time – a week's worth would free your mind 🙂
While Instagram won't allow you to Auto Post to your Story, you can use SMS Notification or iOS Notification to remind you to post.
And you can use Tailwind to Auto Post to the post feed – 100% approved by Instagram!
Have an image for your Story on desktop? Schedule it in Tailwind for the time you'd like to publish. Be sure to set it as an SMS Notification or iOS Notification, as you can't Auto Post to Stories.
If you have the image or video for your Story on your phone,
follow these steps:
Schedule an image (a 'dummy' reminder post) for the time you'd like to publish your Story to Instagram as a notification through Tailwind.
When you get your reminder from Tailwind that it's time to post, tap 'Post to Instagram.' This will open the Instagram app and the image you scheduled will save to your photo library.
In Instagram, choose to post to your Story and then tap the 'X' in the top left corner.
Next, start a new post using the '+' button at the bottom of your screen. You can either select the saved image, or add other images or videos to post to your Story.
This way you won't forget when it's time to post, and be able to quickly post to your Story.
Don't forget to schedule an Instagram post for the feed alerting people to your Story. This one can go on Auto Post a few minutes later. It's a can't-miss combo!
You can try Tailwind for Instagram free!
• • • Click here to try Tailwind for Instagram FREE• • •
Disclosure: If you decide to purchase a plan, I'll make a small referral fee, at no cost to you.
Instagram Stories conclusion
We covered:
What are Instagram Stories?
How do I make an Instagram Story?
The popularity of Instagram: marketing stats 2018
Why should my business use Instagram Stories?
How can I make better Stories?
Can I post my Stories automatically?
Got questions? Leave a comment!
Don't forget to Pin these infographics kindly provided by 99firms.
And check out how easily you can manage your Instagram Stories with Tailwind!
• • • Click here to try Tailwind for Instagram FREE• • •
Disclosure: If you decide to purchase a plan, I'll make a small referral fee, at no cost to you.