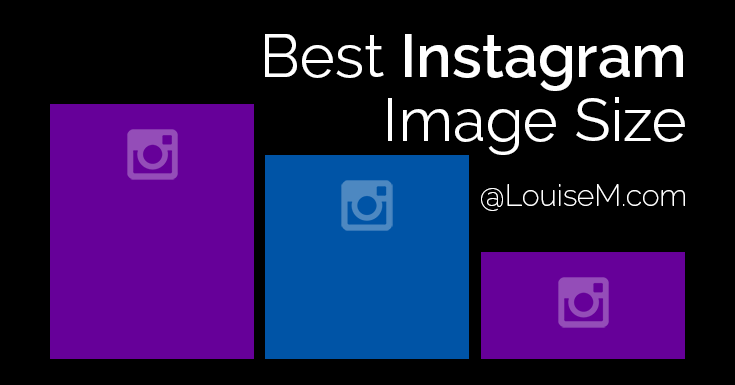 What's the best Instagram image size?
I'm sorry to say, incorrect information is still being posted.
But you can help! Save the infographic below to Pinterest.
What Are the Instagram Image Sizes for 2018?
In addition to upgrading the paltry 640 pixel square to a more robust 1080 on July 6, 2015, Instagram also added support for non-square images on August 26, 2015.
The optimal sizes are 1080 pixels wide by 566 pixels to 1350 pixels high.
The un-square shapes were added for Instagram ads. You can post a landscape image in a 1.91 to 1 proportion, which is exactly the same as a Facebook link preview image. So there's cross-platform compatibility with IG and FB ads.
But I don't recommend the landscape for marketers, as it takes up less than half the space you could snag with a portrait image!
If you have a landscape photo or graphic that you don't want to crop to a square, consider using one of the many apps that add a border top and bottom to take up more space in the feed.
If you do post a wide (or tall) image, be aware that it will be cropped to a square on your image gallery (profile page).
The portrait image gives you the most bang for your buck in the Instagram stream. Stick with the 1080 pixel width, and go up to 1350 pixels tall. If your photo is larger, no worries – Instagram will reduce it when you post. Try not to post smaller, though.
The proportion is the same as an 8 x 10 portrait photo!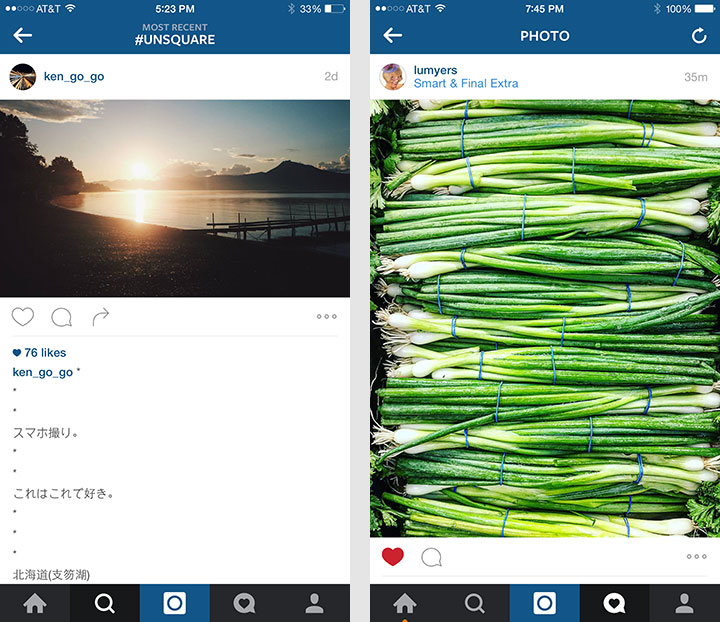 Why Is My Instagram Photo NOT 1080 Pixels Wide?
When you share a photo on Instagram, whether you're using Instagram for iOS or Android, it posts at the best quality resolution possible (up to 1080 pixels wide). There are a few reasons you may be seeing lower resolution photos on Instagram:
Photos between 320 x 320 and 1080 x 1080 pixels will post at their original resolution.
You may need to update to the most recent version of the Instagram mobile app.
The desktop version of Instagram only displays up to 640 px images.
Your phone might not take and/or support high resolution photos.
NOTE: If you share a photo at a lower resolution than 320 pixels wide, it'll be enlarged to 320. (Please don't even think of posting such a low rez photo!) If you share a photo at a higher resolution, it'll be sized down to 1080. Sizing down is always better than sizing up!

How Do I Upload a Portrait or Landscape Photo to Instagram?
After selecting a photo or video from your phone or tablet's photo library, to share it as a portrait or landscape instead of a square:
Tap  at the photo's lower left to switch from a square to a portrait or landscape.
You can touch the screen to move the photo and adjust how it fits within the frame.
Tap Next to apply effects or a filter.
If you want to change the proportion, you must do so before tapping Next. You can change the cropping with the Adjust tool, but the overall shape (or aspect ratio) of the photo will remain the same.
Also note that the white bars you see down the sides of a portrait photo while you're editing it will NOT remain after it's posted. This is just to fit the image into the editing area. It will actually post even larger – to the full width of the feed.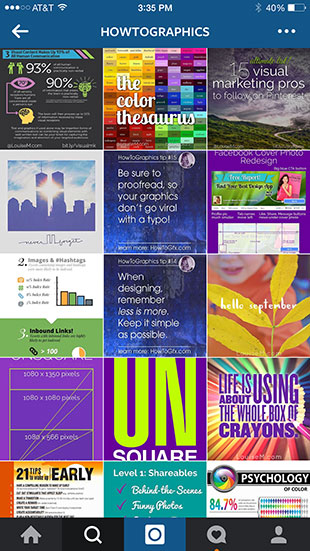 NOTE: You must have Instagram app version 7.5 or later to post unsquare photos as well as see them. Users with older versions of the app will see your image cropped to a square.
Additionally, unsquare images will appear as a center-cropped square in your profile grid (see image at right).
Many people are sticking with the square, and it's still a powerful shape. 
The taller image gives you a better Pinterest presence (where tall mages rule) without having to create a separate graphic. In fact, Pinterest is currently experimenting with showing ALL Pins at the same 8×10 aspect ratio in the home feed!
Note: This post was originally published September 23, 2015 and updated December 7, 2017. Pinterest now seems to be leaning towards less-tall images that make cross-posting content from IG to Pinterest easier!
Which will you use?
I've been posting both tall and square on my photo account and my biz account. Call me inconsistent, but I don't think the slight difference is jarring. (Portraits are a 4:5 proportion – hardly towering).
Check my other posts for more info about upgrades to Instagram's image size, and the latest, multiple images:
Please share! Help the word get out. Pin the graphic below.
Help others learn what's the best Instagram image size!