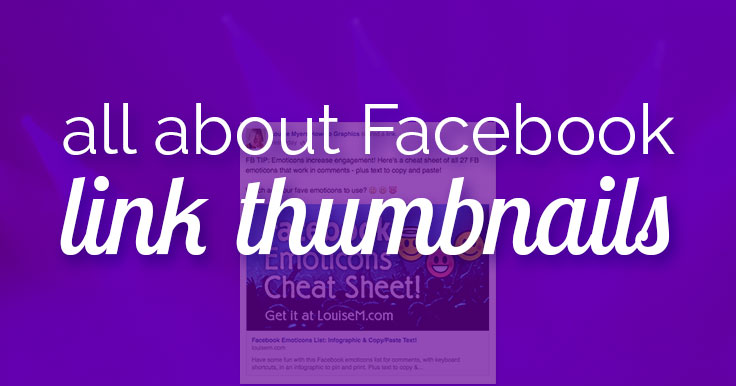 Are you getting LARGE Facebook Link Thumbnail images?
Or are you stuck with tiny postage-stamp sized link previews?
Facebook upped the minimum size required to get those lovely large links! (in 2014)
And, Facebook suggests Fan Pages post more traditional link shares, promising them better visibility in Fans' news feeds.
So, change the way you create blog images, AND share links on Facebook!
UPDATE: Facebook announced on June 28 2017, you will no longer be able to customize link metadata (i.e. headline, description, OR thumbnail image) in any link shares on Facebook. More info below the red and yellow image. ⬇️
This post was originally published in June 2014, and updated in February and July of 2017.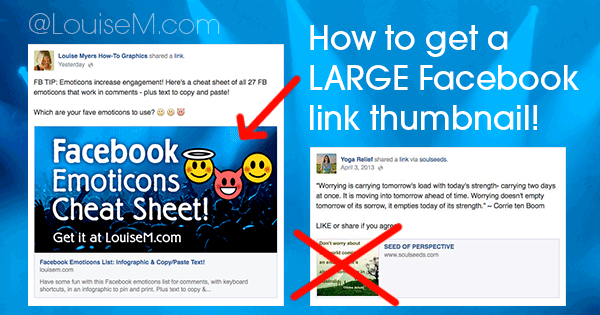 Facebook Link Thumbnail in the News Feed
On desktop, a large link preview will appear at 470 x 246 pixels. On mobile, the link preview will appear at 560×292 pixels.
If your blog post image isn't big enough, then it will render as 154 x 154 or 90×90 px (the largest available size). BIG difference!
Facebook says:
Use images that are at least 1200 x 630 pixels for the best display on high resolution devices. At the minimum, you should use images that are 600 x 315 pixels to display link page posts with larger images. If your image is smaller than 600 x 315 px, it will still display in the link page post, but the size will be much smaller.
And that nice, big image (with its text box) links to the blog post when clicked, making it much easier for viewers to get to your blog posts.
February 2017: I'm getting complaints that the minimum size isn't working for some people. This is still what Facebook is recommending! source If it's not working for you, the solution is simple: make it bigger! Go with 1200 x 630.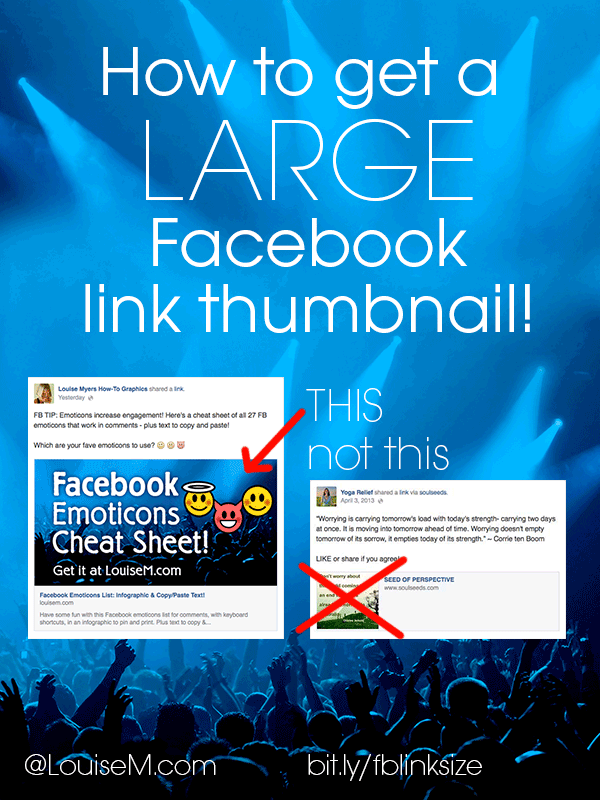 Blog Image Sizes for Maximum Impact on Facebook
Facebook recommends 1200 x 630 pixel size for images. Your minimum size to ensure a large preview image is 600 x 315 pixels.
The common denominator with all these link thumbnail image sizes is an aspect ratio of 1.91 wide to 1 tall. So you could take the height of your image and multiply it by 1.91 to determine the proper width.
I now make all my blog header images to the width of my blog's content column – which also happens to be the best width for a Pinterest pin! So my Facebook link shares are 736 x 386, which is a 1.91:1 aspect ratio. My pins are 736 x 1104, which is 2:3.
If you don't want that horizontal image, use any shape image that's at least 600 pixels wide to generate a large link preview. NOTE:  the top and bottom will be cut off in the link thumbnail. The image in the thumbnail below was a 624 pixel square on the blog post.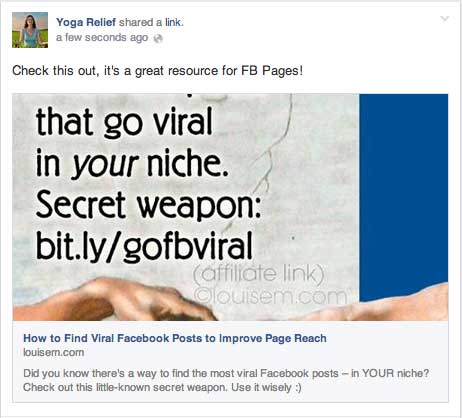 I recommend creating an image at least 600 x 315 pixels for each of your new blog posts going forward. If you have older posts that you (or readers) will be sharing on Facebook, and especially if you plan to run one as a Page Post Link Ad, you'd be smart to create a new, larger image for that blog post. Bigger images on blog posts look more up-to-date, too.
If you don't want the image to be visible on your blog at all, and you're comfortable with doing META coding, you can set the link preview image by following this tutorial. Don't follow the size info there, as it's outdated, but I believe the technique will still work with your new-size image. I haven't tried it myself, and can't help with META coding. But you could write me a tutorial if you like! 😉
Why Care About Facebook Link Thumbnails?
Standard link posts (that is, with the link preview generated by Facebook, as described above) have been getting better click-throughs than other ways to share links recommended in the past. With the large preview image, that can only get better – IF you take advantage of it!
If you don't make your blog images at least 600 x 315 px, your link posts will be at a big disadvantage in the news feed. And if you plan to turn a link post into an ad, you will definitely want to ensure your image meets this minimum size. In fact, if you're spending on an ad, make them the full 1200 x 630.
More Link Thumbnail Problems & Solutions (Updated)
If you're posting your link right on Facebook – as opposed to sharing from your blog's social sharing buttons – you can select which image to use as the link preview.
All images picked up by Facebook are pulled in and highlighted as tiny images at the bottom of the Publish box (note blue outline).
Deselect any you don't want to show in your Facebook post by clicking on it. The blue outline will disappear.
You can delete all but one if you like – up to you.
If you leave several outlined, viewers will be able to scroll through them in a "carousel."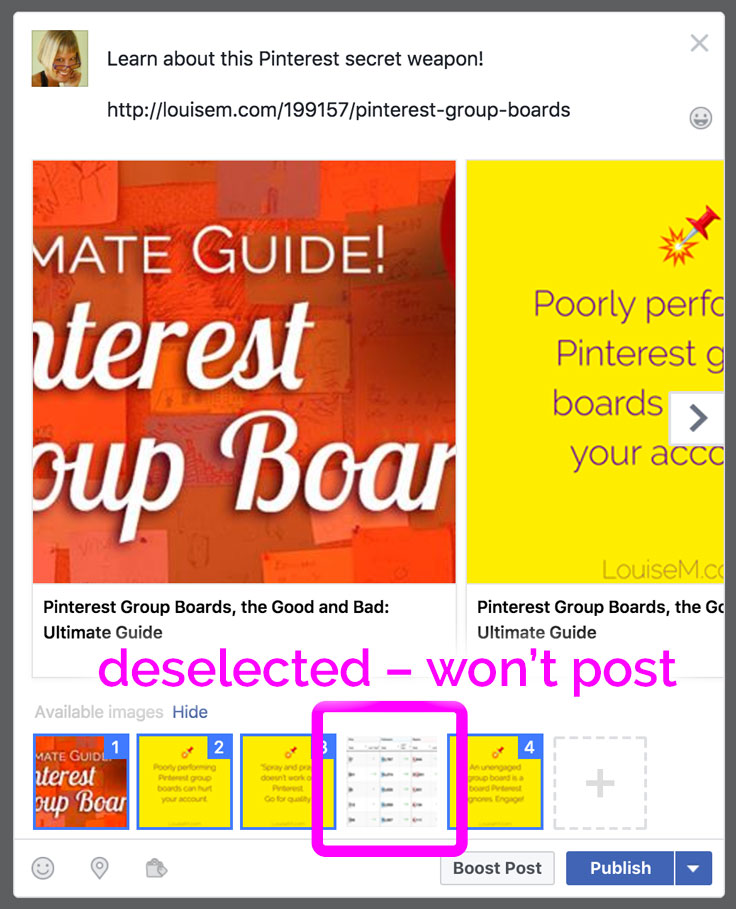 Update July 2017: Facebook is removing the ability to customize link metadata (i.e. headline, description, OR image) in any link shares on Facebook.
You'll no longer be able to edit the link thumbnail image, title, or description of a link preview  for Facebook group and personal profile posts as of July 17. 
The changes will apply in Facebook natively, as well as to Facebook's API integration partners, including Hootsuite.
Business pages will be affected by this change at a later date.
Facebook explained why:
By removing the ability to customize link metadata (i.e. headline, description, image) from all link sharing entry points on Facebook, we are eliminating a channel that has been abused to post false news.

We're working to find other solutions that allow publishers to share customized content on our platform, and we will have more to share in the coming weeks. As we make these changes, content creators maintain the ability to control how their links appear on Facebook using Open Graph meta tags. source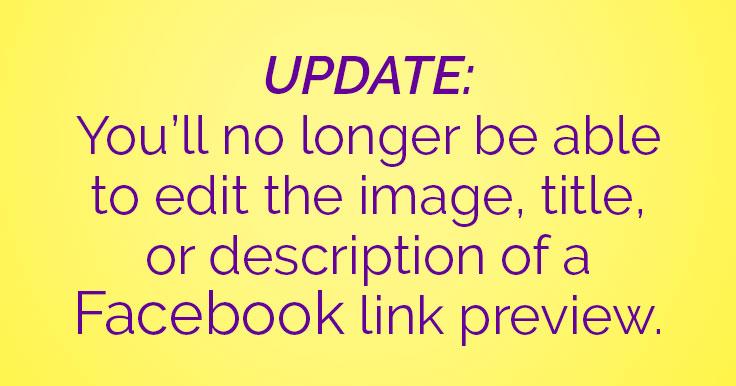 Be sure to set your Open Graph meta tags the way you want your link share to look before you publish your blog post!
To preview how your link will look when posted on Facebook, use the sharing debugger.
Note that you can remove the URL from the text when you're happy with the link preview. It's no longer needed.
Are you still missing a large link preview? Try this easy fix for missing link thumbnails.
Don't like the cropping on an image that taller than 1.91:1? Crop an image in the right proportions and upload it via the prompt. Also useful if sharing a post that doesn't have a large enough image – whether your own or someone else's!
Posts with videos: if you're sharing a post that includes an embedded video, Facebook will override the image you included and use the video thumbnail instead – giving you a small thumbnail. When clicked, it will play the video on Facebook and not send users to your site.
For more details on the new link previews and Page Post Link Ads, you may want to check out Facebook's Ads and Sponsored Stories Guide. See page 17.
More Help With Your Facebook Page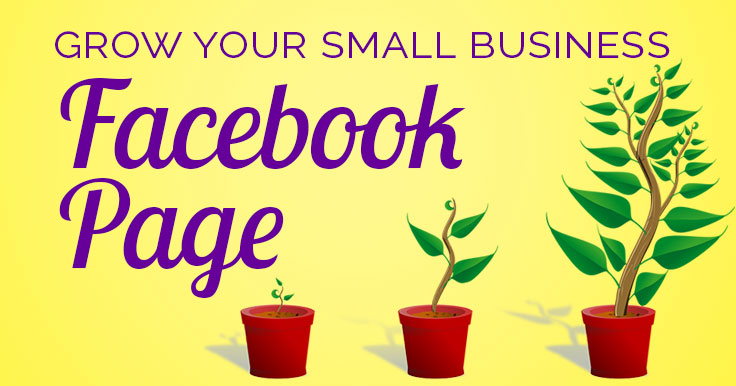 For general help with improving your Facebook Page, be sure to read my latest post:
If this post has helped you with Facebook Link Thumbnail image sizes, please share!